Rajiv Bajaj
JULY 1, 2013
Laughter, disappointment

There is an awkward pause as the next question looms. He has just said that Ratan Tata made a mistake with the Nano. He has reeled off a list of "stupid and meaningless" ideas that management consultants try to sell. And he has accused "the Harvard business schools of the world" of teaching "this rubbish called MBA".

But the interview has already clocked an hour and 22 minutes. The 'story' is in the bag. The question is a calculated risk. With that reassurance, it bursts forth: "Do you have any friends left in the industry?"

The question hangs in the air for a moment. And then Rajiv Bajaj laughs.

It is a genuine, good humoured laugh. It is also a disappointing laugh.

The question was intended to draw juicy - hopefully vitriolic - comments. Bajaj has been generous with those, quick to strike at anyone trying to cross the path of his beloved Bajaj Auto, founded in 1926 by his great grandfather Jamnalal. And God help you if you were to so much as frown at his new baby, the RE60, India's first quadricycle. It is very different from the quadricycles in Europe, which are expensive, low-volume, novelty vehicles made of exotic materials. The RE60, on the other hand, is a tiny vehicle that feels like a well-appointed autorickshaw. But right now it is a big deal.


Three-wheeler makers are wary because the RE60 is like a better three-wheeler with doors, a roof, better technology (water-cooled, twin spark plugs, five gears), and is more stable, thanks to the fourth wheel. It emits just 60 grams of carbon dioxide per kilometre, about half the emission of a small car.
Annual domestic three-wheeler sales are about 450,000. There are 70,000 plying on the streets of Delhi alone. Chief Minister Sheila Dikshit, says Bajaj, has often complained to him about the impression they create before the large number of foreign tourists coming into the capital. She would prefer something a little more respectable. If some other states share her preference, Bajaj will be looking at a very busy assembly line at his Aurangabad factory.
JANUARY-AUGUST, 2013
The Fourth Wheel
The first time Rajiv Bajaj met Karl Slym was at an automotive awards function in New Delhi in January this year. According to Bajaj, Slym, who had come with his wife, walked up to him and said hello. He had just taken charge as Tata Motors' Managing Director. What a nice man, Bajaj thought. The hall was full of industry luminaries but Slym picked
Bajaj for his courtesies
. It is difficult not to appreciate a gesture like that. For the next few months the two were at each other's throats. Slym questioned the rationale of the quadricycle on the microblogging site Twitter: "Why? The Govt. + industry have been accelerating efforts in traffic safety & environment, now we consider Quadricycle! Why go backwards?"
Bajaj's response was swift. The RE60, he told a business daily, was meant to give three-wheeler users the safety of a fourth wheel. "To argue that three-wheeler users should all buy cars instead is to effectively tell people who can't afford bread to eat cake. That approach met with disastrous consequences the last time it was tried."
Slym was echoing the sentiments of Venu Srinivasan, the head of TVS Motor Co., a rival to Bajaj in two- and three-wheelers, and a friend of Bajaj's father Rahul. Srinivasan had raised concerns that the quadricycle will dilute safety and emission norms.
Bajaj's riposte was that since large cars were probably the safest, every other vehicle - cycles, motorcycles, scooters, mopeds, threewheelers, small cars and medium cars - should be banned.
A little extreme, but with Rajiv Bajaj the middle path does not exist. R.C. Bhargava, the venerable 79-year-old Maruti Chairman and another friend of Bajaj's father, got a taste of it for suggesting that the quadricycle will emit four times more carbon dioxide if tested on the same driving cycle as a car. "If I take Mr Bhargava's Maruti car and put it on the car cycle of Europe, where roads are bigger and speeds higher, let's see what emission numbers he gets," says Bajaj.
The divide became clear at a conference call organised by the Society of Indian Automobile Manufacturers (SIAM), the industry lobby, earlier this year. Some participants made loud demands to prevent Bajaj from launching the RE60 anytime soon. Ravi Chopra of Piaggio, which makes three-wheelers, wanted it allowed only after three years, to provide a level playing field for all.
One of the criteria in the definition of the quadricyle is that it should be no heavier than 500 kg. Slym of Tata Motors wanted that raised to 700 kg. For context, the RE60 weighs 397 kg, Tata's Nano 650 kg.
About three weeks after this meeting, TVS's K.N. Radhakrishnan wrote an email to the top executives of Mahindra & Mahindra, Tata Motors, Maruti Suzuki, Toyota Kirloskar, Volkswagen, General Motors, Fiat India, and some others. The email said the minutes of the SIAM teleconference did not reflect the deliberations accurately. "While a passing reference is made to other views, one set of views appears to be given undue prominence." The minutes append a definition of the quadricycle that is very close to the specifications of the RE60.
"To reiterate," summed up Radhakrishnan, "we are strongly opposed to the inclusion of the category of quadricycles in India."
He wouldn't be a happy man. On May 22, the government cleared the use of quadricycles as public transport within city limits. On August 8, the Ministry of Road Transport and Highways issued a draft notification to amend the Central Motor Vehicles Act to include the quadricycle as a vehicle category. It will need a special licence and registration and will bear a prominent Q on the body.
"We are awaiting approval and can start [selling the RE60] immediately or later depending on what specifications are finally approved," says S. Ravikumar, Bajaj Auto's Head of Business Development. If all goes well, Bajaj's baby may hit the roads next year. And if that makes Radhakrishnan and other SIAM members feel shortchanged, they have no one but themselves to blame. They can also blame John F. Wallace.
The idea of a quadricycle was first mooted a decade ago by Slym's current employer, Tata Motors, and Srinivasan's TVS. It was opposed by Bajaj Auto and Maruti. "We opposed it," says Jagdish Khattar, who was the MD of Maruti at that time. Now as the head of Carnation, the multibrand car sales and service network, he remains opposed. "The government, with the help of experts, should formulate the need and nature of a new vehicle. All manufacturers should have sufficient lead time."
However, the subject polarised SIAM. After lengthy deliberations, Dilip Chenoy, the present head of the National Skill Development Council, who was SIAM's director general at that time, sent two separate proposals to the Transport Ministry, one in favour of the quadricycle and another against. The ministry sat tight on both.
Years later, when Rajiv Bajaj developed the RE60 and was looking for an alleyway to drive it into the market, SIAM's open stance came to his aid. And also the fact that his quadricycle was meant to be an improvement on the three-wheeler, and not a car-like thing the earlier proposal talked about.
1988-1995
Teacher, table, balcony
Wallace, another person Rajiv Bajaj's detractors can blame, was a consultant Rahul Bajaj engaged in the late 1980s. An elder of the British auto industry, he soon became Bajaj's confidant. That was around the time Rajiv completed his mechanical engineering in Pune and joined his father's company for training. He was the first engineer in the family. His father, uncles, and brother were all commerce students and MBAs.
Rajiv, after completing his training at Bajaj Auto, went to the University of Warwick in the United Kingdom to do Masters in Manufacturing Systems Engineering. Wallace lived nearby. They became close enough for Rajiv to confide in the Englishman that he had no intention of going back to Pune. He wanted to hang around and have fun. But Wallace prevailed upon him to go back. He said it was possible to have fun in Pune.
So Rajiv came back to Bajaj Auto in December 1990. But not for long, it seemed. Rahul Bajaj wanted him to go to Harvard to do his MBA, in keeping with the family tradition. Wallace intervened again, this time with tougher words. Waving a finger in the father's face, he said: "If you send this boy for an MBA, there will not be a company left when he comes back."
Wallace may have dramatised a bit, but only a bit. The unbridled competition ushered into the two-wheeler industry in the middle of the 1980s had begun to take root. Honda, Yamaha and Suzuki were all here. Global products at local prices - what Mahindra & Mahindra faces from Renault today - had already become a part of Bajaj Auto's life. There was still a waiting period of about 18 months for its scooters, but everyone at the company was nervous because the wait used to be 10 years before the Japanese 100cc motorcycles invaded the market.
Bajaj Auto, like the other Indian groups that had enjoyed wild success for decades, had been preoccupied with capacity, licences, and permits. Issues with labour were common. The supply chain was primitive. There was no emphasis on research and development, technology, quality, and productivity.
The stint at Warwick was an eye opener for Rajiv. He spent time at the Massey Ferguson tractor plant and the Honda car factory. He noticed that the equipment and components were laid out in a certain manner. People were multiskilled. Work flowed smoothly. Quality was idiot-proof. He visited Japan as part of a technology tie-up Bajaj Auto had forged with Kawasaki in 1984 and saw more of efficient manufacturing.
Naturally, the first thing to which he turned his attention at Bajaj Auto was the manufacturing process. Thus, at age 23, he began to teach.
He conducted classes with engineers and supervisors in batches of 20 to 30. He made a 150-page synopsis of his project work at Warwick, on customer-oriented manufacturing, and distributed copies of it among his new students, a large number of them much older than him. The classes were held in the evening. Homework was also involved.
In one such class, when Bajaj asked a question on manufacturing, Abraham Joseph, a year younger to Bajaj at 22, got up to answer it. Half an hour later, Joseph was still talking. A mechanical engineering graduate from the Regional Engineering College, Bhopal, he knew everything Bajaj knew without having gone to Warwick, done masters, or stepped out of the country.
"I knew right then that this guy was a natural," says Rajiv. Joseph, Joe to all, was the first one he identified for his core team for manufacturing excellence. For several years now Joe has been running Bajaj Auto's R&D and "designs everything".
They started with the assembly, the place where all the work done by all the wings of a factory comes together. That is where one realises if some parts do not fit, if some others nick the hand, if something is cracked, or if the paint is chipped.
Next to join the fledgling core team was Pradeep Shrivastava, now the Chief Operating Officer.An alumnus of IIT Delhi and IIM Bangalore, he could have been anywhere, but chose to work with Bajaj because he was passionate about manufacturing.
Soon they found D.V. Rangnath, who now heads Materials, Sanjay Saraswat, now the Vice President of Marketing, and Madhav Kini, who is now into business development and specialises in intellectual property.
"We all started at the same time. We started at an age when the second name did not matter. We worked together with our own hands. We made a lot of mistakes together. We have nothing to hide from one another. We have seen each other get married, and been at the hospital when someone had a child. We are not a team where I have to call a meeting and espouse some wisdom and people obey," says Rajiv.
He used to regularly play soccer with the workers until an injury a few years ago put an end to it and turned him to yoga. (His Twitter handle is @motorcycleyogi, though it has been inactive for years.) A lot of the product planning takes place on a slightly wobbly wrought iron table on the balcony attached to Bajaj's office. Another favourite spot is the balcony in Business Development Head Ravikumar's house. A teetotaller, Ravikumar has converted the balcony into a nice bar precisely for such meetings.
"Our beginning was a new beginning for the company. The physical entity of Bajaj Auto existed before. But with us came the end of scooters and start of motorcycles," says Rajiv.
1995-2008
Flying sparks
Having cleaned up the factories between 1990 and 1995, Rajiv and Joe moved to R&D. Joe found his groove there. "Anything he designed was right the first time. Joe never gets it wrong," says Rajiv.
The company had already proved itself to be an outlier by not taking on an equity partner who would feed it technology. Each of its rivals had one. Hero and Kinetic had Honda, TVS had Suzuki, Escorts had Yamaha and LML had Piaggio. Bajaj had Kawasaki, but only as a technology supplier, with no equity.
"Not having an equity partner that provided the technology, such as Honda for Hero, gave us the opportunity to learn. What we got was technical drawings from Kawasaki. The process, the why and the how, and the manufacturing were not transferred completely from Kawasaki. We made mistakes, but we learned," says Joe.
The new plant Rajiv Bajaj built in Chakan, near Pune, is his ode to modern manufacturing. The Akurdi factory, the company's first, had 20 per cent daily wage earners, 80 per cent skilled workers and no engineers on the shop floor. Chakan began with a study in contrast: 80 per cent diploma engineers and 20 per cent skilled workers.
"We used to make a million vehicles a year with 20,000 people. Now we make over four million with 5,000," says Shrivastava, the COO.
By the turn of the century, Bajaj began to become self-reliant in technology. The last motorcycle it built with Kawasaki's technology was the Eliminator in 1999.
Ironically, that was when the company also hit an all-time low. As the manufacturing slowdown engulfed Indian industry, Bajaj Auto's two-wheeler business made a loss in 2000/01, its first ever. "It was a lifechanging experience," says Rajiv.
What came to his rescue was the new-found self-reliance in technology. The company launched the Pulsar, a completely home-grown motorcycle, in 2001. It created a new segment, one with high margins, and continues to be a cornerstone of Bajaj's market play.
Two years after its launch, the Pulsar was given two spark plugs, which was unheard of not only in India but anywhere in the world. It was a result of one of those conversations on the wrought iron table on the balcony and solved a big problem of thermodynamics by striking a better balance between thermal and mechanical efficiency. It increased the power and fuel efficiency of the engine, and received a doff of the hat from the venerable Honda of Japan.
"We defended the Pulsar. Had we not put in twin spark, and had Yamaha came with FZ and Honda with Unicorn, as they did, they would have taken away a large part of our market. People forget that Pulsar was already successful. This was insurance," says Rajiv.
Soon TVS brought out its own motorcycle, Flame, which, too, boasted two spark plugs. Sure enough it landed the company in court. As the judiciary takes its time to decide the case, Bajaj Auto has begun to put three spark plugs in the Pulsar.
2008-Present Day
Discovery, nalayak
How things change. It appeared for a while in 2006/07 that Bajaj could challenge Hero MotoCorp (Hero Honda back then) in the numbers game. But in September 2008, Lehman Brothers collapsed. So did much of the global financial system. And so did Bajaj's sales.
"What the hell is happening, I thought. We had done everything right," recalls Bajaj. "Then we understood. Either you are lucky, like Hero, with a mai baap called Honda to see you through. Otherwise, if Escorts loses Yamaha, or Kinetic loses Honda, it disappears. At this rate Bajaj would disappear one day, I thought. We took a hard look at ourselves. Why will we not fail?"
Why will he not fail?
"We realised the meaning of the word strategy."
And what is strategy?
"Pulsar is a complete market leader in sports bikes in India with 50 per cent share. Honda, Yamaha Suzuki, everyone has products there. But they can't do anything. In Indonesia the same products of Honda and Yamaha are there. Pulsar is also there but has only two per cent market share. Products that succeed are good products. But most of the products that do not succeed are also good products. That was when I realised the importance of marketing."
And pray, what is marketing?
"It is all about the first-mover advantage. I was an engineer. I thought if I made a better product, it would sell. If Hero had a bike that gave 80 km to a litre, and I made one that gave 87, it should sell. But in reality no one comes to buy it. This I did not know earlier."
He might not have known it, but was doing some of it anyway. The Pulsar was a power bike at a time everyone was making mileage bikes. It had a 150cc engine, an 18-litre fuel tank, and delivered 12 BHP of peak power at a time when the norm was 100cc, 10-litre tank, and 7 BHP.
In the last five years, Bajaj Auto has launched at least 10 different models of the Pulsar, Discover and Boxer motorcycles, and of its threewheelers. Each had to go through the test of Bajaj's new realisations: Is it differentiated? Specialised? Unique? Sharp? Is it just better, or actually different? If the answer to all the questions is yes, Bajaj knows he is on track to create a market and not merely serve an existing one."If you are trying to ape someone, you would only endorse that someone. Every time I made a mileage bike like Hero, people said Hero was right because Bajaj was doing the same thing."
A lot of the new market was created outside India: in Africa, South America and Central America. Bajaj had been into exports for many years and closed 2006/07 with Rs1,690 crore in international sales, which was under 20 per cent of the group turnover. In 2007, it poached Rakesh Sharma, who was in Kuala Lumpur heading British multinational ICI's Asean business, and fashioned a structured approach to exports. "Since then the international business has more than trebled," says Sharma. It is now worth over Rs6,500 crore, a third of the group's turnover.
As the gains were made, so were the sacrifices. Bajaj has stayed away from scooterettes, mopeds, light commercial vehicles (which it considered seriously at one time) and has refused to make a 100cc Pulsar. But the biggest of all sacrifices was the scooter, which the company stopped making in early 2010.
That shocked many. Bajaj's grandfather Kamal Nayan had brought the scooter to India and father Rahul nurtured it for decades. The father has still not reconciled to the decision and calls Rajiv a nalayak for it. But the son is not to be deterred.
"One of the very few gyans I like coming out of a business school is what Michel Porter said, 'the presence of strategy in any organisation is best indicated by what it decides not to do'. So when someone says I do not play any sport except this, it inspires the feeling that he must be a champion in that sport. That is where perception starts."
Rajiv believes that the perception of being a specialist in motorcycles comes when he tells people
he does not want to make scooters
. The belief is so strong that he is not troubled by Honda Motorcycles & Scooters India overtaking Bajaj Auto to become the second largest twowheeler maker in India.
"I don't care if everyone - Honda, Yamaha, Suzuki, TVS - everyone overtakes me in two-wheelers. Tomorrow if TVS decides to make cheaper and cheaper mopeds, it might overtake me one day. What matters to me is the focus on motorcycles. Honda should not overtake Bajaj in motorcycles. Nobody should... We have the hope, or the desire, to become the largest motorcycle company. In motorcycles we are still number two, Honda is only half our size."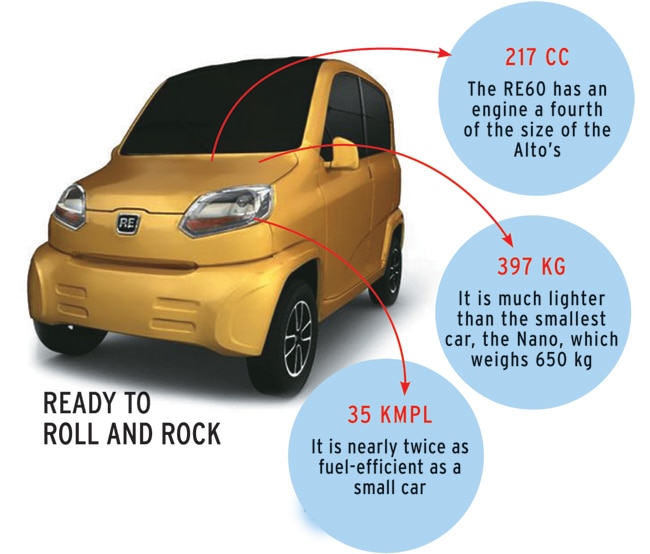 But how will he get to No.1? True, he is number one in exports, selling about 100,000 motorcycles overseas every month, nearly eight times what Hero does. But in India Hero is more than twice Bajaj's size, selling over 450,000 a month to Bajaj's 200,000 or so. "Somewhere we have to take away 100,000 bikes. If we gain 100,000 and they lose 100,000 and with a little help from Honda on the side, we can challenge Hero's leadership in motorcycles. That will be our attempt through the Discover." Six models of the Discover are being launched this year, with engine capacities ranging from 100 to 125cc.
But didn't he at one point say that the 100cc was a dead segment and Bajaj Auto was taking its game elsewhere? For all his understanding of strategy, did he misread the market and is now making amends?
Rajiv remembers the day he made that statement - February 20, 2007 - but says it was not how it sounded in media reporting. "I said there was a 100cc market with a clear leader: Hero. So for us the 100cc was dead. I would rather work on something different. We did not want to make just another 100cc bike. I have seen the kind of stuff Suzuki, Yamaha and Honda have done. It is pedestrian. Mathematically we are making a 100cc bike, but it is like a 125cc bike, giving 10.2 BHP because of four valves, twin spark, and five gears. These things are not always easy to communicate in a press conference."
It is also a time when Bajaj Auto can afford to focus on the volume segment. It is the dominant player in three-wheelers with 42 per cent share of the domestic market and 57 per cent of exports. Its spare parts business is expected to touch Rs1,500 crore in revenue, at 30 per cent operating margin, adding Rs500 crore to the bottom line. The Pulsar is the clear leader in sports bikes. And the company is by far the largest exporter of motorcycles. All these are money spinners and have grown Bajaj Auto's share price two and a half times in the last four years. The company's profit margin is about twice Hero's (see Peerless in Profit). And the RE60 is ready to roll.
"We have fixed everything else," says Bajaj. "Now we can put the larger part of the resources behind the one segment we did not have the time to address so far. Someone will say better late than never, some will say we left it too late. Time will tell."
PULSAR'S PROGRESS

Abraham Joseph, R&D whiz

Bajaj had tied up with Kawasaki in 1984. But those motorcycles were not very successful. We were not able to harness the full potential of the tie-up. We earned a poor name in the market due to quality issues, from manufacturing to service. Yamaha stood for performance and Hero Honda for fuel economy; we stood for nothing.

Not having an equity partner that provided the technology, such as Honda for Hero, gave us the opportunity to learn. What we got was technical drawings from Kawasaki. The process, the why and the how, and the manufacturing were not transferred completely from Kawasaki. We made mistakes, but we learned.

Today, Hero will not know why they do something, they will only know how. As long as they are making the same products they will be fine. The day they step out to do something different, it would turn around and bite them. There will be no one to answer their questions.

When we created the Pulsar in 2001, it was a contradiction to a typical 100cc bike. It was the result of a discussion in which the MD said let's do the opposite of what Hero stands for.

It was considered a risk. We had consultants who analysed the business and said Kawasaki had a 175cc engine of the Eliminator that was licensed for production. "Why are you investing in a new platform of engine," they asked. It was expensive technology.

People who saw it early on said the bike looked too big. Some agencies who did the market survey said the size of the tank should be reduced. But we knew what we were doing. We were avid bikers ourselves. The MD rode a M900 Ducati, I had a Yamaha RX100. We could sense what was lacking in the market.

The Eliminator was the last bike we made using Kawasaki technology. It came in 1999. Today it goes by the name of Avenger and uses an engine derived from the Pulsar.

Digital Twin Spark Ignition (DTSI) is the technology we developed to fight the stigma performance bikes suffer from: poor fuel economy. Two spark plugs are used in big cars, which have huge cylinders and big bores. We put two spark plugs in a motorcycle cylinder. DTSI yields 15 per cent more fuel economy and 12 per cent more power.

We have a patent on DTSI, but the more important thing is that in the minds of the people DTSI is Pulsar and Bajaj. If Yamaha does it, it would only endorse us.
STRUCK DOWN

The well wishers of Indian manufacturing groaned in unison when a strike broke out on June 25 at Bajaj Auto's Chakan plant, near Pune. It would only make the slowdown worse. But they had not reckoned with Rajiv Bajaj.

Bajaj was convinced that the Chakan workers already had a good thing going. They got annual increments and a good jump every three and a half years. Their demand for shares at a heavily discounted price was just not acceptable to a company that does not give shares even to senior management.

After 40 days, Bajaj took the unusual step of giving the workers a week to end the strike. Else, he would shift most of the production out of Chakan to his other plants in Aurangabad and Pant Nagar. The strike ended a day after the deadline. Union leaders tried to save face with the pretexts of the slowdown and the festival season.

"The strike was withdrawn unconditionally. After a few days of the strike, we managed to produce about 1,900 Pulsars at Chakan and 1,200 to 1,300 in Aurangabad. So there was no real loss in retail," says S. Ravikumar, Head of Business Development. "I think everyone has understood that when Rajiv says something, there is a high probability he would go ahead and do it."

OUT OF AFRICA

Bajaj had been into exports for many years. We closed 2006/07 with Rs 1,690 crore in international sales, which was 18 to 19 per cent of the group turnover. Its contribution to the bottom line was less than that.

Since then the international business has more than trebled. We are now in 25 countries and almost 90 per cent of our international business is in countries where we are either No.1 or 2. The international business is worth over Rs 6,500 crore, a third of the group's turnover. We have an ambition to go to 50 per cent of the group's top line and bottom line, and clock Rs 10,000 crore in turnover.

Rajiv [Bajaj] had made an entrepreneurial play in Nigeria, the largest market in Africa. We were losing money there initially, but wanted to take on the Chinese. In early 2000, Chinese motorcycles got banned in some 300 towns in their home country overnight. All the local manufacturers - and there were many - rushed overseas at marginal cost pricing. This coincided with economic and political stability coming into many African countries like Nigeria, Kenya and Angola, and some countries in Latin America. Public transport in those countries is woeful. We could not compete with the Chinese on price alone, but a combination of improving purchasing power and people's desire for a better product made our proposition more attractive.

Our conviction that we can become the leader in a market with low purchasing power was shaped in Nigeria. In 2005/06 we sold at 20 per cent premium to the Chinese in Nigeria.

We had just come in and made losses on every motorcycle sold. Today our premium to the Chinese is almost 50 per cent and we have over 40 per cent of the market in Nigeria. Even Honda, which entered Nigeria two years ago with a low-cost motorcycle, is priced seven to eight per cent lower than us. The Boxer is our main model in Africa. It has evolved a lot. The African market is almost entirely moto-taxis. The Pulsar is the leading model across Latin America, outside Brazil. Two years have passed since Hero announced its international plans.

We have not seen much from them to make us worry. The Chinese are still 50 per cent of the markets we address. I am more concerned about how to annihilate them. Things are better now; five years ago the Chinese had 80 per cent of the market.

Research by Jyotindra Dubey