For start-up entrepreneurs there is a lot of risk but there are substantial gains as well and that is what drives them," says Lalit Patel, Vice President of India Operations at BASH Gaming. Patel dreamt of starting a gaming venture while still working at Slideshare, the Delhi and US-based company that was acquired by LinkedIn for $119 million in 2012. He, like all other employees of Slideshare, held stock options and so made some money.
But four months ago he made a windfall when BASH Gaming, the start-up he founded in 2008, was acquired by US-based Game Show Network (GSN) for about $165 million. Tandem Capital, a Silicon Valley-based startup accelerator, had invested about $200,000 in 2011 in BASH and ended up making 100 times returns on the capital invested. GSN, a joint venture between DirecTV and Sony Pictures Television, makes popular television game shows such as Wheel of Fortune and Family Feud and wanted to add popular mobile games to its kitty too.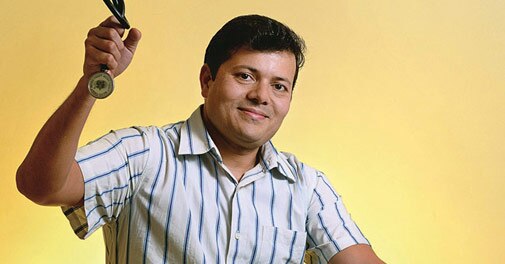 BASH Gaming was a great choice for GSN because its Bingo Bash was one of the first mobileversions of bingo games. It allowed multiple players to play the game at the same time across multiple devices. Bingo Bash has over 40 million installs globally with a million active users a day. BASH Gaming has 130 designers and developers put together at its Bangalore office while the concept and strategy inputs come from the US office. Patel doesn't want to disclose how much he made in the transaction with GSN but now plans to invest in other start-ups.
"I want to make others successful as well," he says with a smile. Indeed, while Facebook's acquisition of mobile app analytics company Little Eye Labs early this year did create a stir, there have been several such acquisitions of Indian start-ups by global companies in the past couple of years.
"Some of them are keen to get access to the Indian market, acquire talent or the product or both," says Karthik Reddy, Co-founder and Managing Partner at early-stage venture firm Blume Ventures.
Clearly, mergers and acquisitions (M&As) involving start-ups of Indian origin and foreign companies are on an uptrend. The most recent of these was the acquisition of Sourcebits, a Bangalore-based mobile application development company, by US-based Globo in June for about $18 million. This has meant that exits for some entrepreneurs are coming much sooner in the business cycle than anticipated. Consider the example of Ahmedabad-based Nirmit Parikh, who visited the US this year to meet a couple of investors for his start-up, CruxLight, which creates short summaries of web articles.
Instead, during the trip he got an offer from education technology company Kno to buy CruxLight. "It was the most serendipitous thing that could happen to me," says Parikh, 26, who sold CruxLight in May 2013 to Kno for an undisclosed amount, barely a year after founding it in 2012.
Incidentally, Kno was acquired six months later by technology giant Intel.
"The marriage worked because Kno was working towards simplifying digital education and our product fitted well into that strategy," says Parikh, now Director of Data Analytics at Intel. He is currently busy setting up Intel's office in Ahmedabad.
"The time period between launching the start-up to its acquisition is constantly shrinking. It is a function of the quality of the technology teams at these start-ups and their ability to build products faster," says Prashanth Prakash, Partner at venture firm Accel Partners.
High-quality engineering talent with start-ups is a big draw for global companies and that is making a case for 'acqui-hires' - a popular term in Silicon Valley to explain acquisitions which are largely aimed at acquiring talent.
Bangalore-based Colimetrics is an example. Founded in 2012 by Pankaj Kulkarni and others, it used to build software to improve employee productivity by analysing emails. The company was acquired in February this year by US-based mobile technology company ActMobile in an all-stock deal.
"While there was no product-fit, they found us great engineers," says Pankaj Kulkarni, CEO and Co-founder of Colimetrics. The acquisition meant the end of the road for the Colimetrics product but Kulkarni and his team now form the engineering division for ActMobile and continue to work from Bangalore.
For Kulkarni, the exit was much required because the team was struggling to find the product-market fit for about 18 months and sales were not picking up. Kulkarni points to the importance of being reasonable.
"Everyone cannot be a Google or a Facebook," he says. There is another reason for the growing interest in Indian start-ups. Many of them have a large number of their clients abroad. "About 80 per cent of our revenues come from outside India. That was the most important reason why Ebix acquired us," says Kunal Sinha, CEO of Healthcare Magic, a website which provides answers to medical questions for a fee.
The start-up was acquired by Ebix, a leading international supplier of software and e-commerce solutions to the insurance industry, in May for $18.5 million. Some entrepreneurs find quick exits a more viable option than raising capital in multiple rounds at unfair terms from investors.
Consider the example of Mumbaibased mobile payment start-up, Qubecell. Founded by Ranjan R. Reddy in 2012, the company had raised seed funding from Blume Ventures and Kae Capital and was mulling two term sheets for follow-on funding. But the terms of funding would have relegated Reddy's holding to a tiny stake in the company.
"In India, venture capitalists end up taking a large stake in the company and when you have to offer equity to early employees and others as well, that leaves you with nothing," says Reddy. An acquisition offer from US-based Boku, a leading company in the same business and looking to expand into India and the Middle East, bailed out Reddy. For start-ups, such acquisitions are also bringing in global exposure.
"The team will get global exposure because we will be handling Boku's global clients as well," says Reddy, now Vice President, Boku. Despite the growing trend of deals between Indian start-ups and foreign companies, such examples are not the norm, point out analysts.
"Even a small country like Israel ranks number two in terms of M&As after the US. We need to occupy that slot," says Jay Pullur, Founder and CEO at Hyderabad-based Pramati Technologies, who also heads the M&A connect programme at software products association iSpirt. Big ticket exits, like the Rs 800 crore acquisition of online bus ticketing company red-Bus by South-African media giant Naspers-owned Ibibo group last year, are still rare. But Pullur believes the start-up ecosystem in the country is getting a boost from these cross-border deals.
"Every deal is important because they make news and that helps spread the word among investors, lawyers and investment bankers," says Pullur.
Awareness about Indian start-ups is still low abroad, he points out. iSpirt organised a round table last year in California and found that some of the world's biggest start-up acquirers - IBM, Cisco, Intel, Google and Facebook -- were hardly aware of Indian technology start-ups.
"In India, large IT companies like Infosys have missed the M&A opportunity with startups. But in the US, often large companies are built with scores of acquisitions," says a venture capital investor on condition of anonymity.
iSpirt expects more global companies showing interest in Indian start-ups than local companies in the future. For a booming start-up ecosystem, M&As are needed as much as funding. Early exits lead to more money flowing into the system, attracts more risk capital for start-ups, and boosts the confidence of entrepreneurs and investors. Even small deals make sense for start-ups who face challenges in getting capital or generating sales. For the moment, then, it seems that global companies are waking up to the potential of Indian start-ups.