N. Srinivasan stepped aside as President of the Board of Control for Cricket in India (BCCI) on Sunday, June 2, pending an investigation by the board into his son-in-law Gurunath Meiyappan's alleged involvement in betting/spot fixing in the Indian Premier League cricket matches. Jagmohan Dalmiya has taken Srinivasan's place as interim president of BCCI. The following story was written for Business Today magazine that went to press on Thursday, May 30.

---
That clammy Chennai afternoon in 1961, tennis coach T.K. Ramanathan was perplexed. He knew a good player when he saw one. His son Ramanathan Krishnan had played the semi-finals at Wimbledon that year as well as the previous one, the only Indian to have gone that far at a Grand Slam. But there was something about the boy on court before him that needed explaining.
Short, with a body not tailor-made for tennis, the 16-year-old was like a terrier on court, openly defying the limitations of his physique. After much thought, TK articulated it to a ward: "If you want to win against this kid, you will have to defeat him. He will never give up and lose."
That kid, N. Srinivasan, is today the greatest force in Indian sport. And that is not because of a miraculous transformation in his physique. He would still struggle to nudge 5'5", and may tip the scales at a level far above what weight management websites prescribe.
However, as the president of the
Board of Control for Cricket in India
(BCCI), he is the heaviest in the business of sport. And he won't let go, openly defying the howls and yelps for his resignation. TK might have said: "He will not give up and quit." Even if that means saying at a press conference that his son-in-law, arrested for betting and fixing, used to be seen in the Chennai Super Kings dugout merely because he was "enthusiastic".
THE COMPANY HE MANAGED TO KEEP
Distancing himself from the son-inlaw, Gurunath Meiyappan - scion of the fabled film house of AVM and a lover of fast cars - looks like a desperate attempt to save Chennai Super Kings, the highly
successful Indian Premier League
(IPL) franchise owned by India Cements, of which Srinivasan is the promoter and top manager. For the fortunes of the franchise are perceived to be intertwined with those of the company, South India's largest cement maker.
Its shares had crashed 18 per cent in the 10 days after the spot-fixing scandal broke out. Not a welcome development when 71 per cent of the promoter group shares are pledged. This could be just the time to bring out the terrier in Srinivasan.
Disentangling himself from the antics of Meiyappan, husband to his only daughter and perceived heir Rupa, would hardly lead to a happy atmosphere at home. Already, his terms with the son are not the most cordial. Srinivasan's only brother, N. Ramachandran, three years younger, was with India Cements as executive director but walked out in August 2009, selling his stake to Srinivasan. This purchase was among the deals that led to the pledging of shares. But all this is nothing compared to what Srinivasan has done out of his love for India Cements, a company co-founded by his father, T.S. Narayanaswami, with S.N.N. Sankaralinga Iyer.
Narayanaswami died in 1968, thrusting a 23-year-old Srinivasan, who was away studying chemical engineering in the United States, in a situation that required him to save the family business. Srinivasan became the deputy managing director of India Cements under K.S. Narayanan, Sankaralinga Iyer's son, who was the MD.
The arrangement proved tenuous, largely due to the generation gap between the two. The tyke was eased out in 1979.
Rs 3,245.92 cr is how much BCCI had in assets, loans and advances in 2011/12, up 32% over 2010/11
"That was the most testing period of my life. I was young, alone and wronged," recalls Srinivasan, looking anything but troubled in the garden of his house in Kodaikanal that sits on a cliff. Old-timers in the area say the property once belonged to the family of Finance Minister P. Chidambaram. Srinivasan, as he does every year, has come to spend the month of May here. He has no idea that in just a few days his only annual break will be disrupted violently as the world discovers the IPL's soft underbelly, with its festering betting and fixing. He has just had a round of golf, at which he boasts a respectable handicap of 10.
Though evicted, Srinivasan wouldn't give up. He went to court against his ouster and the company's annual general meetings became noisy affairs. As the battle raged, financial institutions, which held substantial equity, took control of the company. To get back in, Srinivasan began to spend a lot of time away, in New Delhi.
He spent months hanging around in Parliament library, a place where you found - you still do - people who could influence businesses without being a part of them. Those who saw Srinivasan then recall that he at times wrote speeches for MPs, all in an effort to get close to them. "My single-minded objective was to get India Cements back," he says.
Rs 382.36 cr was BCCI's net surplus for 2011/12, up 101.53% from Rs 189.73 crore the previous year
That was going to be more difficult than striking a few friendships, not the least because someone else soon joined the fray. In 1982/83, cigarette maker ITC, much before it decided to acquire a new identity through confectioneries and toiletries, got interested in cement.
Bureaucrats managing India Cements on behalf of the institutions liked the idea, and ITC bought the equity holdings of LIC and UTI. "I had to approach the courts and the Company Law Board and get this deal nullified," says Srinivasan.
ITC finally gave back the shares to the institutions. But it was only in 1989 that Srinivasan could benefit from a favourable political climate and his friendship with DMK leader Murasoli Maran to swing the deal. N. Sankar, Sankaralinga Iyer's grandson, became the Chairman of India Cements and Srinivasan the MD, running the day-to-day operations.
The arrangement was worked out using the time-honoured tools of realism (neither clan would get to control the company on its own), networking (politicians, as ever so often, played brokers), and ties of blood (Srinivasan's wife is from Sankaralinga Iyer's family).
"Those 10 long years robbed me of important years but taught me the virtues of perseverance, and the will to fight, and it ingrained in me the need to be alert 24/7," he says.
If you are still not convinced that Srinivasan would fight a
good fight in the fixing saga
, here is more. When he re-entered India Cements in 1989 it could make a mere 1.6 million tonnes a year, hardly enough to accommodate his ambition. Ten years of management by the institutions had put growth out of boardroom discussions. To the bureaucrat-managers, status quo was better than expansion, as the latter would entail decisions and accountability.
That was when the government lifted its controls over the cement industry, which till then had to take the Cement Controller's permission to decide how to sell, whom to sell to, and sell at what price.
"Once the decontrol happened, we were in a competitive environment and scale became critical," says Srinivasan. He embarked on a series of acquisitions: Coromandel Fertlizer's unit at Chilamkur in Andhra Pradesh in 1990, Visaka Cement in 1997, and Cement Corporation of India's Yerraguntla unit in 1998. In 1996, India Cements set up a million-tonne unit of its own at Dalavoi in Tamil Nadu.
South India in those days was starved of cement. This caught the attention of the big guys - indigenous Gujarat Ambuja and Larsen & Toubro, as well as multinationals like France's Lafarge. Srinvasan not only wanted to stave off predators but also keep them out by growing big himself. His biggest acquisition came in 1998. India Cements held 10 per cent in Andhra Pradesh company Raasi Cement. The itch for more became uncontrollable when promoter and chairman B.V. Raju's son-inlaw, amid family rancour, put his eight per cent equity on the block. "We moved in quickly and bought the stake." This triggered an open offer, for which the threshold at that time was 15 per cent equity.
The Raasi management termed the takeover hostile and began lobbying with financial institutions to avert it. They even invoked "Andhra Pride". Raju was an elder statesman of the state's business community and seen as someone being done in by a family traitor. Srinivasan was the vulture circling over a family feud. In his own eyes, though, he was the Good Samaritan.
"Ours was not a hostile takeover," he says. "We bought the stake to pre-empt MNC companies from acquiring it. I met Raju at his house in Hyderabad and explained that. I even offered to give back the shares India Cements had in Raasi. A joint management idea was also proposed."
As it turned out, Raju chose to exit Raasi. India Cements acquired his entire stake and then made the open offer. A happy byproduct of the deal was Sri Vishnu Cement, in which Raasi held a controlling stake and which naturally came into India Cements' fold. By now India Cements' capacity had jumped to nine million tonnes, the most in the south and among the five largest in India. Then the winner's curse struck.
THE COMPANY HE NEARLY LOST
April 2011 A two-judge bench of the Supreme Court gives a split verdict on the legality of Srinivasan, then BCCI Secretary, having business interests in the Chennai Super Kings, an IPL franchise. The case has been referred to a larger bench
The rapid expansion was funded mostly by debt, of which there was no less than Rs 1,750 crore now weighing on India Cements. To make matters worse, the government announced that from January 23, 2000, companies setting up projects could no longer keep the sales tax collected. Without this incentive, project cost would shoot up. A rush for fresh capacity began before it was phased out. That led to overcapacity. According to estimates, by 2002/03 the cement industry in the south had 40 per cent more capacity than the market demanded. Prices crashed.
That, and the burden of debt servicing, caused India Cements to report its highest ever loss of Rs 307 crore in 2002/03. It began to default on debt payments - interest and principal. "We had no choice but to opt for corporate debt restructuring," says Srinivasan. India Cements was forced to sell its ships - it had a shipping division - land, and Sri Vishnu Cement. But that was not enough. A time came when it looked like Raasi would have to be sold, too.
But, once again, Srinivasan rose to defy his circumstances. When no help was available at home, he chose to issue global depository receipts (GDRS), much against the advice of every market expert.
The advice was sane; which global investor would put money in a company that had defaulted on debt servicing? "I went for it as I did not want to dismember the company anymore and was confident of convincing the investors of India Cements' future," says Srinivasan.
He pulled it off. The GDRs raised Rs 497 crore. Fortuitously, cement prices bounced back. India Cements emerged out of the CDR. "I learnt one bitter lesson from this crisis; never expand in a fractured market using debt," he admits.
Expansion has other costs, too. India Cements is a large company today, but not the most efficient. Its operating profit and net profit margins lag peers.
"India Cements is a collection of units which we set up, acquired or picked up in auctions. They are of different vintages, technologies, and age. Had we set up these capacities ourselves we would have also been the best, but it would have taken much longer."
On May 20, the company reported a 44 per cent decline in net profit for 2012/13 to Rs 163.55 crore on revenues of Rs 4,597 crore.
THE COMPANY HE KEEPS
Srinivasan entered the world of cricket administration by accident, and stayed on because of his abhorrence for losing.
In 1993/94, Sankar, with whose family Srinivasan had rebuilt relations to wrest India Cements back, became the president of the Tamil Nadu Cricket Association (TNCA). Sankar suggested Srinivasan for vice president. Srinivasan, who till then had shown no interest in cricket administration, agreed and contested. And lost.
He went back to running his company, but did not forget the loss. "I do not like to lose," says Srinivasan. He contested the election again in 1998 and won, this time nominated by A.C. Muthiah, Chairman of Spic Group, who had taken a stranglehold on TNCA.
Three years later the two had fallen out. Muthiah blames Srinivasan for scuttling his bid to become the BCCI president in 2001, when they were apparently still close. Srinivasan went on to take a firm grip on TNCA.
In 2002/03, he ran for TNCA president and won. It is a post he still holds. By this time, his proximity to DMK was known to all; Muthuvel Karunanidhi would often be seen at cricket matches with Srinivasan giving him company.
Another politician, Maharashtra's Sharad Pawar, took Srinivasan to the national stage. Pawar had become the BCCI president in 2005 with ample help from Srinivasan, who by now was a force in South India's cricket set-up. Pawar made him BCCI's treasurer.
According to various accounts, Pawar liked Srinivasan for his decisiveness, especially the way he dealt with Pawar's predecessor in BCCI, Jagmohan Dalmia, who was expelled in 2006 for alleged mismanagement of funds. Srinivasan also proved astute in handling media rights and in allocating funds for cricket infrastructure.
Prior to 2005, BCCI offered Rs 4 crore as infrastructure subsidy to the state associations. Today it is Rs 50 crore. The last England tour saw Test matches played in three new stadiums at Ranchi, Dharamshala, and Rajkot. There are now academies across the country for players, umpires and pitch curators.
"The level of facilities is enormous and we have taken cricket to all nooks and corners of the country," says Srinivasan, adding this would not have been possible had BCCI not realised the fair value of Indian Cricket. "The following the sport has in the country, coupled with the interest advertisers have in promoting their products to this audience, has meant that media rights have become the single-largest source of revenue for BCCI. We are using it effectively to promote the sport."
While he gives to infrastructure, Srinivasan does not forget the men. Last year, BCCI gave away Rs 75 crore to 174 cricketers who had retired before 2004. "This is our way of recognising them," says Srinivasan, amid phone calls asking him about an article on an Australian newspaper's website that had dubbed him "cricket's most destructive figure".
Questions have been raised whether BCCI's magnanimity under Srinivasan has silenced voices against his continued run even though the spot-fixing scandal has reached his doorstep. The jury is out on that, but there is no doubt that Srinivasan has never been short of supporters in his battles.
Of those there have been many. He has steadfastly thwarted all attempts by the International Cricket Council to make India embrace the Umpires Decision Referral System. The two premier voices of Indian cricket commentary, Sunil Gavaskar and Ravi Shastri, have always supported BCCI's stand on this.
Incidentally, at one time both got about Rs 3.5 crore a year from the board, in addition to what they got from the broadcasters. Ajay Maken, when he was Union Sports Minister, had proposed a National Sports Development Bill aimed at changing the way sports federations were run in the country. The Bill proposed to bring all sports bodies under the Right To Information Act, place an age limit of 70 on their officer-bearers, and limit their terms to two. It divided the Cabinet. Powerful ministers across party lines - Sharad Pawar, Farooq Abdullah, C.P. Joshi - opposed it. In October last year, Maken was elevated to Cabinet rank and given a different portfolio: Housing and Urban Poverty Alleviation.
When the IPL started in 2008, BCCI changed its rules to allow its office-bearers to own teams. Srinivasan is the only one who does - officially anyway. His friend-turned-foe Muthiah dragged him to court over this, alleging a conflict of interest. The Supreme Court allowed Srinivasan to take charge as the BCCI president pending the outcome of the case. It is still pending.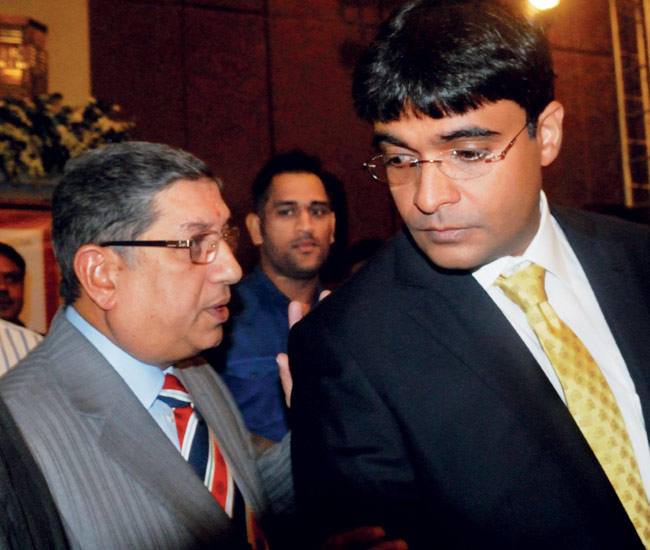 Srinivasan denies any conflict on the ground that everything had been disclosed, and that India Cements - not he - owns Chennai Super Kings. "India Cements had been involved in cricket even before the game became a money spinner. My father started this involvement way back in the late 1950s. We have traditionally employed cricketers such as S. Venkatraghavan, Rahul Dravid, R. Ashwin and M.S. Dhoni. At one point in time, most of the players who represented Tamil Nadu in Ranji Trophy were employees of India Cements. Cricket is part of India Cements' culture," he argues.
Not everyone buys his arguments. His company has been fined Rs 187 crore by the Competition Commission of India for being part of a cartel and inflating cement prices.
"We have appealed against the order and all I can say is that in a highly fragmented cement industry it is not possible to manipulate prices. Price parallelism has been wrongly construed as cartelisation," says Srinivasan. Other cement companies have also been fined.
He has been at the receiving end of the commission at the other front, too. BCCI has been fined Rs 52 crore for abuse of its position.
He has also been questioned by the Central Bureau of Investigation in a case involving Y.S. Jagan Mohan Reddy, son of former Andhra Pradesh Chief Minister Y.S. Rajasekhara Reddy. India Cements has been accused of making investments in Reddy's companies in return for water from the Krishna river to its factories in Andhra Pradesh. "We invested Rs 90 crore in Bharathi Cement (which is owned by Jagan Reddy) as it was coming up in our area. Our plan was to acquire it later, but the price they expected was too high. So we sold our stake for Rs 120 crore and made a decent profit," he says. About the alleged quid pro quo, he says the government was bound by an agreement to supply the water.
As this magazine went to press, cracks seemed to be appearing in his fiefdom. Jyotiraditya Scindia, Union Minister and president of the Madhya Pradesh Cricket Association, on May 28 became the first from within the BCCI structure to call for Srinivasan's resignation.
The next day, IPL Commissioner Rajiv Shukla, after meeting BCCI vice president Arun Jaitley, said they had agreed that Srinivasan should "stay away" from the inquiry commission set up by the board to look into fixing and betting. According to the grapevine, both have ambitions to replace Srinivasan when his tenure ends this September. Shukla, however, did not say that Srinivasan should resign.
That the sports ministry did. "As there is a conflict of interest in this inquiry, the BCCI president should tender his resignation on moral grounds," the ministry said in a statement on May 29. For Srinivasan, whose favourite book is Mario Puzo's The Godfather, it could be 1979 all over again, or 2003. To be sure, he won't give up and lose. If he is still the BCCI president by the time you get to read this, he may have been able to make an offer they cannot refuse.
With inputs from Sebastian P.T.