October 9: It couldn't have been a better day to have a panel discussion on the prospects for the Indian stock markets. The benchmark Sensex on the Bombay Stock Exchange has just shattered all records by recording its highest ever single-day gain of 789 points to hurtle past 18,000. Are we moving too fast?
That's just one of the questions Business Today posed to five of the brightest minds on Dalal Street. Rashesh Shah, CEO& MD, Edelweiss Capital; Manish Chokhani, Director, Enam Financial Consultants; Ratnesh Kumar, Managing Director & Head, India Research & Asia Pacific Equity Research, Citi Investment Research; Gagan Banga, CEO, Indiabulls Credit Services; and Nilesh Shah, Chief Investment Officer & Deputy MD, ICICI Prudential AMC, attempt to make sense of the euphoric rise in the indices.
The panel: (1st row L-R) Banga, Kumar; (2nd row L-R) R. Shah, N. Shah and Chokhani
The panel's conclusion: The rally has a long way to go, but the days of 30-35 per cent annual returns may well be history. Excerpts from the discussion, moderated by BT's Executive Editor, Brian Carvalho.
BT: We're now in the fifth year of a pretty spectacular rally, which began somewhere around 3,000 levels (on the Sensex). Today, we've topped 18,000. Is this a fair representation of the India growth story, or are we running ahead of fundamentals?
Ganga Banga: We deserve to be here. Even if we look at valuation we aren't the most expensive market in the world today. Also, it's not as if India hasn't been expensive earlier. What's more, the story today, unlike in the past, is more international and in that sense we aren't that compartmentalised as we used to be earlier. We are getting more and more integrated with global risk, and it's a pure liquidity-based rally. That is the only worrisome factor. I don't think valuations are a big concern.
Manish Chokhani: Like what is a normal feature of most market cycles, we started in the depth of pessimism. We first discussed research and fundamentals and later went on to discuss momentum, technicals and liquidity. We are towards that end of the game rather than the beginning of the game. When you have rises that are perpendicular you will have corrections that are perpendicular. A feature of this bull market has been the levels of skepticism (amongst retail investors), which is why a lot of smart money has not been in the market this time.
Even during the last correction (when the Sensex dipped 13 per cent) a lot of people got out. But if you look at where we are in the entire cycle, which could go on for 40-50 years, I can say that what we are seeing today is not wholly unexpected. Markets don't top out on 18 to 19 times forward earnings. This is still a market with legs, but it's clearly not a cheap value investors' market.
Ratnesh Kumar: In the fifth year of this bull market, if you're asking me: Are we justified to be here, my answer is: Absolutely yes. We have had a five-year (cumulative average) corporate profit growth of 25-30 per cent and that is almost unprecedented in the recent history of corporate India. So to a great extent profits have kept pace; the market's rise has been justified by the huge growth in profitability. Profit growth is a function of a lot of things, many of which came together well.
Basically we had decent demand growth going and operating leverage was on the side of the corporate sector. So first and foremost it is important to remember that the rally or the fifth year of the bull market is very well backed by pretty strong growth in corporate profits. The second thing that has also worked in our favour, over the last five years since 9/11, is that there has been a persistent increase in global risk appetite.
This has basically resulted in a substantial amount of capital going into a lot of riskier assets. India has been a big beneficiary of this and because our story has been strong we have been able to capture a larger share of foreign flows coming into Asia in the last fourfive years than we were able to do in the previous 10-15 years. So these are the two aspects that are underpinning the market rally.
Rashesh Shah: When I started my career around 1988, the market (Sensex) was around 400. In the six years between 1988 and 1994, the market went up from 400 to 4,600, almost 11x in six years in spite of Harshad Mehta scam, the Babri Masjid demolition and the Indian forex crisis (in the early 90s) and everything else you could have. So ultimately it is all about growth and I think that was also the era where there was a global growth.
Our Panelists
Rashesh Shah
CEO & MD, Edelweiss Capital
Manish Chokhani
Director, Enam Financial Consultants
Ratnesh Kumar
Managing Director & Head India
Research & Asia Pacific Equity Research, Citi Investment Research
Gagan Banga
CEO, Indiabulls Credit Services
Nilesh Shah
CIO & Deputy MD, ICICI
Prudential AMC
It was the first phase of inflows into emerging markets. Compare that scenario with today's, when the market is at 18 times fiscal 2009 earnings, and we aren't seeing the euphoria or the madness that one was used to associate with investing in equity markets; people aren't overstretched or overleveraged, and price-earnings ratios of 100 aren't getting acceptable.
We aren't seeing the usual signs of a euphoric market. When markets rise, it sometimes does seem that they're going up too fast.
But fact is that growth in corporate earnings has been a lot faster than what most people expected.
Fact also is that in the absence of earnings even an 8 P/E is expensive; and in the presence of earnings an 18 P/E can be cheap.
Meantime, global liquidity has taken off, and I think the situation today (post the subprime crisis) is pretty similar to what happened in the US after the collapse of LTCM (Long Term Capital Management, a hedge fund that went under in the late '90s, triggering fears of a liquidity crisis).
Liquidity came back with a bang and found its way into the high-growth area of IT at that time.
This time around, all the liquidity is coming straight into emerging markets where all growth is here. So with liquidity and earnings being positive and neither showing signs of going away, we are fairly ok.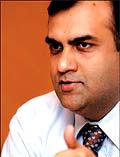 Manish Chokhani
Director, Enam FinancialConsultants"Indians are underinvested in equities. Public holding is not even $100 billion. We are saving $350 billion every year and in three years those savings will touch $1 trillion"
BT: Okay, granted that there's a lot of money coming into emerging markets, and India. But a fear is that this money could drive stocks up to unrealistic levels, and create a bubble-like scenario, similar to what happened on the Nasdaq at the turn of the century when valuations were totally out of whack. Are we anywhere close to such a scenario?
Manish Chokhani: It's important that everyone has this model in their head and that this becomes their investment thesis. It really began when they broke the gold standard (the dollar replaced gold as the international currency in the early '70s) and the dollar became the currency measure of the world. And ever since then they have printed dollars and it was free money. Effectively each bull market in every decade has been caused by excess money supply. And it ends in a bubble in every decade. In the 1970s, the boom was in commodities like oil, gold or silver.
We saw fantastic tops. But after those excesses,prices corrected for the next 20 years. It was effectively a bear market for oil and gold, with the top being reached in the 1980s. That money then looked for a place to go in the next decade and eventually caused a top in Japan. It was completely crazy, 100 P/Es were acceptable. At one point, Japan was 50 per cent of the world's market cap. Property prices peaked too. The value of the Imperial Palace (the residence of the Emperor of Japan) was said to be equivalent to the value of all the real estate in the state of California. It was that kind of excess.
The tail-end of that bull market came at the beginning of 1990, and touched India and other emerging markets. But it never sustained. In the 1990s people looked for the next area of growth, which was TMT (technology, media and telecom) and the Nasdaq. And that culminated in a complete blowout as well.
This decade, if you are looking out for growth where do you go? Back to real assets. Real estate all over the world is going crazy. Oil is at $80, heading towards $100. Gold has gone from $250 (per ounce) to $750 and is heading towards $1,000. And then there are the emerging markets like India, Brazil, Russia and China with their domestic stories, and which form the centrepiece of the bull market this time. If we just look beyond our border, China is trading at 44-45 times and no one is worried about that market.
They're doing $20 billion IPOs for relatively poorly-run companies (the stateowned Industrial & Commercial Bank of China is offering $20 billion worth of shares; this will be the world's largest IPO ever). We still have a lot of room before the bull market culminates. That will happen when crazy things start taking place, like India companies buying trophy bad assets overseas, and people like us will have explanations for why they did it and will justify it.
Only something like this will disrupt the current bull market.
Rashesh Shah: In a bull market, capital gets cheaper, and in a bear market capital gets expensive (be it bonds or equity). In the last five years, capital has got cheaper; and along with that the India growth story has emerged. So when you combine the two, a P/E of 8 at the bottom of the cycle has now become a P/E of 18. I think we are fortunate; in the last Asia boom, it was everything except India and China that benefitted; this time it's only India and China benefitting. Every boom has its own story. The current rise may look steep, but adjust it against past earnings, growth and future potential, and the cost of capital is still not expensive.
BT: Let's take a closer look at the crisis in the US—the subprime mess and the possibility of that economy slowing down. There are two very different views on how that will impact foreign flows into India. One is that a weak US market will result in increased flows into emerging markets, including India. Another is that global liquidity will dry up, and consequently foreign flows into Indian markets. Which is a more likely scenario?
Ratnesh Kumar: I am looking at two scenarios: A slowdown or a recession. If you have a slowdown of the US economy, it won't affect the risk appetite of investors, and assets will look to find other regions for higher growth. If that happens emerging markets, including India, will be the beneficiaries. However, if the US gets into recession, it's a different ball game. After all, at the end of day the US is still a source of a lot of capital, directly or indirectly in terms of other central bank putting money there. And even though our relative growth—or that of China—is much better than that of the US, a recession in the US will result in risk appetite going for a complete toss. However, as a house we don't believe this will happen.
Manish Chokhani: The US has a $10 trillion GDP. If there's a slowdown, you are talking maybe of (an erosion) of about 1 per cent growth in GDP, or $100 billion in incremental GDP. Recession is when you are saying a $300-400 billion of GDP will get wiped out. That, given the ability of the central bank to print notes, is a scenario nobody in the market is seeing. Also, when you're talking about flows, remember that the US has not been the source of capital in this bull market.
Rather, the US has been a consumer of capital, because everyone including India has been buying US treasuries to bridge the US current account. The source of capital has been the Asian block and the oil exporting countries. And that capital has clearly by now realised it is pointless getting deployed over there (in the US) and it's probably safer in a new place. Again, in a historical context, when Japan died it didn't mean that you didn't have a bull market on Nasdaq.
Similarly, just because the US is a blue chip that is falling, it doesn't mean you can't have a bull market elsewhere. Consider an Indian example. In the 1990s IT services was the place to be. These companies are currently not participating in the bull market. That doesn't mean you can't have a bull run without its presence.
We should also clear this misconception about our dependence on foreign flows. We are a $1 trillion GDP economy and our domestic savings are to the tune of $350 billion. People like us are going around and tapping those savings and bringing those investors into the market. And this is a half-glass empty market. Indians are fundamentally underinvested in equities. Local public holding is just 10 per cent of the market, and is not even $100 billion. We are saving $350 billion every year and in three years those savings will touch $1 trillion.
Continued on the next page...