Nestled amidst verdant hills 13 km from Perambalur, the eponymous district headquarter town in southern Tamil Nadu, this village conveys a sense of raucous wellbeing. It appears especially so when seen from atop a nearby hillock that houses the temple of Lord Muruga, the village's presiding deity. Down below, its 600-odd tiled-roof houses stacked along narrow lanes with open drains running alongside, and the ubiquitous television sets belting out Tamil music and serials from most homes reinforce that feeling.

As you trudge down and talk to a few villagers, it soon becomes clear that the village's green cover (thanks to the recent spell of rain) actually camouflages its underbelly of poverty and backwardness.


Welcome to Velur, the home of Andimuthu Raja, the 2G spectrum scam-tainted former telecom minister. Born in 1963 to S.K. Andimuthu and Chinnapillai, the youngest of eight children, Raja grew up in the village and completed his education (B.Sc, B.L, M.L) from the nearby Tiruchirapalli city.
His early involvement in public life in Perambalur through E.V.R. Periyar's Dravidar Kazhagam eventually led him to the Dravida Munnetra Kazhagam (DMK) in the 1990s. Being a Dalit and well-educated - a rare combination then - ensured his growth within the party. His Tamil poetry writing skills also endeared him to DMK patriarch M. Karunanidhi, himself a poet. Raja represented the reserved Perambalur Lok Sabha constituency in 1996, 1999 and 2004. In 2009, he shifted to Nilgiris as the Perambular constituency was de-reserved.
That he continues to be the DMK strongman in the region was evident when his supporters brought the entire district to a grinding halt for more than a day soon after his arrest by the Central Bureau of Investigation. Ironically, Raja's rapid rise as a politician and his enormous clout with Karunanidhi have meant very little to his people. A day after Raja's arrest on February 2 and undeterred by the bandh call given by his supporters, Velur resident N. Chidambaram, 65, is busy irrigating his one acre plot on which he cultivates paddy, groundnut and onions. "If the rainfall is good and commodity prices high, I manage to earn a surplus of Rs 20,000 a year,'' he says in Tamil. He did so three years ago. "The last few years have seen insufficient rainfall. I was unable to irrigate the crops properly,'' he rues.
A. Karunakaran, 61, who has a one-acre plot nearby, echoes Chidambaram. "We usually end up borrowing to make our ends meet,'' he says. The two seem resigned to their fate. Don't they feel disappointed that Raja has not brought about any transformation in their lives? "What can we do? Politicians talk a lot and when they come to power forget everything,'' they reply with a sheepish grin before walking away.
Arrested development
The lack of development is not restricted to Velur alone. A recent study by the Madras School of Economics on interdistrict disparity has identified Perambalur as the least developed among Tamil Nadu's 32 districts. It pegs the district's per capita income at Rs 13,068 (based on the most recent 2006-07 data), which is less than a third of the richer Virudhunagar (Rs 46,143) and Coimbatore (Rs 44,684) districts. Perambalur's share in Tamil Nadu's gross state domestic product is a paltry 0.83 per cent.
The reasons are obvious. Though the district is agriculture-based, it is almost entirely rain-fed. There are no irrigation facilities to bring in water from the Cauvery river (about 50 km away) that flows in Tiruchirapalli, or store up rainwater. Thanks to repeated monsoon failures and its predominantly small farmers, the district's farm output has remained low. For instance, its rice output at 2,503 kg per hectare is the lowest in the state.
For industry, the district boasts of just two sugar mills, 80 small-scale industry (SSI) units and 1,400 micro-industries, including welding and fabrication units, for a population of 1.18 million. Unlike the adjacent Ariyalur district which is limestone-rich (and is home to over half a dozen cement plants), Perambalur is devoid of mineral wealth.
While the economic deprivation in Perambalur district is by no means unique and the phenomenon is endemic across the country, what stands out is that for long no effort was made to tap industrial investment by leveraging the district's proximity to Tiruchirapalli, a major town 50 km away. Recent efforts, though, by Raja and the state administration have yielded mixed results.
The proposed Rs 5,000-crore multi-product Special Economic Zone - a joint venture between the Tamil Nadu Industrial Development Corporation and GVK Group - and an industrial estate for housing 100 SSI units are yet to take off, and the only bright spot is tyre major MRF's Rs 900-crore new unit coming up along the national highway.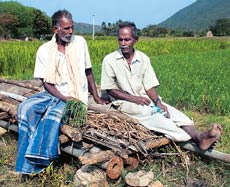 The district's lack of development has given Raja's political opponents a stick to flog him with. "In the last 15 years no attempt has been made to develop the district. Raja grew in stature and wealth but the people who elected him remained in poverty," says Dr M. Devarajan, a former MLA from Perambalur who is seeking an AIADMK ticket to contest the coming assembly elections. The last declared wealth of Raja stands at Rs 1.95 crore.
Perambalur fares poorly on many development indicators: at 65.88 per cent its literacy rate is the lowest in the state; it has a high school dropout rate; and its urbanisation level is just 16.05 per cent. District Collector M. Vijayakumar attributes the high dropout rate to the low income of people. "The lack of industrial jobs forces dropouts to take up menial jobs in the district or outside. This has kept them economically backward," he adds.
"We are addressing the problem in a multi-pronged way. We are pushing for crop diversification to wean people away from rice cultivation and move into cash crops such as cotton, sugarcane, etc. We are working to eliminate school dropouts, industrialise the district and create employment," Vijayakumar says.
A recent two-day skills development and placement fair conducted jointly by the Confederation of Indian Industry and the state government in the district for school dropouts and diploma holders attracted over 7,000 applications. In contrast, a similar job fair in Ariyalur district drew just 700 applicants.
One of those who attended the Perambalur job fair was R. Muthusamy, a farmer from Keelapuliyur village in the district's east, who doubles up as a daily-wage painter to supplement his income; he had come to see if his son, an 8th standard dropout, would get a decent job. In fact, Muthusamy shares a common past with Raja.
His family, like Raja's, returned from Sri Lanka in the early 1960s. Raja's forefathers, like many other people in and around Tiruchirapalli, had emigrated to the island nation in the early 20th century to work in the coffee and tea plantations. They came to be called "plantation Tamils". However, they suffered a setback when Sri Lanka, soon after Independence, disenfranchised plantation Tamils and made them stateless. Many of them chose to return to India. Andimuthu was one of them and so was Muthusamy's father.
The similarity between the two ends there, though. While Raja has grown to become powerful and wealthy, Muthusamy has continued to remain at the other end of the social "spectrum".