He can afford to hand out fistfuls of Liv.52 to anyone feeling liverish, although he would prefer to sell the pill. As Meraj Manal says, one Liv.52 is bought every second somewhere in the world. The only ayurveda pill among the 12 bestselling medications in India, Liv.52 has powered its manufacturer The Himalaya Drug Co into the ranks of Big Pharma in India.

But ask Manal to sell a slice of his privately-held company and you are shown the door. Many consumer care companies have tried to acquire a stake in Bangalore-based Himalaya. Dealmakers know it is not up for sale, but they do not give up hope or stop making bids.

Why should they? Himalaya, started by Manal's father, the late M. Manal, in 1930 to make herbal tablets in the Himalayan town of Dehradun, is today an established brand in over 70 countries with about 160 products - 66 in pharma, 63 in personal care, nine in baby care and 22 in animal care.

After India, its three top markets are West Asia, Russia and the CIS, and South East Asia. In 1999, Himalaya took its personal care range into global markets, piggybacking the equity of its pharma products.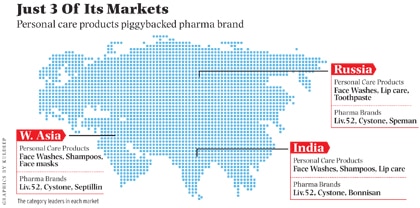 Figures are not available, but Manal says turnover has crossed Rs 1,000 crore on the back of Liv.52, some similar pills and the personal care products. "Liv.52 is one of the biggest successes of my father,'' says Manal, Chairman of Himalaya Global Holdings, which owns the nine operating subsidiaries in different regions.
I get 3 or 4 offers a year: Meraj Manal



Meraj Manal, 62, has always let his business heads to do the talking. In a rare interview with BT's K.R. Balasubramanyam, he explains why he does not want outside investments, and why values count more than profits. Edited excerpts



How did your father get into the herbal medicine business?


My father spent his lifetime gathering knowledge about traditional household remedies, standardising them, testing them for safety and efficacy and demonstrating them to doctors. He was the first who thought of producing herbal medicines in tablet form so doctors can prescribe them... Whenever he heard about a remedy, he would jot it down on a plain card to work on them later. We have tens of thousands of such cards stored in boxes. Our toothpaste is a product from one such card scribbled 40 years ago.



Why are you still not a public company?


I don't want a rupee from anyone other than the bank, because it is difficult to explain what we do to a shareholder. Can I accept outside investments and allow these cards (pointing to the stacks of his father's cards) to disappear? Our whole philosophy, our value system is so different, how do I explain this to investors? All my children - four daughters and three sons - think so.



Do you get offers?


I receive three or four offers a year. Multinationals have spoken to me and one of them even said we are the nugget of the herbal industry. If I accept these offers and put that money in a bank, I would no doubt get millions every month... What will I do with that money? I don't want the liability of someone else's money with me, big or small. Once you accept outside investment, they will start advising us on things like cutting the number of curries in the lunch at our canteen… or the staff transport. They will ask us why you are doing this and that. There is no "why" here. This is how it is. Since we are closely held, I have the luxury to say profits are not everything.



How much of your revenues goes into R&D?


In this company, there is no limit on expenses on R&D. That is the only division without a budget. These (pointing to the cards) have to be converted into products.



How are you professionalising the company?


As you grow, you need people who know more than you do. You cannot reach the next step unless you professionalise.... We will reserve the holding company for family members and the subsidiaries will have only professionals. We have separated ownership from management. Family members will be responsible for nurturing our value system. I don't want family members on the business side. If they have energy, they are free to go out and pursue their interests.



So a family member becomes part of the holding company by default?


Admission is not by default. They must have something to contribute....My son heads the US business, and not because he is my son, but because he is a professional who knows the US market the best. He is doing remarkably well.



What about this Deputy Chairman's post?


I created the post two years ago and appointed Ravi Prasad for a very special reason. To send a strong message that the operational head does not have to be a Manal. People were astonished and are happy about the decision. Like any CEO of any other region, my son too reports to Ravi. (Ravi Prasad was elevated as Executive Chairman in October. He leads the global management team.)



Are you satisfied with your growth?


The growth we have had is more than satisfactory. If I want more than that, then we are greedy. We crossed Rs 1,000 crore in revenues last year. I don't know much about finances. Professionals handle that. I just sign on the papers. ...When I joined the business in 1965, the revenues were Rs 40 lakh…. The way we are growing in North and South America tells me that 20 years from now, they could possibly be our largest markets by volume.



Where is Himalaya headed?


We will never move from our core competence. I am not for diversifying. I am not a person who can do other things. Opportunities for growth are unlimited and there is no real need to diversify. Our global operations have taught us many things. The country does not matter. As long as there are homes with people, we will go there.
Research backbone
Although Himalaya's reliance on Liv.52 has come down after both its new as well as old pharma products picked up steam in the market, and it launched personal care products, it all began with this blockbuster, whose recipe was among the many jotted down by Manal's father on a card.
(Himalaya's future lies in thousands of similar cards with notes that are stacked in boxes in Manal's room.) The 52nd formula was a hit. Manal senior's aim had been to make herbal remedies available in tablet form, scientifically tested for efficacy, identified by name and prescribed by doctors. The passion for research continues.
Himalaya has raised its research, development and manufacturing standards so that its products clear regulatory hurdles abroad. "Apart from ayurvedic institutions, we also do clinical trials in leading allopathic institutions both in India and abroad,'' says Ravi Prasad, Executive Chairman of Himalaya Drug Company, who leads the team of professionals worldwide.
"The regulatory picture is not clear in many countries and in some countries our standards have been recognised as the benchmark," he says. Himalaya's R&D facility, he says, is one of the biggest for an ayurveda manufacturer, with about 120 multidisciplinary scientists. As Manal proudly declares, R&D is the "backbone" of the company.
Himalaya knows the key to growth lies in its ability to create more patents. The US Patent and Trademark Office has granted it patents for its sunscreen, under-eye cream, laxative, sedative, immunestimulant, anti-acne range and hairloss cream, and 76 applications are pending. It has just released in the US markets a new type of tablet in which the binders are also derived from herbs. "No company has done this before, and we have filed for a process patent," says Ravi Prasad. Until the 1990s, Himalaya's portfolio had only pharma remedies. It entered the equally lucrative consumer care market with some 20 products under the Ayurvedic Concepts range in 2001. Two years later, it created the umbrella brand Himalaya Herbal Healthcare. It also began opening exclusive outlets: there are 130 shops in India and 25 in Singapore, Malaysia, South Africa and the Cayman Islands.
Dream run
According to Ravi Prasad, Himalaya's personal care products are growing much faster globally than pharma products, because pharma faces tough regulations in some countries. As of now, Himalaya gets 58 per cent of its revenues from pharma products, but that seems set to change. Saket Gore, Business Head of the consumer products division, says: "Today, we are the market leaders in face washes in the UAE, India and Malaysia.''
According to The Nielsen Co figures for April-June 2010, Himalaya face washes had a 17.8 per cent market share in India, less than two percentage points behind multinationals Hindustan Unilever Ltd and L'Oreal. Himalaya's individual products also face competition from firms that are strong in one or just a few products, such as Colgate in toothpaste and Fair & Lovely in face masks. Doctors have been Himalaya's biggest brand ambassadors in pharmaceuticals.
Philipe Haydon, President & CEO for pharmaceuticals, says Himalaya is in touch with about 3.75 lakh doctors and reaches 94 per cent of pharma retailers. "We are the modern face of ayurveda in India and our medical representatives promote products with scientific detailing," says Haydon, who is also the CEO of the Asia Pacific region. In ayurveda retail, Himalaya competes with the likes of Dabur, Charak, and Baidyanath.
Odd man out


In a crowd of allopathy



Rank

Drug/ Company


1 Corex/ Pfizer
2 Phensedyl / Nicholas Piramal
3 Voveran/ Novartis
4 Augmentin/ GSK
5 Human Mixtard/ Abbott
6 Revital/ Ranbaxy
7 Dexorange/ Franco-Indian
8 Zifi/ FDC
9 Monocef/ Aristo Pharma
10 Becosules/ Pfizer
11 Taxim/ Alkem
12 Liv. 52/ Himalaya



Source: Indian Pharmaceutical Market rankings based on Org SSA report / Aug 2010
Internationally, consumer care and pharma contribute equally to revenues. "In 20 years from now, North and South America could possibly be our largest markets by volume. They are very big on herbal medicine,'' says Manal. These markets are headed by his son Nabeel, 36.
The Prognosis
Industry observers believe that while Himalaya has built a cult in Liv.52, it needs more such blockbusters to make up for its low-key marketing and a distribution network weaker than that of rivals such as Dabur India.
"Today, the brand Himalaya is recognised and closely associated as a natural remedy, but on the personal-care front it sends out no cues to a consumer. This is important in the FMCG category where it competes with many others," observes Kannan Sitaram, a former chief operating officer of Dabur.
Analysts say that opening shop-in-shops and branded stores is a good strategy. "But brandbuilding investments are required so that consumers will walk into a shop only for the Himalaya display. Also, being positioned as a mass brand, it needs greater presence and investment in distribution," says Sitaram. But the company has to figure out if its returns are justified. "After all, rentals are going up," he says.
In pharma, Himalaya is stronger. "It has very sharply- positioned products for the eyes, liver, bones and so on. It is also present in areas that are not crowded. Besides, it spends huge sums on R&D and can compete with some of the best pharma companies in India," says R.B. Smarta, Managing Director, Interlink Marketing Consultancy.
This also gives it an edge in global markets, where the demand for natural, ayurvedic and herbal remedies is growing. "They have very precise and extensive documentation on each of their ingredients, that can withstand the rigor of clinical trials. Their patents also stand them in good stead," says Smarta.
By buying raw materials directly from growers, collectors and nongovernmental organisations, Himalaya keeps costs under control. Recently, it signed an agreement with the Sikkim government to prepare farmers in organic farming of herbs and sustainable collection. In September, Himalaya, along with a few others, came under fire from the Centre for Science and Environment or CSE, which claimed that Himalaya's honey contained antibiotics beyond the stipulated standards. Ravi Prasad denies the charge. "The same batch was tested at three independent laboratories and none found any trace of antibiotics.
Our technical team will soon meet the CSE with these findings and seek its comments," he says.