An innocuous sentence in a presentation that Sasisekar Krish was making to a friend changed his company in ways he could never have imagined. He said: "We also sort nuts."

Krish's start-up, Nanopix, was selling image processing services to automotive companies around Chennai in 2009. Their factories needed cameras to inspect the dimensions of components such as nuts and bolts. But Ankesh Jain, a castor oil supplier with contacts in the automobile industry of Hubli, a city in northern Karnataka, thought "nuts" meant cashews, and phoned a local exporter.

MUST READ:It's raining start-ups

Krish was aware of the confusion, but was loath to give up. Sitting in a Cafe Coffee Day in the city's Travellers Bungalow Road, the IIT Madras graduate who worked for seven years with Wipro in Bangalore, downloaded pictures of cashews and wrote a program that could distinguish the colour and size of the nuts.

"It works," he told the exporter, who stared at him in disbelief. Cashew nuts need inspection, too. Sorting them is labour-intensive and expensive, so why not automate?


The exporter agreed, but gave him no business. Undeterred, Krish decided to build a machine anyway. The first one was ready by October 2010. Using imageprocessing algorithms, the machine can capture, process and analyse 18 cashew nuts a second, sorting them into 12 varieties based on size, colour, surface finish and shape. He has sold three machines to date, for Rs 25 lakh each.
Nanopix started in Bangalore, but moved to Hubli where it got incubation space, mentorship and funding from the Deshpande Foundation, set up by Indian-American entrepreneur and venture capitalist Gururaj Deshpande. The foundation works to
develop social entrepreneurship
.
Krish, now 35, is hardly alone. A bunch of IT services companies, including many software start-ups, have popped up in Hubli in recent years. "Five years back, there were only three IT companies in the city," says Vivek Pawar, CEO of chip design company Sankalp Semiconductors. "On average, they employed around 10 people. Now, we have more than 20 companies with an average of 20-25 people." Sankalp is based in Hubli.
MUST READ:
Easy funding makes start-ups get going
Remarkably, the city never figured on India's tech map and not even in the Karnataka government's scheme of things. A presentation by the state government for its much publicised Global Investors' Meet in June this year showcased the IT parks of Karnataka's Tier 2 cities - Gulbarga, Mangalore, Mysore, and Shimoga. Hubli, which has two IT parks, was given a miss.
Hubli is a
sleepy city of around 200 square kilometres
. It missed the bus in the mid-1990s, when large IT services companies such as Infosys first thought of Tier 2 locations such as Mangalore and Mysore. Hubli had neither an airport nor the kind of history that benefited many locations. For example, the proliferation of defence and electronics public sector units in Bangalore and Mysore led to the clustering of engineering colleges in the region, offering a perfect setting when software services took root. Pune, too, has seen the growth of outsourced R&D companies because its automotive and mechanical engineering heritage dates back to the 1940s.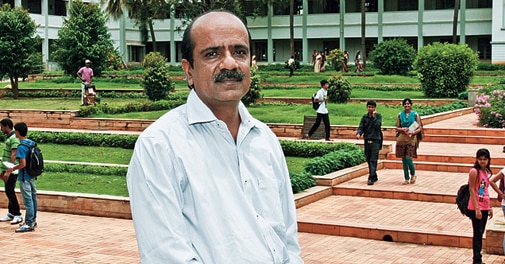 Hubli, by contrast, was a centre for trade in cotton and iron during the Vijayanagar empire. Then came handloom textile units and cotton processing mills, and much later, the manufacture of products such as industrial valves. An auto cluster is on the rise now, but technology was always an alien. All this is set to change as a bunch of young entrepreneurs fight to establish the city's identity in the Bangaloredominated world of IT. Operating expenses in Hubli are much lower than in Bangalore. The starting salary for a BPO employee is Rs 6000 to Rs 7,000, as opposed to at least Rs 10,000 to Rs 12,000 in Bangalore.
An ecosystem is also brewing. Besides the 20-odd tech entrepreneurs, Hubli has academia, global mentors, The Indus Entrepreneurs (TiE, a group formed in Silicon Valley in the US, to encourage entrepreneurship), incubation facilities, fastgrowing infrastructure, and now, Jagadish Shettar, Chief Minister of Karnataka. Shettar grew up, practiced law in, and got elected to the Assembly from Hubli, some 400 km northwest of Bangalore.
MUST READ:
How to get start-ups off the ground quickly
"We have sufficient land in Hubli-Dharwad for IT companies," he says. "Whatever incentives we provided to IT investors in Bangalore in the beginning, the same kind of support will be available to investors in Hubli, too."
Many entrepreneurs in Hubli count him among their friends. Shettar, as Karnataka's revenue minister in 2009, played a crucial role in getting 48 acres sanctioned for the Aryabhata Tech Park, which allowed 10 companies access to cheap land. Another 500 acres or so has been identified between Hubli and its twin city, Dharwad. The buzz is that two large Indian IT services companies with hubs in Bangalore may soon make Hubli a spoke in their business model.
Hubli's start-ups, meanwhile, are scaling up fast and increasingly doing complex work for global customers. Able Design Engineering Services, which does product design, is also a leading bus design company, with customers such as Tata Marcopolo and UK coach maker Alexander Dennis. NS Infotech has hired a team of MTechs to redesign components for GE's steam turbine systems. Nextgen Digital Imaging Services has developed software to turn photos into designer e-albums.
Sankalp Semiconductors, the biggest of the lot with 450 employees and $10 million in revenues, designs analog chips for devices such as mobile phones, TV, and modems. Its customers include the world's largest chipmakers. It is working on a 20-nanometer project, the latest manufacturing process node in semiconductors. In layman's terms, it is designing chip components that are 0.02 microns thick (a strand of human hair is 50 to 100 microns). With each new node, the chips get smaller, consume less power and improve in performance.
MUST READ:
Start-ups aim to make your ride smoother
Sankalp's CEO Vivek Pawar is a slim, bearded and voluble man. He talks so fast that his words get jumbled at times. A cancer survivor, Pawar dreamt of starting a company while meditating on a mountain near Salt Lake City in the US in 2003. He wanted to be in Hubli for reasons beyond cost. Retaining talent was easier, and there was that ulterior motive - he wanted to do " something for India".
"If Sankalp could become successful in a Tier 2 city, so could any other company," he says during a conversation frequently interrupted by phone calls and colleagues. He recalls the trend set by chipmaker Texas Instruments, which came to Bangalore in 1985. "Every other company from the US followed. Bangalore grew this way."
He says the mentorship of Gururaj Deshpande, also called Desh, is changing how local entrepreneurs think and function. Desh prodded Pawar to expand sales in the US during the 2009 recession. Sankalp benefited as US chipmakers ramped up projects as soon as the economy started to pick up. Desh also advised Sankalp to buy the semiconductor hardware solutions business of mid-tier player KPIT Cummins. Pawar parted with a 15 per cent stake in his company to acquire the arm in July 2012.
Desh, who left India in 1973, has founded and invested in about 10 companies, including Sycamore Networks, Cascade Communications and Coral Network Corporation. His biggest investment in India is Bangalore optical networking technology company Tejas Networks. But in Hubli, he wants to help small companies grow. He was instrumental in bringing TiE to Hubli, where its energetic head, Naveen Jha, now advises many start-ups.
"There's Nanopix," says Desh, who is visiting Hubli, and speaking with Business Today while sitting barefoot in the Deshpande Foundation office on the campus of the B.V. Bhoomaraddi (BVB) College of Engineering & Technology. "We also funded AquaSafi, which has found a way to purify water. These are all smaller ideas. We'd love to see 100 companies have 100 people each and create 10,000 jobs, as opposed to one large company that employs 10,000."
BVB College, founded in 1947, is a hub of start-up action in the city. Principal Ashok Shettar is seemingly impressed by a 2009 Kauffman Foundation report, which says that if companies founded by graduates of the Massachusetts Institute of Technology were a country, it would be the world's 17th largest economy with revenues of $2 trillion.
"We have reached a stage where we produce very good graduates," says principal Shettar. "We added value to North Karnataka. Then we started thinking if the college can directly impact the regional economy. Can it go beyond human resources development and research?"
The college has incubated seven companies on its campus, giving them free space, Internet connections and office furniture. The list includes companies started by alumni. Biosyl Technologies, which designs research equipment, was formed in June 2012 by BVB biotechnology graduates, Sarah D'Souza and Amit Vernekar.
Shashank Revankar, an electronic engineering graduate of the college, started Kooki, an embedded electronics product company, also in June. Kooki is designing a prototype for its first product, a home security system that can be operated through a smartphone. "We have a team of five, all studying at BVB College," says Revankar. "They will join full-time once they graduate next year. I will top whatever salary they are offered by any company."
Hubli's entrepreneurs have a challenge, though. Retaining talent is easier than in, say, Bangalore, but getting mid- to senior-level people to move to a Tier 2 location is tough. Pawar's Sankalp had to award senior executives significant equity.
On the brighter side, executives from outside the country are willing to relocate to Hubli to jump-start a venture. Born and raised in California, Anurag Sridharan, 25, is CEO of NextDrop, a service that alerts subscribers via SMS about when the civic authorities will turn the water on (Hubli's taps have water only once in every two to five days). "I am loving it," she says. "I wanted to run a business and that is what I am doing."
'Companies come to Hubli to recruit'


Gururaj Deshpande, President and Chairman of Sparta Group LLC, nurtures Hubli's IT entrepreneurs through his Deshpande Foundation. Excerpts from an interview:

On how Hubli has changed
I see the capabilities of the town developing. Some 40 years ago, people from the colleges here graduated and tried to get a job somewhere. But now, almost every good company in India comes to Hubli to recruit engineering graduates.

On mentoring Hubli entrepreneurs
I have been the founding chairman investor in about 10 companies. It's been fascinating for me to be a multiplier. My mentoring is mostly about, "Hey, have you thought about this?" Unblock a couple of roadblocks people have.

On fostering entrepreneurship
We are trying to make innovation and entrepreneurship part of the culture, so people get used to taking charge and make things happen.

'I have asked Infosys to come to Hubli'


Karnataka Chief Minister Jagadish Shettar hails from Hubli and also holds the IT portfolio. Excerpts from an interview with Business Today's K.R. Balasubramanyam:

Q. How are you preparing Hubli for IT investments?
A. We have developed Aryabhata Tech Park on a 25-acre plot in Hubli, and the response from investors has been encouraging. Quite a few small companies have come to Hubli. I recently met Kris Gopalakrishnan of Infosys, and have requested him to bring Infosys into Hubli. I have promised all support, and he has agreed to consider. Once Infosys comes, others will follow.

Q. How do you support IT investors?
A. We have sufficient land available in Hubli-Dharwad for IT companies. Whatever incentives we provided to IT investors in Bangalore in the beginning, the same kind of support will be available to investors in Hubli, too.

Q. What are you doing about flights to Hubli?
A. We have a Kingfisher flight between Hubli and Mumbai, but the airline has suspended services to Bangalore because of its own problems, not because of any problem with the Hubli's economy. We are in touch with airlines, especially SpiceJet, to operate flights between Hubli and Bangalore.
ADDITIONAL REPORTING BY K.R. BALASUBRAMANYAM