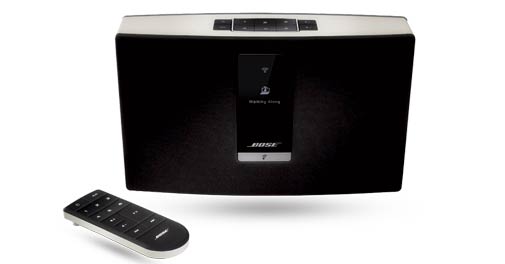 Bose Sound Touch 20
Bose Sound Touch 20
Price: Rs 2,512
Specs: Wireless connectivity, preset channels, remote control, AUX port
Bose product promises great looks and superb sound quality. The latest from the company is the Sound Touch series to stream music from the Internet. Of the three systems in the series, the Sound Touch 20 looks like a dock. The white textured top has power, auxiliary, volume keys and six channel buttons in black, on the top. There is a small OLED panel in the front to access notifications. The power port, aux, Ethernet port, micro USB port and a USB port are placed at the back.
Setting up the Sound Touch takes some time as it requires an app to be installed on the PC. After installation, it connects with the Sound Touch over Wi-Fi that can be used to control the player and play Internet radio.
It can also be connected to iTunes or Windows Media Player. The app is available for download for iOS and Android devices to play music from the phone. While accessing Internet radio, the sound wasn't very clear. The system comes with a remote to operate it from a distance. This Sound Touch is good enough for a small in-house party. But unlike the portable Sound Touch, which carries the same price tag, the Sound Touch 20 needs to be plugged in all the time.
-Controls are on the top
-Can change tracks even from a distance
-Sound output is impressive
Rating: 4.5/5
Bag it or junk it: A must have if you are addicted to Internet radio.