It will in all likelihood be the biggest purchase of your life. That's why every step on the way to buying a house-whether for living or investing-must be taken with extreme care.
There is another reason to be watchful. Soon, as the festival season begins, many developers will promise freebies and discounts that will seem too attractive to be missed but which in the end may turn out to be traps.
Banks and other lenders, too, will try to cash in on the festival fervour by giving loans on easy terms. Should you fall for these offers? Or does it make more sense to give them a miss and wait for a price correction, which may or may not happen?
It's a tough call. However, a look at the ground reality can throw up some useful hints. For instance, recent times have been marked by lack of investor interest and, hence, a sharp rise in inventory with builders.
Prices, too, have been rising at a slow pace. In fact, in many cities, they have fallen. While builders struggle to sell, high property and interest rates coupled with economic uncertainty is making people wait and watch. But the industry sentiment has improved and property brokerages are reporting a rise in the number of enquiries.
This year's Union Budget, too, has taken several steps to revive the industry. Though the big picture looks dull for now, there is a lot of action on the ground as new areas develop and provide ample scope for people to gain from possible price appreciation.
So, to help you zero in on the best places to buy a house, we analyse data for key real estate markets and talk to top experts so that you do not go wrong with one of the biggest investment decisions of your life. As an add-on, we get more specific and suggest options that will best suit your budget.
UPBEAT MOOD
The gloom over the real estate sector seems to be lifting. Both companies and lenders are upbeat. Reflecting this, the Sentiment Index-brought out by real estate consultancy Knight Frank and the Federation of Indian Chambers of Commerce and Industry-touched an all-time high in April-June. It was at 69 during the quarter, up 19 points from the launch level of 50 in the last quarter of 2013. A score of 50 represents neutral view while a reading above 50 signals bright outlook. A figure below 50 shows negative sentiment.
The index is based on a survey of stakeholders, including developers, private equity (PE) funds, banks and non-bank financial companies or NBFCs. The survey asks questions about economy, launches, sales, leasing activity, price rise and funding.
"Stakeholders seem markedly bullish about the future in view of stable government at the Centre and are expecting faster decision-making and economic reforms," says the report.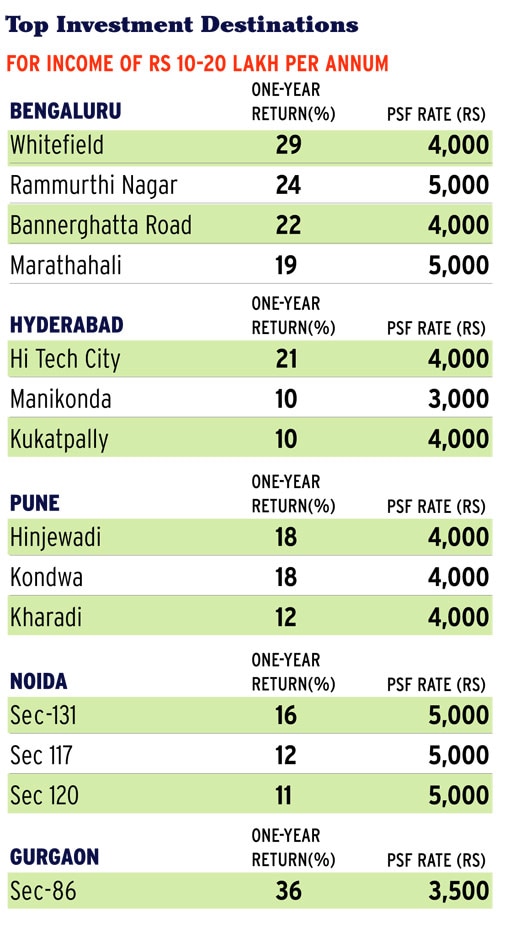 The latest Budget has also lifted spirits. One, it has paved the way for flow of funds to the sector by allowing foreign domestic investment, or FDI, in projects spread over 20,000 sq metres instead of 50,000 sq metres. Two, the minimum capitalisation required for FDI has been reduced from $10 billion to $5 billion. The Budget has also allocated Rs 4,000 crore for providing cheaper loans for low-cost housing to support the 'housing for all by 2022' scheme. Besides, Rs 7,060 crore has been allocated for building 100 'smart' cities.
But the best part of the Budget, say experts, is that it has cleared the ambiguity over taxation of Real Estate Investment Trusts, or REITs, by giving them passthrough status. This means income from REITs will be taxed in the hands of investors. As a follow-up, the Securities and Exchange Board of India, the market regulator, has come out with final guidelines on these investment instruments, paving the way for their launch. REITs work like mutual funds by pooling in money and investing in real estate assets. They are expected to give a boost to the sector by making available cheap money. Investors, too, will be able to gain exposure to the real estate market by investing as little as Rs 2 lakh (the likely ticket size of one unit of REIT).
"The government has announced some short- and long-term measures in the Budget that are likely to keep the sentiment buoyant. At makaan.com we are seeing a rise in the number of searches, indicating that more people are looking to buy property. I think it will take another 12-18 months for this sentiment to fuel growth in real estate transactions," says Aditya Verma, CEO, makaan.com.
Prashan Agarwal, co-founder, PropTiger.com, agrees. "The Budget is definitely positive for demand. But these steps, for instance launch of REITs and reduction in home loan interest rates, will take time to be implemented. Hence, we are projecting that the demand will rise only after twothree quarters."
Property portal magicbricks.com has seen a similar trend. "The number of enquiries has risen. Most industry experts believe the pace will start picking up in the next quarter. But a dramatic rise is unlikely," says Jayashree Kurup, head of research, magicbricks.com
LIQUIDITY PUSH

The sector has been facing a liquidity crunch for years and desperately needs competitive money, says Pankaj Kapoor, managing director, Liases Foras, a Mumbai-based real estate research analytics firm. According to CREDAI, real estate accounts for just 12% bank loans. Of this, developers get just 3%. This pushes them to go for high-cost loans. Besides, complex processes for approvals increase the cost of projects, leaving little room for reduction in prices. CREDAI is the Confederation of Real Estate Developers' Association of India.
The Reserve Bank of India, in order to ensure higher liquidity for the sector, has allowed banks to issue infrastructure bonds of up to seven years tenure. These bonds will not be subject to reserve requirements, releasing a lot of money for lending to projects for affordable housing.
Also, PE funds are returning to the market. Global real estate consultancy Cushman & Wakefield's latest report on PE funds in real estate says inflows in the first half of 2014 were Rs 4,100 crore ($675 million). The second quarter figure was Rs 1,300 crore ($215 million). Though this is 54% lower than the previous quarter, the total investment in the first half of 2014 is more than double the figure for the first half of 2013 (Rs 1,650 crore or $294 million). The inflows are the highest in the first half of the year since 2009 (Rs 4,950 crore or $1 billion).
According to a report by PropTiger, more FDI will ensure liquidity, helping builders launch more projects. Many fund houses, too, are raising money to invest in real estate projects. For instance, HDFC is raising $250 mn, Amplus Capital $50-100 mn, Capri Global $400 mn, Piramal Fund $58 mn, IIFL $125 mn and IDFC $125 mn.
"The sector is looking up slowly. Developers such as Tata Housing, Oberoi Realty, Runwal Group, DLF, Prestige Estates, VGN Developers and Kolte-Patil Developers are buying large land parcelsin major towns and cities across the country. PE funds, too, are joining hands with builders to acquire land," says Vineet Singh, business head, 99acres.com
SUPPLY OVERHANG

There is excess supply in all big cities (Inventory in Top Six Cities). One big reason for this is job uncertainty and poor pay increases in most industries for many years now due to the economic slowdown. Others factors are high prices and interest rates. Inventories, as a result, have been piling up fast.

The inventory in the country's six big markets (Bengaluru, Chennai, Hyderabad, Mumbai Metropolitan Region, or MMR, National Capital Region, or NCR, and Pune) in the first quarter of 2014-15 was 6.43 lakh units, according to Liases Foras. The highest unsold inventory was in Delhi-NCR (2.11 lakh units).

More worrying, say experts, is the absorption rate, which shows the pace at which homes are selling. It is calculated by dividing the total inventory with monthly sales. The figure for these cities is 35. This means it will take 35 months to sell the inventory if the pace of sales remains the same. The ideal period, say experts, is eight months. The Delhi-NCR had the highest inventory of 53 months in the first quarter of 2014-15. It accounted for 33% unsold units and 21% sales in the six cities mentioned above. Sales in Delhi-NCR in the first quarter of 2014-15 were 12,459 units,16% lower than in the same quarter of the previous year.
In Delhi-NCR, the highest inventory is in the price range of Rs 25-50 lakh, as per Liases Foras. "This is because the highest supply is in this segment," says Kapoor of Liases Foras
The MMR has 1.47 lakh unsold units. However, sales have risen 25% since the first quarter of 2013-14. Sequentially, they are down by 2%. In Bangalore, although the unsold inventory has gone up by 29% from the first quarter of 2013-14, sales have risen 16%.
PRICE CORRECTION

Excess supply should lead to a price fall. Has that happened? Price charts across cities are flat, reflecting sluggish sales. Discounts of 5-10% are common across markets, according to a report by PropTiger, which covers nine cities.
"For instance, the Delhi-NCR market has huge inventory in the secondary market, which has resulted in secondary market prices falling by 30%," says Kapoor.
"In cities like Bangalore, Pune and Chennai, a lot of PE money came in after 2011. As a result, property prices have peaked. Sales are happening in pre-launches but falling afterwards. In Pune, builders have started giving discounts of Rs 100-300 per sq ft," he says.
The fall in prices has hit investors. That is why experts say that people investing in real estate at this stage need to have reasonable expectations. "We are unlikely to see any unprecedented rise in capital values," says Shveta Jain, executive director, Residential Services, Cushman & Wakefield.
One can expect returns of 10-12% a year, but the holding period should be at least three-five years. Price spikes of 20-30% a year that we saw before 2008 are unlikely in the near future, she says.
Also, the return and holding period will depend on the purpose of the investment and the location of the project. Many professional investors make a small profit by buying at the lower price offered during the pre-launch stage and selling out when the project gets going after 12-18 months.
"They make a profit of Rs 500-1,500 per sq ft in each deal and carry out 10-20 such transactions in a year. Such investments were common and considered safe in markets such as Dwarka Expressway in Delhi-NCR. Now, many investors in projects in the same location are finding it difficult to exit (close to five years after the investment) and are willing to sell at a lower margin," says Anil Tayal, director & CEO, Informage Realty, a Gurgaonbased real estate consulting firm.
Kapoor of Liases Foras says, "I don't see enough price appreciation and the market becoming efficient in the next two-three years. In fact, we may witness a prolonged correction," he says. "For prices to rise, sales have to pick up, and for that income levels have to match the current prices. If prices stay at current levels and incomes rise by 10% a year for the next two-three years, we may see sales go up."
LAUNCH PAD

Excess supply has made developers go slow on new launches. As per the halfyearly report by PropTiger, there has been a 73% drop (from 1,30,562 units to 35,867 units) in new launches in the top nine cities in the second quarter of 2014 over the same period last year. The nine cities are Mumbai (including Navi Mumbai and Thane), Pune, Noida (includ-ing Greater Noida and Yamuna Expressway), Gurgaon (including Bhiwadi, Dharuhera and Sohna), Bangalore, Chennai, Hyderabad, Kolkata and Ahmedabad. Noida saw a significant fall of 83%.
Tough competition and excess supply have made some developers cut prices to offload inventory and reinvest in other projects. Some are launching projects priced lower than the current market prices. As per Liases Foras, in the first quarter of 2014-15, the weighted average price of new supply across the top six cities was 18% lower than the weighted average price of existing supply.
"Developers are launching new projects at lower prices compared to the previous ones. In Gurgaon, in 2011-12, residential units were sold for Rs 3,200-5,200 per sq ft. This saw a sharp rise in 2012-13, when prices went as high as Rs 11,000 per sq ft (Ekaantam, Sector 112). A steep decline was seen after late 2013 when Vatika Seven Elements houses went for Rs 8,200 per sq ft and DLF Ultima for Rs 7,200 per sq ft. Indiabulls is now offering residential properties at Rs 5,000 per sq ft at the the pre-launch stage, continuing the trend," says Tayal of Informage Realty. "However, in Noida, property rates have been consistently rising since 2010 and have reached Rs 5,000 per sq ft," says Tayal.
ATTRACTIVE SCHEMES

To bring back buyers to the market, developers are coming out with attractive offers. Some are including stamp duty and registration charges within the cost of the property. Others are offering free parking and club membership. Vatika Express City One, for instance, is giving modular kitchen and centralised air-conditioning for free, while Gulshan Homz in Noida is offering free club membership. Many developers are also giving flexible payment options. Satya Group is offering a 25:25:50 possession-linked payment plan for its Platina project in Sector 103 in Gurgaon. Under it, buyers pay 25% on booking, 25% on completion of construction and 50% on possession.
"The schemes vary according to the price and location of the property. Our recent survey on schemes found that 20:20:60 and 80:20 schemes attracted the most customers. They are also popular among developers," says Verma of makaan.com.
SHOULD YOU BUY?
"Buyers should utilise this time to bargain hard and make the purchase over the next 6-12 months. This will work to their advantage as developers are sitting on huge unsold stock and willing to offer discounts of 4-8%. As sentiment improves and transactions begin to pick pace, we will see developers withdraw these discounts and schemes. So, between now and the middle of next year may be the best time to buy property," says Verma of makaan.com
Tayal of Informage Realty also feels buyers can go ahead. "This is a good time to invest. Prices are reasonable. For example, prices in Gurgaon have come down to Rs 5,000 per sq ft (offered by Indiabulls) from Rs 8,200 last year," he says.
However, though the offers may be tempting, buyers should keep their eyes open. This is because these offers could be a way to attract buyers for a project that may be unviable or difficult to implement because of problems with approvals.
Some developers have been in news recently for building houses without approvals. For instance, Campa Cola Society (Worli in South Mumbai) residents suffered after a court ordered demolition of their flats as they were illegally constructed. The residents of the society didn't have the occupancy certificate even after 25 years. Although the flats have not been demolished yet, the supply of power, gas and water has been cut as per the court's order.
Recently, another court ordered the demolition of two towers in Supertech's Emerald Court Project in Noida. As per the court order, they were built in violation of the UP Apartments Act 2010. The court has asked Supertech to refund buyers
In another example, projects in the vicinity of Okhla Bird Sanctuary in Delhi-NCR ran into problems after the National Green Tribunal refrained the Noida authorities from issuing completion certificate to projects within the 10-km radius of the sanctuary or within the ecosensitive zone.
Also, project delays is a big problem. A look at data compiled by Liases Foras suggests that the situation is worst in the MMR and the Delhi-NCR. In both these markets, work on more than 50% buildings is behind schedule by at least 12 months. The figure for Bangalore and Chennai is 19%.
This is a big headache for those who have booked homes in pre-launch and launch stages. In case the project is not delivered on time, they have to keep paypaying both rent and equated monthly instalments (EMIs) on home loans, which can be a huge financial burden. Developers, on their part, blame delays in project approvals. After acquiring land, it takes around two years for a developer to get the certificate for starting the construction. This is one of the major issues plaguing the country's real estate sector.
But how can buyers deal with this? One, say experts, they should not get lured by low prices. They should check the builder's record of abiding by timelines. Also, there should be a clear penalty clause in the builder-buyer agreement under which the former must be liable to pay the buyer in case of a delay. If the builder refuses to pay the penalty, buyers can file complaints in consumer redressal forums at district, state and national levels. They must also check the financial status of the developer to see if it has the funds needed to complete the project.
"Buyers must check whether all approvals are in place or not. Also, they can opt for smaller projects. Developers are coming out with township projects which are very big and difficult to manage compared to small projects with 200-700 units," says Shveta Jain, executive director, Residential Services, Cushman & Wakefield.
So, buy your dream house with utmost care.
OFFICE SPACE WILL BE A GOOD INVESTMENT OPTION GOING FORWARD
Office spaces are better for those who want to invest in real estate for rental income. Rental yields for commercial properties are much higher than that for residential properties. However, the investment required is normally quite high.
Experts say that commercial spaces for which demand has been subdued for some time are good investment options. Pankaj Kapoor, MD, Liases Foras, says prices in the segment are better than in the residential space. "Rental yields were subdued and fell to 6-7% but have improved in the recent past and reached the efficient level of 10-12% as inventories are depleting due to rise in demand," he says.
As the economy improves, the demand for commercial space will go up. The absorption rate has improved already. "Commercial space absorption has already improved in major cities. Net office space absorption recorded a 16% increase in Ahmedabad, Chennai, Hyderabad, Mumbai, Bangalore, Delhi-NCR and Pune," says Vineet Singh, business head, 99acres.com.
A report by CIRE on India's office market for the second quarter of 2014 says: "The quarter saw an approximately 26% increase in quarteron-quarter office space absorption across these prime locations, from a little more than six million sq ft in Q1 to nearly eight million sq ft in Q2. New Grade A office space addition, meanwhile, grew by 3% quarter-on-quarter across seven leading cities, in Q2 of 2014."
The nod to Real Estate Investment Trusts, or REITs, is also positive for the segment. These trusts will invest primarily in office spaces. This move will give a boost to the commercial segment as a lot of money will chase high-quality properties, which will result in a further rise in rental yields.
"Grade A office space in the top seven cities of India amounts to around 376 million square feet, and we anticipate that approximately 50% of this will get listed in the next two-three years. The valuation of these assets is $10-12 billion, and this accounts for a fairly massive influx of funding waiting in the wings to hit the Indian real estate market via REITs over the next few years," says Anuj Puri, chairman & country head, JLL India.