"Divorce is probably of nearly the same date as marriage. I believe, however, that marriage is some weeks the more ancient."
- Voltaire, French philosopher (1694-1778)

Let Voltaire's wit help us relax our facial muscles with a smile, a grin or a loud laugh (you pick) before we talk about a difficult issue.

Unless you live in the west, where at times divorce terms are laid down before the marriage is solemnised, no one plans for it. Nonetheless, cases of divorce are fast rising even in countries such as India, where marriage is considered a sacred alliance for life.

"There is a definite and alarming increase in the rate of divorce in India, especially in Mumbai, Delhi, Bangalore and Pune. In Delhi, less than five judges handled divorce cases in 2005. Now, more than 15 judges handle such cases. The courts looking after divorce matters are extremely burdened with work," says Osama Suhail, associate partner, ANZ Lawz, a New Delhi-based law firm.

What should be done if marriage counsellors too fail to convince the husband and wife to patch up? To start afresh, many choose to settle through a mutual-consent divorce.

"Many couples realise that mutual divorce is the best option. This makes divorce less stressful by saving time, effort and money. By avoiding long litigation, couples can move on with their lives just after six months of filing for divorce," says Siddhartha Shah of Siddhartha Shah & Associates, a Mumbai-based law firm which specialises in divorce.

Divorce, an unexpected milestone in a person's life, has a huge impact on the finances of those involved. "In mutual divorce, the husband and wife settle the financial separation aspects on terms that are acceptable to both. The mode and details of the settlement are in their own hands. A divorce settlement can include any or no asset and money. In the court, the partners just have to reaffirm the agreement," says Suhail.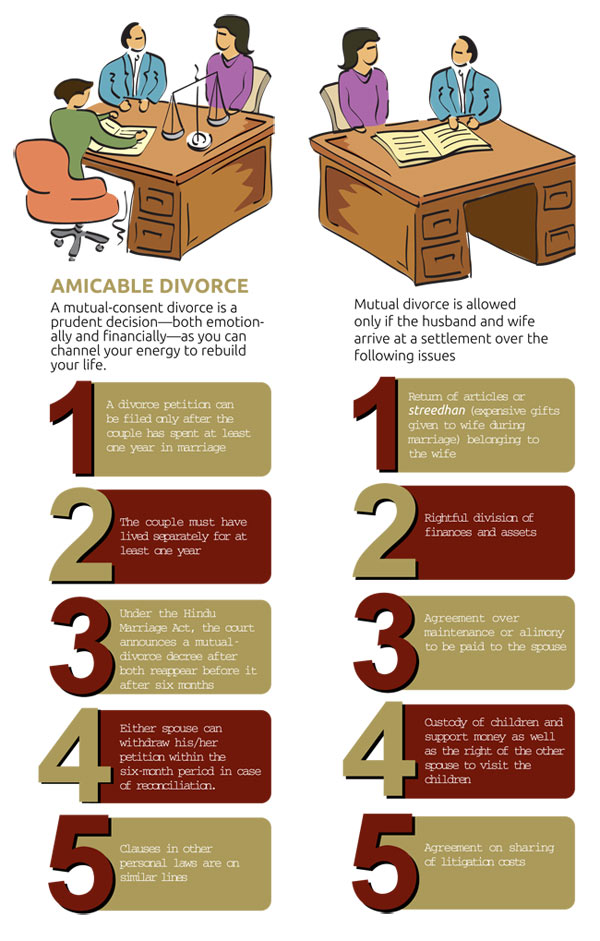 Discuss Finances
Financial matters should not be
muddled with the emotional aspects of separation
. As a first step, even before discussing the financial aspects, understand your cash flow.
"Once you have decided to go for divorce, start preparing your household budget based on monthly income and expenses, including on child care and debt servicing," says Punit Gupta, regional business head (West), Fullerton Securities and Wealth Advisors.
"Knowing your expenses will help you start the process of reaching an amicable separation and clear your mind on what is the claim you want to make on your spouse for alimony and which assets you'll be able to maintain," says Gupta.
The next step is to sit across the table with your spouse and take account of all savings and assets.
"Before splitting your savings and assets, it is important to list them-be it house, car, retirement plans, life insurance policies, investments, cash, loans to others and household goods such as television and refrigerator," says Nitin Vyakaranam, founder and chief executive, ArthaYantra, a personal finance advisory company based in Hyderabad.
Then, jot down the market value of these assets and savings. To value your assets, you can seek help from a financial planner or a consultant. The division of assets and savings is based on the contribution made by each spouse if they fail to reach an agreement on how to divide them.
"Not just the assets, the liabilities should also be assessed. Existing loans should be looked at and decision taken on the basis of the contribution made by each. This is because a decision has to be taken if one person is willing to transfer the loan in his/her name or the asset is to be sold and earnings divided," says Vyakaranam of ArthaYantra.
Dividing Assets
Once you have listed the assets and liabilities
along with their current worth
, it is time to divide them. Though the law has provisions for husband's rights over the wife's property if he is unable to maintain himself, in India the husband is considered as the default breadwinner.
"One needs to see if the spouse is financially independent. If both are working, the husband might not have to pay for the wife's routine expenses. If the wife is not working, the husband might have to support her by paying a fixed sum periodically or making a one-time payment," says Sumit Vaid, founder, Ffreedom Financial Planners.
While dividing the assets, you must take into account the role played by each spouse. This is because one of you might be taking care of all the expenses while the other was contributing to the savings kitty.
"If the assets are skewed towards one partner, the same should be considered," says Vaid of Ffreedom Financial.
If the wife is not employed or does not earn enough to support self, she is entitled to alimony. This is true even when she earns but her income is not enough to support the same living standard as that of her husband.
"A wife, whether married or getting divorced, who is dependent on her husband is entitled to a maintenance amount. Her financial rights depend on the family's financial status and living standard, plus the husband's assets and liabilities," says Shah of Siddhartha Shah & Associates.
Child Care
Things become more complicated if the couple has children. For, in such a case, the priority of the settlement is to protect their interests. Irrespective of who gets the custody of children, both would ideally want to arrange for their welfare. Spouses can agree to a lumpsum payment or a staggered payment to the person who will get the custody of the child, either at different stages of his/her educational life or a monthly amount with incremental increase to factor in the rising cost of living.
A female
live-in partner has rights similar to a wedded wife if the couple has shared a relationship similar to marriage. If this condition is satisfied, she has the right to maintenance and residence.
"To secure the children's future, investments can be made in their name, and any/both parents can be the guardian. These will be transferred to the children after they attain adulthood," says Bimal Gandhi, chairman, Ameriprise India, a financial planning firm.
While planning for this, take into account the investments already made for children's education, health care and other expenses. If the parent who will take care of the children needs financial support, make sure the agreement mentions how the expenses will be shared.
"The partner who has to contribute to the children's expenses can do so through a lump-sum payout that can take care of all future expenses. Inflation, too, needs to be considered as education (and other) costs are going up at a very fast pace," says Vaid of Ffreedom Financial Planners.
A trust can also be set up. Trusts ensure distribution of income and assets according to the wishes of the settler (the parents). The assets are managed by the trustees for the benefit of the transferee (the children in this case) in accordance with the laid-down terms and conditions.
"In the event of a matrimonial discord, an irrevocable trust (a trust which exists until its mandate has been fulfilled) can be set up with the child as the beneficiary. The trustee can be a trustworthy law firm (or relatives) that can ensure that the benefits of the assets are passed on to the child," says Gandhi of Ameriprise.
Documentation
After arriving at an understanding on how to share assets, liabilities and parental responsibilities, put everything in black and white. You will have to inform the court about the settlement while applying for divorce.
"You will have to prepare a separation agreement, which will serve as the framework for the divorce settlement. It should tackle all important issues related to separation such as alimony, child custody and splitting of assets and debts. Ensure that it is drafted and worded in such a manner that it gives both partners fair and equal rights," says Gupta of Fullerton Securities and Wealth Advisors.
In case you decide to share any liability or asset in the future, the agreement should mention it in detail, preferably with remedies in case one partner does not honour the agreement.
Before arriving at the agreement on financial aspects of separation, you must start the groundwork by updating the records of all financial assets. Retain the bills of assets held in your name. Keep photocopies of bills of assets held jointly if you do not have the originals.
Gupta makes another important point. "Get access to your partner's tax returns for the last eight years (in case any bank transaction has occurred between the two of you). It will help you answer any tax query raised by the authorities later," he says.
Moving On
The matrimonial discord should not affect your financial future. You must take steps to repair the damage it may cause to your financial plan.
"If you had a plan prior to the divorce, there are chances that you already know how much money you have earned and how much you have spent. Rewrite the plan on the basis of this," says Nirmal Rewaria, senior vice president, Edelweiss Financial Planning.
In the wake of changed responsibilities and risk profile, it makes sense to redefine financial goals at this stage. "Review longterm goals as some of them will not be valid now," says Gupta.
"Don't miss the goals you are already working on. Don't let them go under the emotional baggage of separation," he says.
If you have to pay alimony or meet children's expenses, you should make these priority and start saving for them immediately. A good option would be to open a separate account and set up an automatic debit from your savings account. This will ensure you don't default on alimony or childcare payments, which can trigger legal action against you.
Also, don't forget to change the will, if you have one. And, if your spouse was the nominee in your insurance policies, savings accounts, provident fund, etc, apply for a change.
Staying Clean
Keeping your finances and books in order while being married can help you understand your monetary situation better as well as limit the damage in case there is a marital discord by keeping money out of the arguments.
"Couples should write shared household expenses together and discuss how each expense will be taken care of. Once there is an agreement, revisit the monthly budget periodically to ensure that all the bases remain covered," says Gandhi of Ameriprise India.
You can choose to have joint accounts for savings and investments or opt for individual savings and investments. Joint accounts offer the comfort of assets and money being accessible to your spouse without any hassle even in your absence. As a middle path, you can choose to have individual as well as joint savings accounts and assets.
"Many couples settle on a compromise where they share an account for basic joint expenses and maintain separate accounts for personal expenses. The basic idea is to work out something that both are comfortable with," says Rewaria.
Irrespective of the ownership of investments and bank accounts, it is important to have a transparent record of money spent on collective household expenses and invested in common assets.
"In case both work, it is advisable to take a joint loan while buying a home or a car. This helps in saving tax. This makes division also easier," says Vyakaranam.
All joint and individual debts should be kept separate so that an agreement can prevent creditors coming after the other partner in the event of separation. "This will help the couple achieve their collective as well as personal goals while retaining individual financial freedom. In the event of separation, both shall have lien on personal investments and can distribute the joint investments amicably or as per the pre-nuptial agreement, if any," says Gandhi.
All said, marriages are based on trust and mutual understanding. Communicate your fears and concerns to your spouse to avoid any misunderstanding at a later stage.