Money Today
has demonstrated two ways to make the choice. By following the time-tested investing rules (
The golden rules of stock investing
) and the benefits of following in the footsteps of equity mutual funds (India's most wanted stocks:
28 December 2006
and
27 December 2007
), which buy and sell stocks for a living and, therefore, have their fingers on the pulse of the markets.
Sceptics will scorn at these approaches to investing at a time when the markets are going through one of the most savage bear phases. On 27 October, the NAVs of the entire universe of diversified equity funds touched a 52-week low. That was the day the Sensex touched a two-year low of 8,509. Though it has recovered a bit, the one-year performance of most stocks is still in the red. So, whether you chose stocks on the basis of the golden rules or simply resorted to copycat investing, you still ended up with losses. It's enough to make even the most optimistic investor sit out of the markets.
In the past two years, we have looked at the portfolios of all equity mutual funds to find out which were the most widely held stocks. But this year, we have delved deeper to cull out the stocks that have been consistent favourites of fund managers. We tracked the fund managers' picks over the 482 trading days that the Sensex took to reach an all-time high of 20,873 on 8 January 2008 from the 10,000 level it first reached on 31 January 2006.
HOW SECTORS PERFORMED
RANK

2005
2006
2007
2008*
BSE Auto
46.84%
30.36%
-0.50%
-51.17%
BSE Metal
3.25%
38.31%
119.47%
-70.82%
BSE Oil
37.25%
38.85%
113.18%
-49.18%
BSE Mid-cap
43.04%
29.44%
66.73%

-65.31%
BSE Small-cap
52.79%
14.35%
90.58%
-70.55%
BSE FMCG
54.80%
18.22%
19.53%
-17.43%
BSE Healthcare
1.45%
21.81%

15.67%

-34.73%
BSE Infotech
41.01%
41.72%

-15.64%
-38.50%
Bankex
35.36%
38.13%
60.36%
-50.12%
Figures are returns of BSE indices; the two biggest gainers are highlighted; *for quarter ending September 2008
To complete the journey, we also looked at the stocks that the funds picked during the 192 days of free-fall that brought the Sensex back to 10,000. To get meaningful fund-holding data, we analysed the free-fall period until 30 September 2008. Our conclusion: there can still be some reason to cheer if you buy stocks based on fund managers' picks.
Most fund managers in India adopt a bottom-up approach in stock-picking. They focus on specific stocks and not on sectors or industries. However, different sectors play different roles in the rise—and fall—of the markets. Each year of the bull run since 2005 has been dictated by just one or two sectors— the rest have just been riding the wave.
The fortunes of a sector can change dramatically. The realty sector had ruled the roost in 2007 and metals had also outperformed. In this year's fall, these two sectors have borne the brunt. Despite this, there are some favourite sectors in which most funds want to invest. Notwithstanding the turbulence in the financial world, banking is also indicates the narrowness in stock selection.
LARGE-CAPS
We analysed the fund managers' need—or greed—to pick some of these large-caps irrespective of the market levels, and tried figuring the reason they pick a Reliance Industries or a Bharti Airtel in any season. The results are there to see. Take Reliance Industries. On 31 January 2006, it was available for Rs 717, and on 8 October 2008, it closed at Rs 1,305. That's an absolute gain of 82% for someone who bought the scrip when the Sensex was 10,000, saw it go up to 20,873 and come back to 10,000 levels. Bharti Airtel stock price appreciated 90% over the same period.
This is what is expected of a fund manager—picking stocks that will appreciate irrespective of where the market goes. The more consistently they manage this, the more compelling the reason to buy a stock, whatever the market level. Picking winners consistently is impossible for even the best of fund managers, which is where luck comes in. If you think this is an aberration, we looked at the performance across the 10 largecap stocks. The results were mixed, but the collective outcome reinforced our belief: of the 10 stocks, seven gained in value, while only three lost money.
MID-CAPS
The advantage with mid-caps is their size. They are not too big, nor too small, are fairly liquid and can easily step into the shoes of a largecap. Aditya Birla Nuvo, for instance, missed the most wanted list once only to find itself in the large-cap category because of its rising valuation. But it later settled back in the mid-cap space.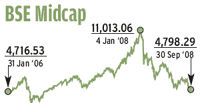 Because of their potential, mid-cap stocks generally have track records that makes it easier for analysts to assess the business potential and quality of management. Several of the top 10 mid-caps are leaders and dominant players in their specific business segments, including Crompton Greaves, Divis Labs and Tata Chemicals.
Again, we looked at how these stocks performed through the ups and downs. The result is a mixed bag. In half the stocks, you would have lost money if you would have stayed invested. However, some also had an astounding rise—Divis Lab would have appreciated 208% if you had kept it. In IVRCL Infrastructure & Projects, you would have lost 39%. But the spike in the fund portfolio is what these stocks are picked for, and if that has been achieved at a good strike rate, the fund manager should be given due credit for holding on to some winners.
SMALL-CAPS
Only two of the 10 companies are present in the most wanted small-cap list through the cycle, an extremely risky indication that the stocks being volatile, illiquid and erratic. It also means that smallcaps need attention and by moving from one small-cap to another, there is potential to get the added spike in the portfolio. Barring two stocks, Ipca labs and Usha Martin, you would have lost on all stocks if you had not booked profits at appropriate moments in this cycle.
But this does not mean that these stocks are cheap or unattractive. Indraprastha Gas and Orient Paper, with an EPS of Rs 12.4 and Rs 10.6, respectively, in March 2008, are attractive enough to sit in a fund manager's portfolio. These are definitely high-risk, high-return strategy players in a portfolio. A combination of winners can act as a cherry at the top of a portfolio. But a few bad picks could drag down the fund's overall returns.
482 days
The time the Sensex took to go from 10,000 to 20,873
192 days
The time it took to fall back to 10,000
7 of top 10
large-caps have gained since Jan 2006

5 of top 10
mid-caps have gained since Jan 2006