Way back in 2008, Bill Tancer, a self-described 'data geek', analysed the behaviour of over 10 million web users and concluded that social networking had dethroned pornography as the most frequent activity on the Internet. No mean feat.
McKinsey Quarterly, November 2012, notes that it took 13 years for commercial television to reach 50 million households and three years for Internet service providers to get 10 million subscribers. In comparison, Facebook had 50 million users in a year, and Twitter in nine months.
We are already nodes of a web that's expanding. We're rapidly moving parts of our lives there. And where there's life, there will be commerce.
The social network cannot be ignored, whatever be the size of your business. In fact, it could become your closest ally if you are running a small enterprise.
Let's see how one can use social media to one's advantage to promote one's business, however small or big.
Why You Need Social Media
Social media, at the basic level, can be used to build a community around one's offering. Building a customer base is important in all businesses. But here, online, it's more than that.
An online community should ideally be a large number of current and prospective clients or buyers talking to each other, even if they air criticism about the many ways you've messed up.
Karthik Srinivasan, social media national head, Ogilvy, says, "The idea is that when we portray something through social media, it should be a person trying to communicate to another. Even when it is a planned reach, such as on Facebook, it is usually at a community level. At that point, the person brings his unique personality to the post. This humanises the brand."
Smita Ramakrishna, co-founder & managing trustee, Rang De, an NGO providing microfinance, says they have used Facebook and Twitter for both marketing the organisation and specific campaigns.
"If you have a Facebook page, keep it alive and updated. When you update regularly and people comment and engage with you, that's when you notice that the community is growing," says Ramakrishna.
Besides building a community, the second area where social network can help is expanding reach. There are thousands of small businesses that offer services or products that are not limited by distance, for example, those offering software as a service, app makers, freelancers and consultants.
Theoretically, you can take your business global at relatively low costs. More realistically, you can reach out to a few neighbouring states or get customers that pay the most from all over the world.
For example, if you are an exporter of, say, Indian handicrafts, spending on social media for brand building will give good results since you have a global market to serve. It can also save you a lot of expenses, as spending on physical advertising abroad can be beyond the average small business' budget.
Third, small enterprises need to get the most out of their promotional budgets. There are probably very few ways to engage with customers that are cheaper than social media. The concept has become so acceptable among businesses that social networking sites even have advertising schemes to help businesses reach the most relevant audience.
To make the most out of your plan, you must have a precise idea about what you want. A strategy for social media engagements is useless without an objective. This means you should have a way to measure the efficacy of your campaign.
Four, at the core of a social media strategy is managing the brand's reputation. Several studies show that consumers do base decisions on recommendations of other customers, especially those known to them. A McKinsey research, for example, has showed that peer recommendation generates 30 times higher 'engagement rates' than the traditional online advertising.
When you start out, you can use the most common social medium to talk to your customers. One tool that often goes unnoticed is blogging. The fifth annual Social Media Marketing Industry Report, 2013, by Social Media Examiner, found that nearly 58% of marketers surveyed used blogging, the fourth most used platform. It was also the third most important social platform, with B2B (business to business) marketers rating it higher than the B2C (business to customer) marketers.
Frequent updates on your product or service, in a way that invites customers to respond, are useful. These help you address negative commentary and realise the potential for improvement.
The most visible use of social media is by web entrepreneurs, especially online retailers. For this section, boosting website traffic is paramount. It's often a goal in itself. In fact, the popularity of social media has resulted in even search engines such as Google including indicators from social media websites in search engine ranking algorithms. This means that sites that have a greater presence on Facebook, LinkedIn or Twitter and are linked to social media profiles will probably get more traffic.
Five, inexperienced start-ups can use the feedback offered by customers through social networking sites to improve their product. This is an extension of 'crowdsourcing'. (Crowdsourcing is the practice of obtaining ideas or content by soliciting contributions from a large group of people, especially online).
Planning Your Strategy
Having a specific number of Facebook likes or Twitter followers should not be the goal of an online marketing campaign. As long as you start with a clear business aim, such as reaching so many prospective buyers or engaging customers to iron out flaws in your offering, you're on the right track.
Reaching the right 5,000 people is more important that reaching any 20,000 in a crowd. It's a cliché that must be respected.
Adhvith Dhuddu, founder, AliveNow, a Bangalorebased social media agency, says, "The social media strategy of a company should be based upon its objective. The objective can be building an online community, lead generation, increasing store walk-ins or website traffic, data collection, revenue generation online, providing product information to customers or building a platform to service customers."
Sachin Rao, country SMB (small and medium businesses) manager, Facebook India, gives similar advice. "Be planned about your content strategy. It shouldn't be a series of random updates. Plan your updates and figure out how they resonate in the context of your product and value proposition."
He says popular, but unconnected, links or content may get likes, but that should not be your objective as eventually the customer will walk away from the conversation. "What you don't want to do is spam a customer," says Sachin.
Experts stress the need to understand your customer before drafting a social media strategy. It's a very important task.
Deepak Goel, CEO, Drizzlin, a social media analytics firm, says, "It's a broad market, but like in any other marketing effort, you need to decide who you are planning to reach. Only once I understand my customer, can I understand if he or she uses social media." Goel gives the example of a wholesale manufacturer of parts that are used by other manufacturers, in other words, a B2B supplier. "Here, customers may not be digital and so one can choose to not use social media," he says.
In contrast, if you run a company that's introducing a new electronic product or if you've started a restaurant, there is a high chance that your customer is online. In the latter, you have many options to engage customers, including popular review sites such as Zomata and Burrp.
Consider Fab Bag, an online retailer of beauty products, which concentrated on engaging customers when it started out. Kaushik Mukherjee, co-founder of the website, says, "Our customers are 18-30 years old (female), smart phone-friendly, active on Facebook and Twitter, and love to share and talk. If they like a product, they endorse it, and if they don't, they trash it. They are vocal. This helped us spread the word."
Social networking can also help small companies take a bit of risk. "They have the advantage of being small and local. Therefore, the perception of 'taking the customer for a ride' is not there. While the product is essential, it is not a situation where the primary notion is to be careful," says Sheldon D'Souza, social media strategist, Grey India, a marketing and branding firm.
Another important role of social media is keeping the community engaged. When you start out, look for Facebook pages or LinkedIn groups related to your business. Get involved with these communities before marketing your product aggressively. "Social media is social by nature and, therefore, the best tactic will be not to pursue aggressive expansion as the number of followers or likes may not translate into higher sales or brand recall," says D'Souza.
Smaller companies should have a policy of replying to customers and asking for their feedback as fast as possible. "You can use the feedback as testimonials, giving loyal users 15 minutes of fame," he says.
Facebook's Sachin Rao agrees: "Don't shy away from a two-way conversation. It's not just this one customer that is engaging with you. There are others who're watching this conversation."
Once you've established yourself, the most important thing is to make sure that the content, be it a blog post, a picture or a video, is interesting, informative and entertaining. This will ensure that you don't annoy or irritate those who view your posts. Also, as users get more used to a platform, they start choosing content more carefully.
If you're in the service industry, it will be a good idea to communicate with as many customers as possible for reviews, which can then be used to either improve the service or as testimonials.
Many people who have expert knowledge can influence perceptions about your product. You can always identify your local 'reviewers', often with popular blogs, and publish their views.
An interesting way to engage is to launch offers or promote specific events, offline or online, for customers that come through social media. Such posts have a higher potential for going viral.
Moksh Juneja, founder & CEO, Avignyata, a digital marketing agency, says, "A small company can use social media for a specific objective, say, to promote itself during an offline event. This can be the testing phase. Once you have the numbers (hits, likes, conversions and so on), you can revisit the strategy."
You can even use testimonials and combine them with an offer like Fab Bag did. "We saw customers posting photographs (on Facebook) of how good a deal they got. So, we placed these in an album and asked our members to share it and win a coupon. This is when the site picked up tremendously," says FabBag's Mukherjee.
But, do evaluate if promotional offers are working for you. Shopnineteen.com, for instance, began by posting offers and showcasing products, but tweaked the strategy later. "If we want to engage people, we have to put up posts that look beautiful on their walls and which they can relate to," says CEO Narinder Mahajan.
B2C vs B2B
There is a general agreement that B2C marketing is easier on social media compared with B2B promotions. FinCom (financial companion) is a mobile interface for tally released by ZeroOne Technologies. Its main consumers are small and medium enterprises.
However, Selva Prakash, CEO & director, says social media has not helped the enterprise division as much as it has been a boon on the consumer front. But there has been an unexpected benefit-it has helped the company in recruiting employees.
"People want to join big companies when they graduate, which is understandable, but it makes it difficult for us to find resources. However, posting our work and technical articles on Facebook has helped us attract some guys," says Selva.
Nishant Rao, country manager, LinkedIn India, says social networks can help strengthen the brand with employees from a pool of skilled candidates. A good recruiting platform is worth its weight in gold.
"Social media platforms such as LinkedIn have played a strong role in democratising information, allowing SMEs to cut through the clutter and enter a level-playing field, whether it is for their marketing or hiring requirements."
However, such anecdotal evidence does not mean that it is or it is not a viable medium. "It depends upon your aim. You can make it work for you. Spend time to understand conversations on social media and, based on that, take them forward. It may seem that it is fairly simple to achieve numbers for a B2C business than it is for a B2B one, but be clear with the objective," says Avignyata's Juneja.
The Best Tools

The best tool for social media has two parts, the best platform and the best management tool. When it comes to the former, there is no single best platform. A mix of platforms and varied focus are likely to work the best for all small businesses.
Based on the 2013 Social Media Marketing Industry Report, the reply to 'My Facebook marketing is effective' was 37% in the affirmative. This means the largest social network is still not enough for a large majority of marketers. Of course, as expected, the percentage was 44% for B2C marketers and 29% for B2B counterparts.
The main consideration is most probably one's budget. The cheaper it is, the better it is for small enterprises. Of course, realistically, there is very little probability that you can avoid Facebook, LinkedIn or Twitter. The decision will be about how much you want to spend on each platform.
Both Facebook and LinkedIn offer CPC (cost per click) and CPM (cost per thousand impressions) ads. You'll have to find out which works for you.
"We would suggest starting with a primary platform. There will be a temptation to go to Facebook and Twitter at the same time, but that's not the best way. You should choose your primary platform and work slowly on others as it will be difficult to manage all of them," says Deepak Goel of Drizzlin.
AliveNow founder Dhuddu says taking too much on is a common mistake. "It's better to have one or two active, engaging and interactive social media pages than six or seven pages with redundant content."
"Decide which social platform to use on the basis of factors such as your target audience and sector. For example, a retail brand with stores and outlets needs to focus on platforms such as Facebook, Twitter and Foursquare, but a B2B brand may have to focus more on LinkedIn, SlideShare or a company blog."
Once you've got the basic platforms right, you'll have to choose some supporting ones. This should be based upon three major points--time needed to make your content appealing, your objective and the type of content that you have.
For example,Pigtails and Ponys, started by two design students, specialises in hair accessories. Facebook was their primary platform. But now, they've chosen to expand to Pinterest and Instagram, with a Twitter handle still only on the way. Considering that their customers will be more moved by pictures, the two relatively new social networking sites are ideal for the business.
They've got two things going right for them. Since they already have pictures used to market their products, they do not have to spend too much time updating their profile on Pinterest or Instagram. And, the content they have is ideal for these two platforms.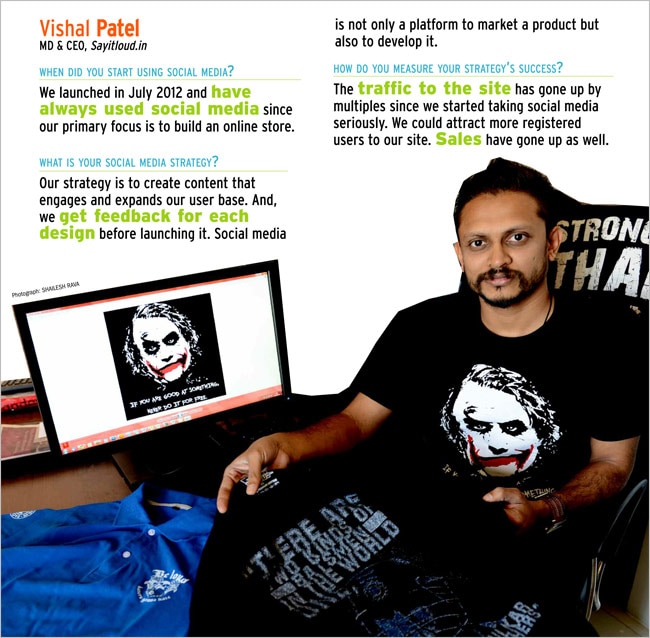 Nivedha Charles, who runs the business now, says, "We use social media to connect with customers and keep them up to date on upcoming events, be it a new collection or a flea market. Because Facebook has excellent targeting tools, we've managed to connect well with our clientele. Our main strategy has always been to engage targeted customers."
Goel of Drizzlin explains: "Each platform attracts a certain type of people, creating a specific mentality. So, currently, if you look at the Indian shores of Twitter, you will see a large number of people from the media industry, politics or people who are popular as experts on certain subjects. However, the 'Average Joe' is not out there. So, if you have a B2B proposition, where you want to be in touch with subject experts, then Twitter is a good option."
A new factor could be the reach that each has on mobile devices. Facebook's Rao says, "When we look at the return on investment, it is not just in terms of revenue. For small businesses, time and money are equally important." So, keep in mind that popular social networking sites such as Facebook and Twitter have a good mobile presence.
This means that you can create one campaign that will reach customers across devices, including smartphones and tablets. It's worth a look considering that Facebook has about 31 million active daily users in India on mobile devices, while Twitter has 42 million daily active tweeting users globally on all platforms (PeerReach report).
Measuring Returns
The Social Media Examiner survey found that 87% marketers want to know how to measure their return on investment for social media activities. It's been the top question in their annual survey since 2010. So, understandably, it's not been the easiest thing to do.
Analytics can give you some idea about how many people come from where, but it'll be harder to pinpoint if your campaign is working as you want it to.
"Sales, visibility and share of voice will be an ideal way to measure. Online tools such as Klout Score are also an interesting indicator of your social presence," says Juneja of Avignyata. However, this is easier said than done, especially on a low budget.
Ogilvy's Srinivasan says: "If you are looking to convert something from social media, you need to look at how it impacts your business. Social media platform metrics such as likes or retweets are just the output of your efforts and not the outcome of your efforts."
"So, when you put something that is smart, funny or shocking, people are just reacting to it, and that is what you see in terms of likes or tweets," he says.
This means that you can't always count on the numbers to meet your business goals.
Once again, the process starts with your objective for having a social campaign. Not all companies are trying to get direct sales. The objective could be to build a community in six months or drive traffic to a website or increasing unique page views by 50% in three months. These are more quantifiable goals.
mosimageSachin Rao of Facebook says as much. "Our (Facebook) plans have tied ad formats to objectives of marketers. If you're in an online business, you're probably concerned about website traffic or conversions. We can track website traffic from Facebook. It's easy to track who your demographic is, who's interacted with your ad and the conversion rate through who's completed an action on your website."
You will need to use these numbers and find correlations with your objectives, without which it is useless.
Drizzlin's Deepak Goel says it could also be more about brand building than immediate returns. "It is not an active sales medium. Social media is a medium to build a brand because people do not (usually) transact on the social platform. Transactions happen in the real world. This is more of a branding activity. Therefore, returns are in terms of how many people are aware about your brand."
Of course, there are direct indicators available to some. Paromita Bir Chakraborty, co-founder, TerrainSpotter, relies on social media analytics, something that many companies do. "You can map your success through data on various social sites. You can know how many users have seen it (content on social media), who have liked and who have forwarded it. Facebook Insights, Google Analytics and Sprout Social are some of the tools we use. In fact, we have been surprised by social media, as it has given us some very good results in terms of leads as well."
Getting good business leads is fine, but it is also difficult to value. The easiest thing would be to just ask your customers which route got him to you. This will show you which platform has been the most efficient in getting you more customers.
"Many forms that you fill online have an option saying 'Where did you hear about us?' So, there is always a way for B2B organisations to ask how the prospective lead was generated," says Srinivasan.
Rang De also concentrates on traffic, but uses an extra variable. "We use customised URLs to measure the impact of a particular post or update. Depending upon the metrics for each campaign or post, we have devised different ways to measure the impact," says Ramakrishna.
"With changes in the technology of social networks, tracking outcomes and impact is simpler and measurable," she adds.
The most important thing is to keep track of what's happening. "We measure growth and fluctuations to reach rigorously across all social media channels," says Kaushik Mukherjee of Fab Bag.
"Each channel has a unique way of translating reach to eyeball and ultimately to traffic we get on our site. With more customer engagement, we could see our brand reach the 'timelines' of prospective customers who were not directly connected to us."
A simple way to calculate conversions from the number of likes or followers or members of community is to offer a specific discount for members of only that community. Just calculate the number of people that take up the offer and you'll have some idea of how useful a particular platform has been for your business. This will work best for those in fashion, electronics and similar retail sectors.