When it rains, it pours in India. And what better way to spend a monsoon holiday than to book yourself a luxury spa holiday and be treated like royalty? The cover story this time is on India's Most Luxurious Spa Holidays. Putting this story together was a lot of fun. Four of our reporters and contributing writer Anil Mulchandani flew down to seven awardwinning spas across India to get a first-hand experience of how amazing these holidays can be, so that we could tell you exactly what to look out for and which massages to take when you book your holiday at these spas. And if the sheer size of the Royal Spa at ITC The Mughal in Agra bowled us over, the jacuzzis on the edge of the lake at Kumarakom took our breath away. The others we have featured on our list of seven best spa holidays in India also have amazing USPs, making a holiday at each of them a once-in-a-lifetime experience.
Of course, if it's a holiday abroad you are looking for, we also have seven of the world's most scenic spa holidays for you—spread across four continents. Stay in a room overlooking the Boynton Canyon in Arizona or take a dip in a hot spring in the midst of the Swiss Alps.


Ananda Spa Near Rishikesh

If a holiday anywhere is sheer indulgence, it is at Ananda Spa—the 100-acre palace estate of the Maharaja of Tehri Garhwal, with its 21,000 sq. ft spa set in the hilly terrain of Narendranagar. We reach here after a 30-minute drive from Rishikesh—a winding drive with steep bends. I am taken in a golf cart to my wooden-floored room.

The patio offers a view of the Doon Valley, but, what takes my breath away is the bath, from where, immersed in warm water, I enjoy uninterrupted views of the valley with the Ganga meandering through it.


At the spa, I ask for the menu of hydrotherapy options and select the Seaweed Hydrobath.
The therapist explains that seaweed is one of the most effective ingredients for natural healing. It works really well. Getting into the water and relaxing while water jets massage my system, I feel completely rejuvenated.
How to get there:
Ananda is a six-hour drive from Delhi
Cost:
Packages range from the three-night 'wellness' package for Rs 1.3 lakh to Rs 10 lakh for a 21-day weight management package, if you book into a deluxe villa with a private pool.
Contact 01378 227500,
www.anandaspa.com
The Radisson Plaza Resort & Spa Kumarakom
Located on the shores of the Vembanad Lake in Kerala and spread over 18 acres, this resort is awe inspiring. I spend the first few hours lounging around the private pool next to my villa, overlooking the 205 sq. km lake. Early next morning, I step into the luxurious Maya Spa. I choose 'Cloud Nine' and the package lives up to its name.
I am put on the water bed and it is wrapped around me, maintaining the temperature of a mother's womb. As I 'float', I am given a gentle head massage. I step out of the bed, feeling heavenly. This is followed by a luxurious house boat cruise. Watching the water flow gently, I still float in the comfort and luxury of this holiday.
How to get there:
Kumarakom is a two-hour drive from Cochin airport

Cost:
The Pool Villa
—
Rs 99,000 for a one-night spa package

Contact 0 481 2527272,
www.radisson.com/kumarakomin
The Royal Spa at ITC The Mughal, Agra


There's good reason why Kaya Kalp, the Royal Spa, at ITC The Mughal, makes it to our list of the best spa holidays. Spread over a staggering 99,000 sq. ft, it claims to be the largest spa in India. And if the numbers don't get you going, the grandeur will. There are eight luxury spa suites and a 25-metre lap pool. I settle for the chakra-balancing gemstone massage.
A selection of semi-precious gemstones are placed on my chakra energy centres and the therapist gives me a lymphatic drainage massage using the stones and other aromatic oils. The treatment is meant to eliminate tension and revitalise the mind and considering that I do sleep like a log for a few hours thereafter, she probably got it right. Check out the Royal Mughal Hamam as well.
How to get there:
Agra is a four-hour drive from Delhi.
Cost:
A three-day and two-night Kaya Kalp package will cost around Rs 40,000 (for a deluxe suite).
Contact 0562 2331701,
www.itcwelcomegroup.in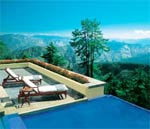 Wildflower Hall Shimla


At 8,350 feet above sea level, ensconced in a dense hillside forest and offering magnificent views of the mountains, Wildflower Hall in Shimla is a perfect holiday destination. Rated India's Best Spa Resort for four years in succession at the World Travel Awards, it is set in 23 acres of virgin woods of pine and cedar.
Everywhere you go, from the jacuzzi to the heated swimming pool, views of the mountains greet you. At the spa, our advice will be to try the five-night yoga and meditation programme to refresh, restore and rejuvenate the mind and body.
How to get there:
Shimla is connected by daily flights from Delhi. You can also drive down from Delhi or take a train to Kalka and then hire a car.
Cost:
Rs 86,000 per person for the five-night spa package

Contact 0177 2648585,
www.oberoihotels.com
The Park Hyatt Resort and Spa Goa


Goa is a paradise for beach bums, party hoppers and those looking for a truly luxury experience. And the Park Hyatt gives you a liberal dose of it all. Spread over 36,000 sq. ft, the Sereno Spa here is a wellness spa destination. As you land in Goa, you are met by your "personal" chauffeur, who will take you to the hotel in a limo. Sip the welcome drink as you get your first view of the sea from the reception area.
The spa is what makes this place so special. Try the range of Ayurvedic treatments here, from Shiro Dhara to Marma Abhyangas and the detoxifying Panchkarma. The outdoor therapy pavilions here are arranged around the Courtyard of Tranquility, and lush gardens, where trained therapists help you to relax and soothe your spirits. Trust us, a few nights here in the lap of luxury and you might be tempted to stay back for a much longer time.
How to get there:
Goa has regular flights from all Indian metros
Cost:
Rs 26,000 for a one-night spa package for two. It includes two therapies and massages of your choice, yoga sessions and, of course, a luxury suite to stay in
.
Contact 0832 2721234,
www.goa.park.hyatt.com
The Oberoi Udaivilas Udaipur
Udaipur, a shimmering jewel set in the heart of the Aravallis, has to be one of the most romantic places in the world. But, however you were to look at Udaipur, it could still be fair to say that one of the big reasons to visit this pristine city is for a spa holiday at the Oberoi Udaivilas. Rated among the top three hotels in the world by both Travel & Leisure and Conde Nast Traveller, Udaivilas has no competition when it comes to a luxury holiday.


We arrive for a weekend here, to relax at the spa. It offers a rich and varied menu of Ayurvedic massages and treatments, manicures, reflexology as well as aromatherapy. Inside the spa, there are five double suites, an Ayurvedic treatment room, a steam room as well as a gym.
We suggest you go for the Royal Treasures treatment here. A sandalwood and turmeric scrub is used to polish the skin, and this is followed by a tomato wrap, which opens clogged pores and cleanses your skin. This is followed by a rejuvenating massage and finally a rose and milk bath. Three hours of bliss!
How to get there:
Udaipur is 650 km from both Delhi and Mumbai. It is well connected by rail and air.
Cost:
A luxury suite with a private pool costs Rs 1.3 lakh; Spa programmes range from Rs 5,400 to Rs 12,000. The Royal Treasures package costs Rs 8,800
.
Contact 0294 2433300,
www.oberoihotels.com
The Oberoi Amarvilas Agra


Imagine soaking in a tub liberally peppered with rose petals and aromatic oils in an all-glass bath, looking at the majestic Taj Mahal, barely 500 metres away. We arrive at the Oberoi Amarvilas and check into the 1,500 sq. ft B.K Nehru Suite, which comes at a cost of Rs 1.5 lakh per night. The suite has large living-cum-dining room, a princely bedroom furnished in Burma teak and Greek marble and an open terrace with a view of the Taj. Lunch at the Bellevue and dinner at Espahan, the two signature restaurants, are an elaborate affair.
Next morning, we walk in to the spa's private therapy room on the fourth floor. My choice is a stress-relieving Hawaiian massage where the masseur uses his palms and elbows to work magic, as I admire the Taj. I almost doze off but manage a fruit therapy before heading for the shower.
Dinner on the final evening is as luxurious with the chef whipping up a five-course meal of my choice in a candle-lit setting. As I sip my chardonnay, I sit back and look at the moonlit Taj. A luxury spa holiday if there ever was one.
How to get there:
Agra is about four hours by road from Delhi.
Cost:
The suites cost between Rs 90,000 and Rs 1.5 lakh. Spa treatments cost between Rs 1,600 and Rs 12,000
Contact 0562 2231515,
www.oberoihotels.com