CORPORATE
The corporate world heaved a collective sigh with the shifting of Jairam Ramesh from the Ministry of Environment and Forests to Rural Development in Prime Minister Manmohan Singh's Cabinet reshuffle on July 12. Ramesh's activist role had upset many, including some agribiotech firms. Congress spokesperson Jayanthi Natarajan, a low-key politician, took over from Ramesh. Otherwise, it was status quo at the top deck of the Cabinet.

Land acquisition continues to occupy headlines. In the latest round, the Karnataka government has offered to shift Korean major POSCO's mega steel project away from plant at Halligudi in Gadag district. Stiff resistance from local farmers forced the government's hand. The new location for the plant has not been identified.


Will India get its energy act right? It had better. Competition for minerals is intensifying. ArcelorMittal, the world's largest steelmaker, and Peabody Energy, the largest private-sector coal miner, sweetened their joint bid for Australia's Macarthur Coal to $5 billion. It is the world's biggest producer of a type of metallurgical coal that is cheaper than the coke used by steelmakers.
The division of the Rs 19,000-crore RPG Enterprises between founder RP Goenka's two sons, Harsh and Sanjiv, announced last year, will now be clearer to outsiders. On July 13, Sanjiv unveiled a new identity, RP-Sanjiv Goenka Group, for his companies. He will continue as Vice Chairman of RPG Enterprises. His group has five verticals with a combined turnover of Rs 9,000 crore.
In the tech world
, the country's top two software exporters seem to read the global conditions differently. Infosys, the second largest, said on July 12 that it had met its revenue guidance for the April to June quarter and stuck to its full-year revenue growth forecast of 18 to 20 per cent. It talked of a volatile global economy which could slow client spending. Two days later, TCS, the largest, announced a better-than-expected rise in quarterly profit and said the uncertain global economy was unlikely to hurt demand. The most downbeat bit that came from the company was that it remained watchful.
IBM has won a 10-year contract
to provide IT solutions to Bharti Airtel in 16 countries in Africa. This is the second 10-year contract between the two companies, and is expected to help Bharti Airtel scale up its network and systems to 100 million customers by 2012.
Media moghul Rupert Murdoch is on the retreat from Britain. First, when his tabloid News of the World was rocked by a phone hacking scandal, in which families of children murdered, dead soldiers and bombing victims were at the receiving end of some unscrupulous tactics, he shut down the paper. But this did not appease public and political anger, and his News Corp. was forced to withdraw its $12 billion bid for the 61 per cent of broadcaster BSkyB it does not already own. Analysts are unanimous that Murdoch's political influence over both left and right parties will be severely curtailed. US authorities, too, are breathing down News Corp. for possibly violating bribery laws.
Dominique Strauss-Kahn, who lost his job as head of the International Monetary Fund after allegations of molestation in the United States, is bouncing back. Not only did the case against him fall apart, a recent poll in his home country France shows that voters favour him for the Presidency in the 2012 elections. Incumbent Nicolas Sarkozy is more unpopular than any sitting president since 1958.
ECONOMY
The index for industrial production grew by 5.6 per cent in May, a seven-month low, against 8.5 per cent during the same period a year ago. To blame: a dismal performance by the mining and manufacturing sectors. April's industrial output figure was also revised downwards to 5.7 per cent from 6.3 per cent as against 13.1 per cent year-on-year.
The new mining Bill
is expected to reach the Cabinet soon. The draft Mines and Minerals (Development and Regulation) Bill, 2011, requires coal mining companies to share 26 per cent of their profit with people affected by a mine project. Such people will also get the entire royalty that miners of other minerals pay the state in which the project is located. The Bill will be tabled in the monsoon session of Parliament.

Inflation rose to 9.44 per cent
in June, mainly because of rising prices of fuel and manufactured products. This may prompt the Reserve Bank to raise key rates again in its quarterly policy review later in July. Inflation, as measured by the Wholesale Price Index, was 9.06 per cent in May. It was 10.25 per cent in June 2010.
1.6%
Year-on-year growth of India's car sales in June. This compares with 7.3 per cent growth in the first quarter sales of the current financial year, according to the Society of Indian Automobile Manufacturers. The coming festive season demand is keeping hopes high for now.
$50.2 bn
US trade deficit in May, the highest since October 2008. Imports rose 2.6 per cent to $225.1 billion as oil prices jumped. The trade gap with China widened by over 15 per cent to $25 billion.
$5.8 bn
Private equity investments in the first six months of 2011, according to global consultancy Ernst & Young. A large number of deals are in infrastructure.
MARKETS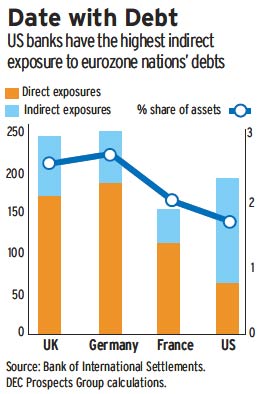 Date with debt
US banks have the highest indirect exposure to eurozone nations' debts
The eurozone crisis is keeping markets on the edge, with the euro and stocks falling worldwide. After Greece, it is now the turn of Italy and Spain, the eurozone's third and fourth biggest economies, to reach default zone. Leaders argued over a proposed summit as the threat to the 12-year-old single currency and a row over private creditors for Greece rescue plan escalated.
Coming Up
State Bank of India (SBI) will seek the government's nod to raise Rs 20,000 crore through a rights issue soon, according to the bank's chairman Pratip Chaudhuri. The government would continue to hold 59 per cent stake in the bank after the rights issue, he said. SBI had earlier announced its intention of coming out with the rights issue in the last quarter of 2010/11. The government will have to contribute up to Rs 12,000 crore to subscribe to the issue. The bank had raised over Rs 16,000 crore through a rights issue in 2008, even though it came after the Lehman Brothers collapse.