The year 2014 was an exciting one. Smartphones evolved further, the wearables category saw a lot of action and convertibles continued to be the most preferred form factor in tablets and laptop space. Giving competition to some of the big brands, there were a few new names that shook the industry. Here are our picks of some great devices launched during the last one year.
Best Flagship smartphones
Samsung Galaxy Note 4
Samsung's Galaxy S5 wasn't a great success, but the Galaxy Note 4 is, undoubtedly, a superb phablet. Continuing with the 5.7-inch display, Samsung has further enhanced its SPen functionality. The camera onboard is superb. It is, in fact, one of the best in the industry. Overall, it is one of the best phablets available.
Sony Xperia Z3
With most smartphones exorbitantly priced, it is the need of the hour that they should at least be water and dust resistant. While many flagships aren't, Sony wins the race with its Xperia lineup. The Xperia Z3 has got a slightly slimmer waistline and continues to be water and dust resistant. The interface is neat and the performance, too, is good. The enhanced camera optics and software too works in the favour of this smartphone.
Apple iPhone 6
Every year, Apple manages to be in our top three contenders. The iPhone 6 has further evolved. With a 4.7-inch superb display, it has got the all new iOS 8 and an A8 chipset. The camera resolution continues to be the same, 8 MP, but with an overall enhanced optics. The battery backup too has improved. All in all, the iPhone lovers will definitely fall in love with the iPhone 6. And above all, there isn't any bendgate issue.
Best Value for money smartphones
OnePlus One
Coming from a new Chinese company OnePlus, the One is a great flagship killer. At half the price, it packs in a great full HD display, powerful processor, great camera and above all 64 GB of internal storage. It looks good, too. And there isn't any compromise with the performance. It's a winner all the way.


Xiaomi Mi3
Xiaomi is yet another popular Chinese handset manufacturer which launched its operations in India in July 2014. Within only a handful of smartphones in the market, Xiaomi's Mi3 has got an impressive set of features at an aggressive price. The neat straight line design packed in a 5-inch full HD display. It is powered by 2.3 GHz quad-core Snapdragon 800 chipset and has 2 GB of RAM. It offers 16 GB onboard storage and feature a 13 MP camera.
Motorola Moto X 2nd Gen
The Motorola Moto X first generation was an impressive phone and its successor, too, is a great device. Motorola has increased the display and has loaded the new Moto X with a better processor in comparison to its predecessor (which was internationally launched last year). The build quality is good and so is the performance.
Best tablets
Apple iPad Air 2
The latest version of iPad has shed some more weight and has even lost the waistline. The iPad Air 2 is 18 per cent thinner than its predecessor, which makes it way too comfortable to hold. It has even got a 64-bit A8X chip and the M8 motion coprocessor, which gives 40 per cent faster CPU performance over the A7 chipset. It has even got a fingerprint sensor. It has got the new iSight 8 MP camera over the 5 MP iSight camera on the previous gen iPad Air. This has been synced with the enhanced image signal processor that works with the camera to give great images and videos. There are a few added features such as slow-mo video, burst mode in still image and better face detection. Even the front facing camera has been further enhanced that makes Facetime calls look better in low-light environment.
Lenovo Yoga Tablet 2
All Android tablets look alike. However, Lenovo has once again adopted a different approach with its Yoga tablets. Continuing with an all touch interface, Lenovo has added an innovative design element to this 8-inch tablet. There is a hinge on one end that makes it a lot more comfortable to hold. It even raises it slightly when placed on a flat surface, making it convenient to type. In addition to the hinge, there is the kickstand, too, and when combined together, the tablet can be used in different modes.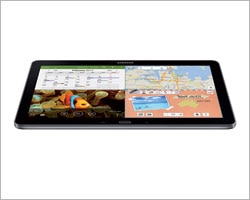 Samsung Galaxy Note Pro 12
A full 12-inch laptop minus keyboard is what defines the Galaxy Note Pro 12 the best. The white bezel complements the 12.2-inch display. The screen with 2560x1600 pixels looked sharp and rich. It runs Android KitKat and is powered by 1.9+1.3 GHz quad core processor, paired with 3 GB of RAM. The icons on the display look crisp. It has also got the S-Pen of the Note devices and offers a zippy performance. Multitasking is a delight, and the fast performance and the bright display make gaming a delight.

Best TV and TV add-ons


VU 50-inch 4k LED TV
4K TVs became popular in 2014, but were exorbitantly priced. VU Technologies, a California-based brand, came up with a 50-inch 4K LED at much affordable price. It has got a straight line design with a very sleek bezel that makes it look elegant. The rear is made of white plastic. Physical controls and connectivity ports (4HDMI and 3USB) have been placed on the rear. There is an LED indicator that blinks blue or red to show the status of the TV. Being a smart TV, it has got an Ethernet port or can connect over a Wi-Fi network. The K310 comes with 3840x2160 pixel resolution that makes watching 4K content a delight. Even the regular content looks superb. As 4K content is not readily available at the moment, it does support content upscaling. VU has added quad-core graphics engine that can upscale content when played from a set-top box. The TV has got great viewing angles too.
Teewe
Teewe is a compact wireless HDMI dongle that looks like a thumb drive. It plugs into the TV's HDMI port. For powering Teewe, a micro USB wall adapter has been added to the box. The USB port on the TV, too, could be used to power up the dongle. That's not all. Before using the dongle, one needs to install the free Teewe app on the Android or iOS device. Once done, connect the phone to the Wi-Fi network and follow the instructions to set up Teewe's Wi-Fi. It is quick enough to stream content played on the phone. This included streaming videos from YouTube or watching content stored on the phone. The experience of using it on the Android device was much smoother over an iOS one. The streaming performance depends up on the Wi-Fi network. A strong, fast and uncluttered Wi-Fi network works best for Teewe to operate.
Amkette Evo TV MC
Technology in the TV space is evolving. While we are now talking about 4K TVs and soon will be talking about 8K, but in many households, we still have simple flat panel TVs that are not even smart. A couple of years ago, Amkette launched Evo TV, and in 2014, come up with Evo TV MC. This is a cheaper variant that comes with a changed UI. It looks exactly same as the original Evo TV. It is a compact box that can be placed under the TV, along with the set-top box. It offers a host of connectivity options, including three USB ports on the right and one at the back, HDMI port, etc. The remote has undergone a few changes. It is a compact remote with no clickers at the back. There is a trackpad on the rear for operating the cursor. The UI has also been revamped. It can play full HD videos smoothly.
Best SmartWatches
Samsung Gear 2
The most important part of the Gear 2 is its 1.63-inch Super AMOLED display that has got 320x320 pixel resolution. The bright screen adds a premium feel. The touch is responsive. The overall performance is good. I was able to answer calls while driving. The notifications for emails and messages appeared on the phone and I was even able to reach the content in the same. To save the battery, the display dimmed after a short period of inactivity. But with a flick of the wrist, it came back. The Gear 2 runs on Tizen, has got a dual core 1 GHz processor. It has got a 2 MP camera that snaps average images. This smartwatch takes a few hours for a full charge and continues to stay connected for close to three days.
Motorola Moto 360
The Motorola Moto 360 is a good looking smartwatch. It has got a round design with a big display area. It supports voice control that makes things easy to do. One can send text, set a reminder, check weather and even ask for directions. It even has a built-in pedometer to track steps and a heart rate monitor. The smartwatch runs of operating system Android Wear with a battery life of 320 mAH. It has internal storage of 4 GB and 512 MB of RAM. The overall experience of using this smartwatch is much superior as compared to its competition.
Best Fitness Bands
Goqii
Most fitness bands only track an individual's activity but GOQii does much more. Along with the band, there comes a personal coach that guides about the eating habits and physical workout. This coach isn't a computer-based software but a living coach who is an expert in his or her field. The GOQii band is paired with a smartphone or a laptop using the GOQii app. One has to feed in water intake, food intake and other physical activity in the app. The band counts the footsteps automatically and syncs the data with the app. It works over Bluetooth 4.0. Every user is assigned with a coach that analyses the data and then guides further. One can go in for a six-months or a 12-month package where the band remains with the user even if they don't wish to continue with the service after the set period.
Sony SmartBand SRW10
Wearable technology is the next big thing and big smartphone players such as Samsung, Sony, Xiaomi, etc., all are focusing on having their own smartband in the market. While most of these still cost a bomb, we loved the Sony SmartBand SRW10 just because it wasn't over expensive and was compatible with most of the Android smartphones out in the market. The band works with the LifeLog app downloadable from the Google Play Store. Connecting the band with the app shows the basic settings. It connects to the phone over Bluetooth 4.0 (LE) and shows the activity log such as steps walked, answered called, sleep time, driving time, etc. In total, it tracks 12 different activities.
Best Projectors
Hitachi CP DH 300
The Hitachi CP DH 300 is full HD and 3D. It has got a 3000 ANSI lumens lamp, which has a lamp life of 4,000 hours. It is capable of projection, starting from 30 inches to 300 inches without compromising on the projection quality. It is easy to set up. Hitachi has added controls on the projector and it comes with a remote control. There are three indicator lights for lamp, temperature and power. Just below these are the buttons for power, mode, menu, source, etc. The connectivity options placed at the back include an HDMI, two VGA ports, monitor out, video in, etc. There isn't a USB port for playing content directly from pen drive. The 3D projection is superb.


Portronics iLume
Portronics iLume is a short throw portable projector that easily fits in ones hand. Setting it up is a child's task as it just needs to be connected to the power source. It comes with an SD card slot, HDMI port, VGA port, USB and AV port. It has a 500 ANSI lumens LED lamp with 1280x800 pixel resolution. The lamp is good enough for projection in a dark room. The projection is sharp and the colours appear crisp against a yellow or a while wall. The projector can project anywhere between 15 and 120 inches. It has a three-watt speaker. Unlike many projectors that generate lot of heat and noise, this one doesn't.
Best Laptops
HP Pavilion x360
Taking on the Lenovo's popular Yoga series and other convertible laptops, the HP Pavilion x360 is a hybrid. It has got dual hinge that makes it flexible enough to be converted into a tablet. It has got an eye-catching design and a smooth finish. It features an 11.6-inch touch display with 1366x768 pixel resolution and weighs 1.4 grams. The keyboard is smooth to type on. Running on Windows 8.1 OS, it is equipped with the new Pentium N3250 quad-core processor clocked at 2.16 GHz. It has got 4GB of RAM and 500 GB HDD and Intel HD graphics. Setting up this machine for the first time took a very long time. Designed to be an entry-level laptop, the performance is just about average.
Toshiba P50T
Ultra HD, also known as 4K, is the new buzzword in the technology space. While 4K TVs continue to be exorbitantly priced, Toshiba's Satellite P50t is the world's first Ultra HD laptop. It in a 15.6-inch IPS display, which offers great colours, crisp text and wide viewing angles. The 4K resolution makes it look good even further. Be it HD or 4K content, the video playback quality is superb. But its real application lies when you are editing multiple videos or photographs. You do not have to browse around these videos or photographs and you have more space to view them on in a very high resolution.
Best Boys Toys
Silverlit Mercedes Benz AMG
The Mercedes-Benz SLS AMG is an RC car that uses the iPhone, iPad, or iPod Touch as a remote control. Just download the Silverlit app from the App Store and connect the car with your device using Bluetooth. This set-up allows you to use your device's tilt controls to steer the car, and if you're using an iPhone, you'll feel force feedback as you rev the engine, which increases in intensity the faster the car is going. There is a joystick mode and a gesture mode to control the car. This RC car is fast and very responsive. The app design mimics the Mercedes dashboard look, with built-in controls.
WowWee MiP
MiP (Mobile Inverted Pendulum) robot from WowWee makes the adults go "Wow" and the kids go "Weeeeeeeeee". MiP is a relatively small robot, about seven inches tall. Built in a black and white body, the torso includes a mode light and two arms that do nothing. For feet, it has been installed with two large wheels that help the bot balance on its own. The MiP is powered on four AAA batteries that will last more than four hours of horsing around. The MiP operates on three basic characteristics: sensing, movement and intelligence.
Best Wi-Fi Dongles
Airtel 3G Wi-Fi
The Airtel 3G Wi-Fi dongle looks very similar to other dongles available in the market. Made up of white plastic, it has got an Airtel branding in red on the top. There is a light indicator too that shows the status of the connection. While one can plug in the dongle into a computer to use it directly, at the same time it creates Wi-Fi signals too. One can also plug it into power socket using any adapter. In both the cases, the dongle is in action in less than a minute. The dongle has two notifications lights that show its status. Stable light indicates that the connection is made. This dongle can be used to connect up to five devices at ones. This can be anything, from laptops to phones to consoles to tablets to TV. The network of the Wi-Fi dongle was superb and it offered high data speeds too. Undoubtedly, the best Wi-Fi dongle in the market.
MTS MB laze Ultra
With almost all the carriers in India launching a Wi-Fi dongle, not everyone was great. While there were network issues with Tata Docomo Wi-Fi router, the MTS MBlaze Ultra Wi-Fi works well. The 3G Plus network offer speeds of up to 14.7 Mbps and can connect up to five devices. Even this one works by just plugging into a laptop or a PC. The network coverage too is very good.

Sound System/docks
Bose SoundTouch 20
The SoundTouch 20 looks like a dock. The white textured top has got power, aux, volume keys and six channel buttons in black, on the top. There is a small OLED panel in the front for accessing notifications. Power port, aux, Ethernet port, micro USB port and a USB port are placed at the back. Setting up requires the SoundTouch app to be installed on the PC. After installation, it connects with the SoundTouch over Wi-Fi. It can also be connected to iTunes or Windows Media player. The SoundTouch app is also available for download for iOS and Android devices for playing music from the phone. It comes with a remote.
LG Sound Plate
Compatible with HDTVs measuring 32 to 55 inches, the LAP 340 is a flat sound system with just 35 mm height. It has got an LED at the front, which changes colours that indicate different modes. LG has kept the looks neat by placing all the connections and control buttons at the back. The Sound Plate offers both wired and wireless connections. For wired connectivity, it has an optical port and can be paired with TVs supporting the same. It also has Bluetooth connectivity that comes handy while pairing it with smartphones, tablets or laptops for streaming music. It has got dual speakers and dual built-in subwoofers.
Gaming Consoles
Microsoft Xbox One
Pitching it as the all-in-one entertainment system, the company claims that it has been built by gamers, for gamers. The Xbox One focuses on Internet-based features such as the ability to record and stream gameplay, integration with a set-top box to watch cable or satellite TV through the console with an enhanced guide interface and Kinect-based voice control. It includes an Xbox One console, which features a 500 GB hard drive, Blu-ray player and built-in Wi-Fi and one Xbox One Wireless Controller. There will be a Kinect version too where users will be able to experience gesture controls, biometric sign-in, controller paring, Skype video calls, instant personalisation, instant scanning of QR codes, and enhanced features only available with Kinect in games such Kinect Sports Rivals, Dead Rising 3 and Project Spark.
Sony PlayStation 4
The PS 4 is powered by an eight-core AMD Jaguar CPU, and features 500 GB hard drive, 8 GB of unified memory, built-in Blu-ray drive and the new DualShock 4 controller. It also features Wi-Fi connectivity option, an Ethernet port, Bluetooth 2.1, and two USB 3.0 ports. Sony has worked on the on-screen UI and has got the games icon in a horizontal bar. At the time of the launch, the game titles included 22 games from different genre, from military shooters to sports simulations to family-friendly adventures, including Killzone: Shadow Fall and DriveClub.
Cameras
Nikon D3300
The D3300 is a great choice for beginners. It offers 24.2 MP count. It is capable of capturing sharper, more detailed images. The new 18-55mm f/3.5-5.6 VR II kit lens is one of the main talking points of the D3300. For the first time, Nikon has implemented a retractable design to make the lens more portable when it's not in use, something that quite a lot of compact system cameras have in their lens ranges. As a result, the lens is much more compact that its predecessor when retracted to the L position. Of course, you still have to extend it outwards to start shooting.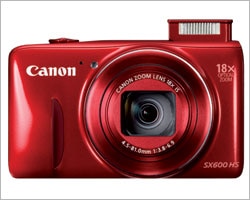 Canon SX600 HS
This camera packs in an 18x optical zoom in a sleek plastic body that can be easily slipped into your jeans pocket. At 188 grams, it isn't heavy either. The red plastic looks decent. The front is dominated by the lens while the flash is placed on the top edge that pops out. In addition, the top edge houses the shutter button release with a zoom ring around it and the power button. There is a large three-inch display at the back with various keys. This camera packs in the company's proprietary Digic 4+ imaging processor. The camera has a 1/2.3-inch CMOS sensor, 18x optical zoom with focal length of 4.5 mm (Wide) to 81 mm (Telephoto) and f/3.8 aperture.

COMEBACK BRAND OF THE YEAR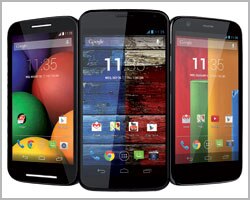 Motorola isn't alien to us. Before the iPhone madness, Motorola with its Razr series ruled the market. Even with Android, Motorola smartphones were fairly popular and they did offer some innovation with devices like BackFlip.
When Google acquired Motorola, the popular brand wrapped up its handset business and exited the market. However, Motorola has now made a comeback.
In 2013, when Motorola was a Google company, it announced a couple of Android handsets. The Moto G and the Moto X were an instant hit abroad.
With Moto X, the company launched the Moto Maker, which made it special. It allowed customers in America to choose the back panel and the storage, which made it specially customised for them. All this while, we longed for these Nikon D3300: The D3300 is a great choice for beginners.
It offers 24.2 MP count. It is capable of capturing sharper, more detailed images. The new 18-55mm f/3.5-5.6 VR II kit lens is one of the main talking points of the D3300. For the first time, Nikon has implemented a retractable design to make the lens more portable when it's not in use, something that quite a lot of compact system cameras have in their lens ranges.
As a result, the lens is much more compact that its predecessor when retracted to the L position. Of course, you still have to extend it outwards to start shooting. phones to come to India too.
Finally, in February 2014, Motorola made a comeback and that too with a bang. The company launched its popular Moto G first.
The day it got launched in India, the news of Lenovo acquiring Motorola's hardware business was also out, which is now complete.
With all the speculation, the Moto G came and sold like hot cakes: 20,000 units were sold out within an hour of going on sale, that too at midnight on Flipkart.
This success pushed Motorola to get its Moto X into the market. While the company introduced this phone, they only got in a few variants of the back cover and not the Moto Launcher.
This was followed by the Moto E launch, and then the launch of the Moto G (2nd generation) in line with the global launch.
Surely, Motorola eyes India as an important market and even the brand is well accepted in the country.