Nokia has to its name the highest megapixel count in any phone, but that is on a device that still runs its forgotten Symbian operating system. Now, Nokia is bringing its same 41MP camera to Windows Phone with some added features, lots of camera apps and a better design.


Design:

In a time when you cannot differentiate a Micromax from a Samsung, the Lumia series stands out with its bold colours and solid build. The 1020 is also encased in the same soft-touch, scratch-resistant polycarbonate body, and is available in bright colours. It weighs 27 grams lesser than the Lumia 920. There is a hump for the camera module at the rear. Thankfully, it is not as big as the one on the 808 PureView. This is not a phablet, but the 4.5-inch Corning Gorilla Glass 3 display is by no means small.
Performance:

The new Amber update preinstalled on this smartphone doesn't change the user experience much, but it does add new features like Glance Screen, FM radio support and a new camera lens. There is flexibility in the lockscreen where the Live apps service allows display of notifications and images. The bright customisable tiles refresh in real time. There is a 'Data Sense' app which shows you the amount of data consumed over both cellular network and Wi-Fi. Windows Phone isn't a power hungry platform and the 1.5GHz dual-core CPU paired with 2GB RAM is good for all operations.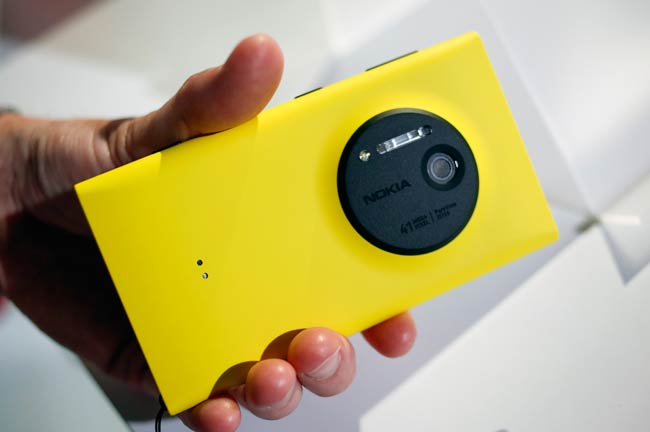 Camera:

The Lumia 1020 has got a 41MP sensor, but it doesn't capture images at this resolution. It captures images either at 7728 x 4354 pixel image (34MP) in the 16:9 mode or a 7152 x 5368 pixel image (38MP) in the 4:3 mode.
While the default camera app can capture images only at 5MP, there is a Nokia Pro Camera app that you can fiddle around with and reap full benefits from this camera monster.
When an image is captured using the Nokia Pro Camera app, it is saved in both 34MP and oversampled 5MP resolution. This special app is simple to use and allows customisation to a great extent. The Pro Camera app has a transparent box at the top center comprising six camera adjustments - flash, white balance, focus, ISO, shutter speed and exposure compensation. Selecting any of these launches a semi-circle/ring based interface that can be access by sliding the on screen button. But the downside is that it takes close to 5 seconds to get ready to capture the second image after the shutter key has been pressed once.
The images saves in 5MP resolution measured close to 2MB while the ones on 5+ 34MP were close to 9 MB each. Yet again, Nokia is pushing the concept of capture first and zoom later as the company did with the 808 PureView. We captured images from a distance and were able to zoom in and get the details later.
Work has been done to improve light sensitivity, due to which the images have very little noise in low-light environments. This is among the first phones to have Optical Image Stabilisation, and now you can focus on subjects as close as 15 cm for capturing macro shots.
Battery:
The Lumia 1020 has got a decent battery backup. It lasted us a day with average usage and extensive use of camera.
BAG IT OR JUNK IT:
The best camera phone around.