Technology is becoming so much a part of our lives that it will now be a part of our bodies too.

Google Glass, the on-your-eye LCD from Google, might be the most visible and talked about gadget in this space, but it is definitely not alone. From watches to shoes, soon there will be a computer in almost all things that go on your body. So much so that even self fitting shirts are in the works.

You know it is a big trend when companies as big as Google, Apple and Samsung start talking about devices that will be worn on our self. In fact, there seems to be a race on between rivals Apple and Samsung on who will bring out the first smartwatch, even though we have had smartwatches for a while now.

Many of us actually carry wearable technology in our pockets in the form of smartphone apps that measure our moments and tabulate the data to tell us what we should be doing extra to stay fit, or finish a task on time. When this technology starts being loaded into a standalone device, then it becomes a "quantifiable-self device".

So a lot of these devices will have sensors that know what your are doing and relay this data to a smartphone or PC app. Similar technology is also being loaded in shoes, especially those used for training and specific sports like basketball.

This is just the beginning.

GLASS, GOGGLES AND OTHER THINGS ON YOUR EYES

Google Glass is one technology that can change our lives forever . Look at it this way. Wear this Glass and you will have insight into all the world's knowledge, or Google Search to be precise. It will be a small connected LCD screen in front of your eyes, controlled by both voice and touch - on the frame. It will let you make calls, search and surf the internet, record and share what you see. It will also pop-up Google Now like cards and show you the way. In other words it will pretty much kill the smartphone.


But this is not really cutting-edge technology. Well, not all of it at least. We have already checked out the Epson Moverio BT, a personal video viewer that lets you access and browse the web while being aware of the surroundings, and the Sony HMZ-T2, an on-eye viewer that gives the best 3D experience money can buy. Also on the way is the Oculus Rift, a 3D virtual gaming headset, that can change things for ever.
---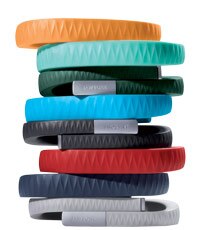 WRIST BANDS AND FITNESS GOALS
One of the most common uses of wearable technology will be activity trackers. They store data about you and analyse it using smartphone apps. The Nike Fuel Band, Jawbone Up and Fitbit Flex are becoming popular in the US and other countries. The devices typically track you physical activity and tell you if you are reaching your goals.
The Up for instance lets users add food and drink tracking as well as to log in their moods. These also come with built-in alarms to wake you up and sensors that are good enough to gauge how much sleep you have had. Wear it for a couple of months and you will have so much data about yourself that you will understand how to balance daily routines for a healthy lifestyle.
The devices, which connect to smartphones or tablets through Bluetooth, also let you share your achievements to social networking site. Some other tech bracelets are able to flash smartphone notifications.
---
SHOES THAT TRACK AS YOU WALK


Smart shoes no longer mean footwear that look dapper. Now it means sneakers that track where you are going, change as per your needs and pack in accelerometers, gyroscopes and pressure sensors. Yes, they can be used to walk or run as well.
Both Google and Apple are working on concepts, with the former already showcasing a model at a tech show earlier this year. The Google smart shoe concept with Adidas, strangely, includes a speaker to broadcast messages.
Nike has been a clear leader in the field and its latest Hyperdunk+ brings the Nike+ tracking technology to shoes. It can provide real-time tracking as well as coaching for the user by linking to the Nike+ Basketball app.
---
WATCHES AHEAD OF THE TIME


This is one segment of
wearable gadgets that is already available
in India. Most smart watches are extensions of the smartphone, while the others are replacements. So while the first segment let you read phone alerts, add apps and even keep tab of your fitness, the latter lets you actually make calls James Bond style.
Apple and Samsung seem to be in a mad race to bring their own versions of these devices. No one knows how they will shape up.
The latest Pebble Smartwatch, for instance, pairs with iOS and Android devices to offer everything from email to music on your wrists. Pebble has released a developer APK and you will soon see apps that use the capabilities of this and other smart watches.
You can also buy a Filip watch for your kid so that you know where you little one is, thanks to the inbuilt GPS. It also works as a phone. Time seems to be perfect for these watches.
---
A CLIP-ON CLICK


A wearable camera is nothing new. It is easy to get hold of spy cameras that snoop around from inside your pocket or a button hole. But the new wearable cameras are more about chronicling your life and less about spying.
The most popular chronicler of our times is the GoPro series of cameras that have gone everywhere from the depths of the Pacific Ocean to the dizzying heights of the Himalayas. But GoPros are giants in comparison to the new wearable cameras that attempt to log our lives like never before. The broochlike clip-ons from Memoto, for instance, capture a picture every 30 seconds so that you don't miss out on any moment in your life.
Then there is the Autographer from UK-based OMG Life which claims to be the first intelligent camera that can "enable spontaneous, handsfree image capture". This camera has a unique 136-degree eye view lens that clicks images that look like they have been shot using a fish-eye lens. It also has five sensors that decide when to click a picture and add this data along with the image.
Another interesting device is the Looxcie HD which livestreams 720p video from atop your ears using the Wi-Fi on through an app on the phone.
---
TECH-HEAVY FABRICS, CLIPS AND RINGS


There is a lot of tech that goes behind making many of our fabrics, now there will be more. So while there are attempts being make to build self-fitting clothes, you can already buy Numetrex bras and vests that map heart rates and alert you if something is wrong.
There is also the NFC-enabled RFID Smarter Socks that can communicate with your phone to help you find its pair in the laundry. Or look for the MYO, which reads your muscles to control computers, smartphones and a bunch of other gadgets. Created by Thalmic Labs, the MYO could be the future of how we interact with computing devices and even a lot of machines. The company is now taking pre-order and shipments are expected early 2014.
If you aren't the type to wear arm bands, then you can clip on a Misfit Shine activity tracker. That could soon be a fashion statement.