For Vinod Chougule, 25, a Mumbai-based salesman with a telecom company, life in a chawl in central Mumbai's Cotton Green area wasn't exactly the precursor to becoming a real-life slumdog millionaire. Sharing the one-room accommodation with his parents, wife, child and two younger brothers was cramping not just his lifestyle, but also his mindspace. "More than the space crunch was the lack of privacy and the fact that at night, if the women of the house had to relieve themselves, I needed to accompany them," he points out.
No wonder then when Chougule heard about Tanaji Malusare City (TMC) in Karjat, a Mumbai suburb about 100 km from his chawl, he immediately jumped at the opportunity to buy his own apartment. The sole earning member of his family—he brings home Rs 10,000 per month—Chougule booked a 225 sq. ft apartment, availing of a loan of Rs 2.50 lakh with Rs 45,000 of his own hard earned moolah, apparently unfazed by the distance.
Chougule is, of course, not an isolated example. Mangesh More, 32, a visual merchandiser in a supermarket in Mumbai's Powai suburb, is all set to tie the knot and wants to move out of the one-room chawl in Mulund (a north Mumbai suburb), where he currently lives with his mother, two brothers and a sister-in-law. Earning about Rs 10,000 per month, More opted for a 1 BHK, 233-sq. ft apartment in Neptune Swarajya, a project by Neptune Group coming up in Ambivili on Mumbai's outskirts.
Priced at Rs 4.86 lakh, More availed of a loan of Rs 3.50 lakh for 20 years. "What particularly attracted me to this project was its location, away from all the noise and pollution of the city," he says.
People like Chougule and More, who, till last year, were not even on the realty radar as a possible audience, are fast becoming the darlings of real estate developers. And it's an opportunity that's certainly not going a-begging, judging by the spate of activity in the segment and the brands involved— Unitech and Tata Housing, are just some of the companies who have announced projects in this space, apart from the likes of Jerry Rao, ex-CEO of MphasiS, and Ramesh Ramanathan of Janaagraha, who are venturing into low-income group housing. The potential seems to have attracted even non-realty players. "Since we are already in the business of prefabricated structures for housing, low-income group housing was a natural forward integration for us," reasons S.B. Dangayach, Managing Director, Sintex Industries, which is planning to launch 300-400 sq. ft apartments in the range of Rs 4 lakh in Ahmedabad and Delhi.

From a one-room chawl in Mulund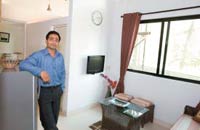 To a 1-BHK apartment in Ambivili

Mangesh More, 32, Visual Merchandiser, Mumbai
Earning Rs 10,000 per month, More's impending nuptials prompted him to opt for Neptune's Swarajya project in Ambivili
According to a report by Monitor Group, low-income group housing caters to income levels of Rs 7,000-24,000 per month with the accommodation units priced between Rs 3 lakh and Rs 10 lakh. That puts the size of the market at 21 million households, worth Rs 13 lakh crore. Of course, the reason this segment is all over the news now has a lot to do with the survival instinct of the real estate developers, who have certainly not been in the pink—or rather black—of financial health for the past year and more.
"Definitely, developers did miss the obvious by not focussing on this segment thinking there's enough gravy in the premium category housing," agrees Brotin Bannerjee, Managing Director & CEO, Tata Housing. The company has just launched its Shubh Griha range of low-income group houses at Boisar in Maharashtra, offering apartments of 283-465 sq. ft for Rs 3.9-6.7 lakh.
Of course, apart from the small ticket sizes of the apartments, developers are resorting to several innovations to cut down on costs and, thus, keep a check on the final price tag. Unitech, for instance, will be eschewing top-of-the-line advertising for its soon-to-be launched lowincome group project near Manesar, aimed at the blue-collar workers. With margins expectedly low, volumes will be the growth driver. The TMC project in Karjat will have 15,000 units spread over 100 acres, of which 15 per cent will be reserved for commercial purpose.
Keeping it low
Getting land at lower cost in far-flung suburbs of major cities like Mumbai, Delhi,Ahmedabad, Kolkata and Bangalore
Offering less space (235-400 sq. ft) in low rise buildings (Ground+2 to Ground+5)
Use of new construction technology such as prefabricated Hardiflex fibre cement boards
Use of prefabricated walling/partitioning system comprising galvanised steel and fibre cement that serve as finished wall surface
Use of only steel and concrete makes buildings studier, fire- & quake-resistant as well as more eco-friendly
Keeping overheads low, eschewing top-of-the-line advertising for such projects
Points out Pravin Banavalikar, CEO, TMC: "Of the 100 acres, 85 per cent of the area will be for lowincome group housing and will be sold at cost—Rs 1,000 per sq. ft— and 10 per cent will be reserved for commercial retail outlets to be sold at a considerable premium of around Rs 8,000 per sq. ft. The remaining 5 per cent of the project area will be earmarked for social infrastructure that includes education and healthcare." Additionally, developers will make extensive use of prefabricated technology and even eliminate the use of bricks and instead depend entirely on cement and steel.
Adds Bannerjee: "Apart from depending on economies of scale to keep costs down, these structures will be low rise, comprising ground plus two floors." Interestingly, while most developers will offer plain vanilla housing complexes with minimum amenities, Neptune's Swarajya in Ambivili will offer a club house as well as a gymnasium, along with elevators as the building will house ground plus five floors. "The elevators will be provided only from third to fifth floor with the maintenance being the resident welfare association's responsibility. For the club house and gymnasium, we will charge a very minimal membership fee for their maintenance," says Nayan Bheda, CMD, Neptune Group.
With action hotting up in the low-income housing segment, private equity and housing finance institutions are also strongly courting the prospective customer. Both TMC and Neptune Swarajya have received booster doses from private equity players—Rs 65 crore by Eredene Capital and Rs 25 crore by India REIT Fund, respectively.Housing finance companies, too, have had to rework their dynamics for granting home loans to prospective buyers. For one, not many of the big boys of the home loans business cater to this segment as the ticket size is quite small. "The average ticket size of the home loans granted by us ranges between Rs 4 lakh and Rs 4.5 lakh and 60-70 per cent of the loans are availed by people with income of less than Rs 15,000 per month," says Sudhin Choksey, Managing Director, Gruh Finance, a subsidiary of HDFC engaged in rural and low-income group housing finance.
Low-Income group housing projects
Shapoorji Pallonji
Project: Shukhobrishti
Location: Action Area III, New Town Rajarhat, Kolkata
Ticket size: 1BHK (320 sq. ft) and 2 BHK (480 sq. ft)
Offer price: Rs 3.85-6.35 lakh
Santosh Associates
Project: Om Shanti Nagar-2
Location: Batwa,Ahmedabad (off NH 8)
Ticket size: 1BHK (350 sq. ft) and 2 BHK (450 sq. ft)
Offer price: Rs 3.5-6.5 lakh
Sterling Developers
Project: Janadhar
Location: Atibele, near Electronic City, Bangalore
Ticket size: 1 BHK and 2 BHK (area not decided yet)
Offer price: Starting from Rs 4 lakh
Tata Housing
Project: Shubh Griha
Location: Boisar, Maharashtra
Ticket size: 1 room kitchen small (283 sq. ft), 1 room kitchen large (360 sq. ft) and 1 BHK (465 sq. ft)
Offer price: Rs 3.9-6.7 lakh
Matheran Realty Co.
Project: Tanaji Malusare City (TMC)
Location: Karjat, Maharashtra
Ticket size: 1 room kitchen (225 sq. ft), 1 BHK (300 sq. ft) and 2 BHK (375 sq. ft)
Offer price: Rs 3-7 lakh
All home sizes denote carpet area
Rajnish Dhall, Director, Micro Housing Finance Corporation (MHFC), also points to another challenge faced by housing finance institutions (HFIs) when granting loans to this segment of the populace. "Since most of these people are either self-employed or working in the unorganised sector, calculating their repayment capacity and the loan amount is a judgement call on how much a particular profession pays—say, for instance, a driver in a city like Mumbai would probably earn between Rs 7,000 and Rs 10,000 a month."
And yes, the loans for people in the low-income group come at a higher rate of interest—approximately 14 per cent—than for people in the affordable or premium housing segment for the simple reason that these housing finance institutions have to raise funds for lending and consequently, lend it at higher rates. But that anomaly, too, as Dhall informs, should be sorted out once these HFIs are able to access funds from the National Housing Bank (NHB).
Doubtless, low-income housing has got everybody in the real estate sector excited for now. But Ramesh Jogani, Managing Director & CEO, India REIT Fund, cautions against exuberance and overdependence on this segment. "One can't say it's the future, but yes, it's an important area that will help real estate developers consolidate their growth base," he says.