The only flaw with success is that it is often short-lived. In 2005, when Carlson Rezidor Hotel Group launched its upper-midscale brand Park Plaza in Gurgaon, Delhi's satellite city had just three branded hotels - the Trident, the Bristol and 32nd Milestone. Supply of hotel rooms was minuscule compared to the demand in a city that was fast emerging as an IT outsourcing hub and the preferred headquarters for MNCs in India.
Several local and global hotel chains were eyeing Gurgaon at the time, but only a few had signed contracts to build hotels. Carlson was both lucky and smart with its Park Plaza. "We were clearly ahead of the competition. Nobody imagined that Sushant Lok could fetch $250 per night [around Rs 11,000 as per 2005 currency rates]. The occupancy levels were above 90 per cent," says KB Kachru, Chairman (South Asia) for Carlson. The hotel broke even in a little more than three years, a record in an industry where the gestation period is typically five to seven years.

We are present in 75 per cent of state capitals and the plan is to cover each one of them.
K.B. KACHRU
Chairman (South Asia),Carlson Rezidor Hotel Group
Cut to 2014. Gurgaon has more than a dozen branded hotels with 5,190 rooms. About 1,750 more rooms are likely to be added in the next five years. Occupancy levels have crashed to 55 per cent or so. The Park Plaza is now selling rooms at Rs 5,250 per night on average. Carlson - with brands like Radisson - still enjoys an edge over other international chains jostling for supremacy in a suddenly crowded Indian hotel market. But others were not so lucky. Thailand-based lebua Hotels and Resorts had a rough start after it cancelled a deal in 2012 for its debut hotel in Delhi's Dwarka because the owner was not willing to make the investment required to meet the brand standards.
For the foreign chains looking for easy pickings in a supply-starved nation, India has proved to be an unexpectedly complex market to crack. The initial easy years lulled them into complacency and led them into making serious mistakes. A bloodbath ensued between 2008 and 2014, testing their endurance and resources. Some have emerged wiser and stronger. Some are still licking their wounds. So which are the chains that have deciphered this cruel market, spotted the opportunities and cracked it open, and which have lost the plot?
Besides Carlson, chains such as Marriott International, Hyatt and Starwood seem to have done well due to their ability to tie up with a stable group of developers, their strong distribution network and consistency in delivery of services across a bouquet of brands. French group Accor has got its act right in the mid-market segment, and tried to create a niche for itself in the convention business but struggles with its upscale brands. Others such as Hilton and InterContinental Hotels Group (IHG) are facing issues with developer-partners, and getting the right brands in the country.
The Scale Trap
The first foreign chain to put its flag in India was perhaps IHG, which tied up with the Oberoi group some 49 years ago to create a five-star hotel in Delhi. A few others arrived sporadically, but the real invasion of the foreign chains began in the late 1990s and early 2000s, with the coming of the world's biggest hotel operators - Marriott, Starwood, Hyatt, Accor and Hilton. They came in, set up development teams to scout for partners to build a base and began an aggressive onslaught. "It was a mad rush between 2005 and 2007. Stock markets were booming, disposable incomes were rising, and inbound and outbound travelling was growing tremendously," says Achin Khanna, Managing Director (Consulting & Valuation) at hospitality consultancy HVS South Asia. "The economic slowdown spoiled the party."
In the early years, a lot of these chains went on a signing spree - signing an average of 25 contracts a year. Unlike their local counterparts - the Taj, ITC, Oberoi or the Leela, which at that point, preferred to own their own hotels - foreign chains followed the management model, where they lent their brand names to property owners and operated their hotels in return for a fee.

These (diversified set of owners in India) are very different people. There's no one-size-fitsall approach to deal with them.
Dilip Puri
MD (India) and Regional VP (South Asia), Starwood Hotels and Resorts
The name of the game at that point was to ramp up quickly. Every hotel operator appeared to be in a rush to reach the 100 figure. Carlson, Marriott, Starwood and Accor took a rapid lead. Between 2004 and 2014, Carlson added 5,238 rooms, the most among global chains, and emerged as the third-largest player in India in terms of room inventory - only behind Taj and ITC. French hospitality major Accor grew the fastest since entering India in 2006 (see Scaling Up: The Race to Add Rooms).
But is scale really a measure of success? In some ways, the unseemly haste to expand might have led to some trip-ups. In some deals there was no sense of understanding of local market conditions. In 2006, for instance, Accor and Emaar MGF tied up to set up 100 budget hotels with an investment of $300 million. Soon after, Hilton formed a joint venture with realty major DLF to open 75 hotels and service apartments in seven years. Both alliances failed to take off. In 2004, Accor and Interglobe Enterprises got together to develop 'Ibis' economy hotels. So far, it has 10 operational hotels and nine are under development, though recent reports suggest the tie-up is under strain.
Daniel Welk, Vice President (Operations - India), Hilton Worldwide, blames the slowdown in the real estate sector for the failures. He says Hilton still operates DLF's asset in Delhi's Saket. "During the global downturn, DLF divested its non-core businesses and withdrew from hospitality. It was not a bad decision. The JV was the victim of circumstances post the financial meltdown," says Welk.
The Right Partner
Many feel that rather than chasing scale, managing relations with property owners is most crucial in India. "Till a few years ago, every developer with a piece of land wanted to build a luxury hotel. Nobody wanted to build a mid-market or budget hotel. Now people understand that investment-return equation for a luxury hotel is completely different from other segments," says a consultant.
Marriott made some mistakes on this front. In 2011, it opened JW Marriott (an upper-upscale brand) in Chandigarh, which company officials feel was a market for Marriott (an upscale brand). "We did tell the owner at the time that a Marriott would be more suited for the rates in Chandigarh," says Navjit Ahluwalia, Senior Vice President (Hotel Development) at Marriott International. HVS's Khanna disagrees. "They [Marriott] have made owners spend more," he counters.
Dealing with a diversified set of owners and still managing to keep complete control of the properties is an art which only a few operators have learnt. Unlike the US, where most hotels are owned by financial institutions which only look at returns on investment, in India there are broadly three different kinds of owners: the local big businessman who has a lot of spare cash, institutional owners and big real estate developers. Almost all of them are loath to relinquish control and tend to interfere a lot in day-to-day running. "These are very different people. There's no one-size fits all approach to deal with them," says Dilip Puri, Managing Director (India) and Regional Vice President (South Asia), Starwood Hotels & Resorts.
Choosing the right partner and contract terms is a tricky proposition. "We tell developers upfront that Marriott is a difficult operator to deal with. Our agreements are inflexible. My pitch to owners is when you build a hotel, it is like building an airplane. It costs you millions of dollars. Are you going to negotiate and find the cheapest pilot or do you find somebody who has experience," says Marriott's Ahluwalia. "We want a bunch of 20 to 30 owners with us. That's why just 10 to 15 per cent of the proposals convert into contracts," he says.
Unlike other chains, Hilton has a series of failed marriages. It had issues with the Oberoi Group over the branding strategy and with the Delhi-based Eros Group - where it was managing three hotels - over poor performance of the hotels. Hilton has just 14 hotels, way short of Carlson's 73 properties. According to Virendra Bhatia, Managing Director, Baani Group, who owns Hilton Garden Inn in Gurgaon -launched in February 2013 - the first year was challenging as the Hilton management was not stable. "In the past year, they have got their feet on the ground and things are improving," he says. Yet, for his next two hotels coming up in Manesar and Gurgaon, he is keeping options open on which chain to tie-up with.
One problem that could have plagued Hilton is the lack of local insight. Starwood's Puri says the ability to understand the need for local leadership and expertise is rare. "Almost all my counterparts in competing international chains are expatriates who come for just one-two years," he says. In Hilton, for instance, Welk joined in December 2013 after Guy Hutchinson, its previous India head, had spent only about a year.
What Hilton's experience shows is that even after a contract is signed, things can go wrong as managing relationship with owners is a constant challenge. Brands like Carlson, Starwood, Hyatt and Marriott have shown some stickiness with a group of developers. Carlson has a relationship with seven developers with whom it has done multiple hotels. With Gurgaon-based Bestech Group, it operates three hotels (two Radissons and a Park Plaza) while 49 hotels (Park Inn) are in the pipeline.
Over the past 10 years, developers like Rahejas in Mumbai, Salgaocars in Goa, Chordia (of Panchshil Realty) in Pune, and Prestige Group in Bangalore have set up multiple properties with different international operators. "It helps in bringing down the costs because of the synergy. Developers can have common staff for functions like marketing and distribution," says Atul Chordia, Chairman of Panchshil Realty, which runs three Marriott hotels and a Hilton franchisee.
"Mature owners understand the hotel industry dynamics, so it is easy to work with them," says Harleen Mehta, Vice President (Sales Operations - South Asia) at Hyatt Hotels.
But that stickiness is increasingly difficult as developers get savvy about the right brand for their property. Take Bangalore-based developer Brigade Hospitality, which has done deals with Starwood (Sheraton Brigade Gateway), Accor (the Grand Mercure in Bangalore and an upcoming one in Mysore), and IHG (for a Holiday Inn scheduled to open this year in Chennai). Nirupa Shankar, Director, Brigade Hospitality, describes the logic behind choosing different partners - for an IT hub like Bangalore, it made sense to go with a US chain with a strong loyalty programme (Starwood), while to tap the leisure market a European chain like Accor would resonate with the Mysore-bound tourists arriving predominantly from France.
Industry experts feel the tenure of the contract makes a difference in a hotel's performance. Long-tenure hotels are good for both promoters and hotel chains because most hotels make money in the long run. Typically, the average break-even period for hotels in India is seven to 10 years. Supply glut, low demand and high inflation have pushed the break-even period by one-two years in recent times.
"Some hotels do well with age. We sign 25- to 30-year contracts. We are lucky to have mature owners who don't make unjust demands," says Hyatt's Mehta. Marriott too signs 30-year contracts. IHG and Hilton have 15 to 20-year contracts.
What surprises many is the way the foreign chains have made such deep inroads into a country where hospitality is perceived to be in the local gene. How have they overtaken the Oberois and Leelas and frightened the Taj and ITC into taking rearguard action? Why have developers preferred to do business with them rather than the local chains? Domestic chains have adopted the management model only recently while foreign chains took the route from the start.
Brigade's Shankar says: "It's not that we are averse to Indian players but from business point it makes sense to tie up with an international chain as they are very good with training and SOPs and employees get career growth." The global distribution system of the foreign chains is also the reason why Brigade tied up with global chains. "A third of our business is the Indian traveller but a lot of it comes from the US and Europe," she says.
The Distribution Edge
Foreign chains hard sell their distribution strength to local owners. And that has worked. Distribution is about presence at locations where guests want a brand to be. It includes having product offering at different price points - luxury, upscale, mid-market and budget. In India, hotel demand is primarily driven by corporates and conferences - around 60 per cent. Corporate executives travel around the world, so distribution for foreign chains includes their global footprint.
A hotel with better distribution is always at an advantage when it comes to corporate clients. It can capture demand from companies at different levels. "As a corporate traveller, you want to stay and have a relationship with a hotel chain because you collect reward points and you can redeem those points and take your family for free stays," says Ahluwalia, adding that Marriott has covered all metros, and is trickling down to smaller towns such as Ahmedabad, Guwahati, Bhopal, Indore, Nagpur, Agra and Siliguri.
Of course, not all foreign chains are equal in this respect. Hilton seems to be lagging behind in the distribution race. Its operating hotels are in metros and even its 17-hotel pipeline is skewed towards mostly metros - Delhi, Pune, Kolkata, Hyderabad, Chennai and Mumbai.
Industry observers say Carlson has done a good job in expanding its distribution network while keeping its partners satisfied. It is the largest chain at the moment in terms of hotels and has a strong pipeline. "They have a good market share," says Manav Thadani, Chairman, HVS Asia Pacific. Kachru says their hotels are present in 75 per cent of state capitals and the plan is to cover each one of them. Carlson has a mix of managed and franchisee hotels in India which many say have affected service standards and consistency in brand.
Under the franchisee model, the property owner runs the hotel and the hospitality chain lends its brand name, technical and pre-opening support, reservation system, and its loyalty programme. "In terms of being a pure management company, the only way we can differentiate us is when we deliver better results than our competitors. Whichever segments we want to operate in, we want to be the best in class," says Rajeev Menon, Area Vice President (South Asia) at Marriott International.
Some hotel chains think otherwise. The US-based Wyndham Hotels Group follows the franchisee model, which it says is developer-friendly model. Deepika Arora, Regional Vice President (Indian Ocean), Wyndham Hotel Group, says the chain prefers this model as it allows owners more flexibility. "I was able to sell this model because we were offering everything that others were offering but at a much cheaper rate. We are not very uptight when it comes to product, fees or investments. I tell developers to meet my minimum specifications, and they can keep control of the property," she says. Wyndham has grown from five to 23 hotels in five years.
Going forward, the distribution advantage might not work for the foreign chains as the big play moves to the economy- and mid-market segment. Here, since the target traveller is Indian, it's local distribution that counts rather than global. A chain like Lemon Tree is looking to capitalise on just that.
The Right Brand Matters
As the market is maturing, a clear distinction between different chains is visible. Starwood, Marriott, Hyatt have established themselves as premium brands whereas Accor, Carlson and IHG are seen as mid-market chains. A bit ironic, considering that IHG played a part in creating India's first modern five-star hotel. But at the moment, it has mostly focused on economy and mid-market brands like Holiday Inn Express, Holiday Inn and Crowne Plaza. "Their development team is not keen to push the iconic InterContinental brand," says Khanna. "IHG has powerful brands like Holiday Inn but has never stayed here for the long haul. It has a long way to go," says another consultant.
Shantha de Silva, Head (South West Asia), IHG, says the company is focusing on developing more hotels under its midscale brands Holiday Inn and Holiday Inn Express to cater to the growing number of value-conscious travellers. Over the next three to five years, IHG plans to increase the number of Holiday Inn hotels to 23 from 10 and Holiday Inn Express hotels to 17 from two.

We are focusing on developing more hotels under our midscale brands Holiday Inn and Holiday Inn Express to cater to the growing number of valueconscious travellers.
Shantha de Silva
Head (South West Asia),IHG
According to the HVS's Trends and Opportunities 2014 report, occupancy rates across all branded hotels remained low at 58.9 per cent in 2013/14 while the average room rates fell 4.3 per cent from a year earlier to Rs 5,531 a night. Some promoters take a short-term view of the situation, and would switch off the lights in corridor, cut the food quality or maybe shut down the air conditioning in certain areas. The customers are quick to notice these changes. While it saves money on a short-term basis, it affects the hotel's brand image in the long run, and several foreign chains have paid a heavy price.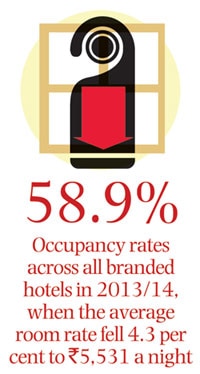 Lack of brand consistency has affected Starwood too, especially with its Le Meridien brand that it acquired globally from Air France in 2005. Starwood's Puri says there were many legacy issues with Le Meridien hotels. "They were old, not renovated, and had loose contract terms with owners. We went about securing commitment from existing owners to invest in renovating the properties. You have to be patient. Overnight success doesn't happen when you inherit a legacy," he says. In the recent past, Starwood has renovated Kochi Meridien, Jaipur Meridien and Bangalore Meridien.
Starwood entered India in 1973 when it tied up with the Oberoi Group to launch the Oberoi Sheraton in Mumbai. In 1979, ITC tied up with Starwood to use the Sheraton brand for three properties but in 2007 Starwood decided to operate the brand on its own. In return, Starwood gave its Luxury Collection brand to ITC. Under the agreement, ITC runs 11 hotels, including iconic properties like ITC Grand Chola in Chennai, ITC Maurya in Delhi, ITC Maratha in Mumbai, and ITC Sonar in Kolkata. Starwood claims it is profitable in India, as do Marriott and Carlson.
The Road Ahead

It needs deep pockets, staying power and a lot of cultural adaptability to survive in India. That's a tough lesson that all the big global hospitality chains have learnt so far. Going forward, the global chains are going to face a fresh set of challenges as the big three of Indian hospitality - Taj, ITC and Oberoi - are now changing their models to defend their turf.
Also, fresh challenge could come from the next set of foreign chains waiting to enter India. Kempinski Hotels, lebua Hotels and Resorts, Mövenpick Hotels & Resorts, Swissotel Hotels and Resorts are keen to expand their base, and cautiously moving. "India is a very different market. We are choosing the partners carefully. The property owners look for immediate results. Developers have to understand it takes time to deliver performance," says Deepak Ohri, CEO, lebua Hotels and Resorts, who has rejected six proposals from developers in the past year.

India is a very different market. We are choosing the partners carefully. The property owners look for immediate results. Developers have to understand it takes time to deliver performance.
Deepak Ohri
CEO lebua Hotels & Resorts
After years of slump, the hotel industry is on the cusp of the next upturn. It will be interesting to see which brands will be on the upswing. The ones that coped well with the downturn may hold the winning card.