Khanna Industrial Estate, a grimy corner of eastern Mumbai, seems an unlikely place to seek harmony. But you can find it if you go past the sheds of gas cylinders and metal scrap, ignore the signs on a warehouse that say "Universal Book Corporation", and walk through a side door into a huge hall that is surprisingly bright. This is the Furtados Institute of Piano Technology, set up by Furtados, a musical instrument retail chain with 21 stores nationwide. The institute teaches the skills needed to tune, repair and restore traditional acoustic pianos.

At first glance, it is hard to tell how many pianos are in the hall, because they have all been taken apart. It's like stepping into a Picasso painting - you can see all sides of each piano at once, even the inside. A woman in an apron works on some parts laid out on a table. In a room off the main hall, two men work to restore a century-old Chappell grand piano that belongs to one of the city's oldest cathedrals. At the back are several tuning rooms and a wood-polishing room.

In another room, two large models of piano keys sit on a conference table, while a Bluethner upright stands in the corner. "Fixing it will cost its owner Rs 1.7 lakh," says Steve Droy, course director at the institute. Bluethner, he explains, is a German maker of handcrafted pianos, and a new one costs around 25,000 pounds (Rs 22.6 lakh). He adds that this specimen nearly 100 years old, will be restored with traditional materials, not modern composite ones. Many owners are keen to preserve the authenticity of their instruments, he says.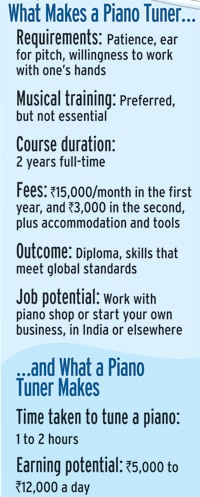 Droy, a tuning expert, and piano restorer D.J.Y. Smallman comprise the institute's faculty. They moved to India from the UK for the job, and are qualified to work on such hallowed pianos as Steinways and Bechsteins. Furtados hired them to teach their craft as they were taught. Droy says: "The best way to learn is to take apart and rebuild an entire piano." That is 10,000 parts, 230 strings and 25 tons of strain (strain is a force that pulls or stretches something).
Furtados's venture has two goals. One is to fill "a crying need" for tuners, says Anthony Gomes, Partner at B.X. Furtado & Sons, which owns the Furtados chain. The other, Droy says, is to train Indian tuners and repairers to meet the highest global standards. Gomes says tuners in the country have not got due recognition as professionals, and he wants to change that. Of course, India has had tuners for decades. They picked up their craft in British-era piano shops and passed it on to later generations, he says, but they are too few to meet the demand.
He won't say how much Furtados invested in setting up the course, but there are international faculty salaries to pay and a lease for some 3,000 square feet of space. Student fees total around Rs 1.5 lakh a month. There is no way to estimate how many pianos there are in India, nor how many tuners the market can absorb.
So is Furtados crazy to pour money into this venture? Not really. Although Gomes is unwilling to share Furtados sales numbers, it is clear that Indians are buying pianos like never before. In addition to selling through other retail stores, Japanese piano maker Kawai has opened exclusive outlets in four cities. Yamaha another Japanese company, has outlets not just in the metros but also in cities such as Indore, Madhya Pradesh, and Raipur, Chhattisgarh.
Gomes says that while digital pianos, which need no tuning, have seen "explosive growth", demand for acoustic ones is growing, too. "Hotels like grand pianos because they look beautiful," he says. "But the greatest demand is from individuals who want a piano at home." While digital pianos are popular in cities such as Mumbai, where homes are compact, customers in Chennai and Delhi prefer acoustic models, he says. Annual maintenance contracts - steady work for tuners - are a new trend, he adds.
While hundreds of new pianos are sold each year, the old ones are still going strong. A domestic piano requires tuning two or three times a year. A concert piano is tuned several times between the storage location and the concert intermission. So there is plenty of work for tuners.
Droy says the skill shortage is global. China has 200 piano factories, and the Pearl River company alone produces 120,000 pianos a year. These are sold worldwide, including India. There is a surge of interest in the piano in emerging economies. In India, retailers such as Furtados and Kawai distributor Theme Music have branched into music education.
"More people take piano lessons in China than the entire population of the UK," says Droy. He says music exams conducted by Trinity College, London, are more popular in India than anywhere else in the world. According to Anjli Mata, Trinity College's representative for North India, some 30 to 35 per cent of Trinity's 28,000 music exam candidates in India in 2012 were studying the piano. The total number of music students is higher, because two other British organisations also conduct music exams in India. Droy says: "If India produces a world-class musician like Chinese classical pianist Lang Lang, the whole thing could go ballistic!"
This is what Furtados is betting on. The institute's second lot of about 10 students began their two-year course in June. The first lot has completed its year of instruction and will now work on independent projects under the supervision of Droy and Smallman.
At the end of the academic year, the first batch of successful students will get a diploma and become India's first home-grown, formally trained piano tuners and repairers. Droy says their internationally recognised credentials would increase their chances of finding work overseas - in Dubai, for example.
Among the first lot is 21-year-old Goa native, violinist and Coldplay fan David De Melo. He was doing a BA in journalism, but his heart was not in it. "I felt I was wasting my time in college," he says. He decided to take a break, which is when his mother heard about the piano tuning course from Furtados's manager in Goa and encouraged her son to sign up. "I'm happy to be one of the first students," he says. "I want to gain as much experience as possible in the practicals year." After he gets his diploma, he says, he is willing to work in any city.
And what will life be like for these new professionals? Droy, who still has his 25-year-old piano services business in London, says he enjoys going to people's homes to tune their pianos - "from the most palatial houses with a grand piano just sitting there, to the most humble homes with a beat-up old piano that someone gave the family".
His face lights up when he talks about his work. His other favourite topics include teaching and Jimi Hendrix (Droy is a guitarist). While Smallman has worked on the pianos of pop legends Elton John and Stevie Wonder, footballer David Beckham, and former UK prime minister Tony Blair, Droy's client list includes Coldplay, Lionel Richie and Wynton Marsalis. He also toured with Norah Jones during her recent visit to India. So does she have a fancy piano? He says: "No. She lugs this 1960s piano around the world. I prayed every night that none of its strings would break."