With the economy reeling under the impact of a slowdown and demand-led growth remaining elusive, the government is banking on the Chinese model of investment-led growth through all-round infrastructure building. China magnified its economic growth for nearly two decades by supplying cheap capital for infrastructure building, which in turn created demand for cement, steel, construction and allied industries, and generated employment.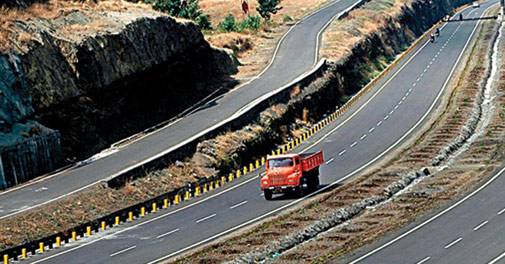 India may not be providing cheap credit but with Rs 2.85 lakh crore allocated for infrastructure in the coming fiscal - 30 per cent higher than the previous year - the government has made its intentions clear. The budget's sharp focus on infrastructure has resulted in roads and railways getting the lion's share of roughly Rs 2.18 lakh crore, including Rs 19,000 crore for rural roads under PM Gram Sadak Yojna (PMGSY). This is approximately Rs 40,000 crore more than last year. Nitin Gadkari's shipping, road transport and highways ministries have seen - in aggregate - a 25 per cent increase in budgetary allocations. Suresh Prabhu-led railways ministry's allocation has also risen 21 per cent and Piyush Goyal-led power ministry will get to spend 10 per cent higher than the previous year.
"The government will award nearly 10,000 km of roads next fiscal, which should generate four crore jobs"
But the man in the centre of the action is Gadkari, who has been entrusted with the task of constructing 10,000 km of national highways, including an assignment to connect 123 district headquarters and tourism destinations. Gadkari's roads ministry has got an allocation of Rs 55,000 crore, compared to Rs 45,517.62 crore in 2015/16. "We will award nearly 10,000 km of roads next fiscal, which should generate four crore jobs," he says. This year, Gadkari has been asked to invest Rs 12,153 crore in National Highway Authority of India (NHAI), Rs 15,500 crore on new national highways, and Rs 5,000 crore on roads in the north-east. Other than this, Rs 5,717.13 crore will be spent on the PM's pet irrigation scheme, and Rs 1,500 crore for watershed management. The allocation for PMGSY (Rs 19,000 crore) has increased from Rs 14,389 crore. Under this scheme, state governments also put in their share (from 25 per cent to 10 per cent).
"The money is not enough for the road sector," says Vijay Chibber, who was road secretary till January end. "The suspicion is that these funds might dry up by January 2017, and additional Rs 20,000 crore might be required." Chibber adds that the road ministry is looking at securitisation of existing projects, but the amendments in the contracts would require Cabinet approval. There are 110 such projects of 7,000 km, where the ministry can raise Rs 7,000 crore.
Gadkari has also successfully unlocked 377 projects stranded by pending permissions from various ministries, bad financial closures, 'unrealistic' bids, etc. In fact, Gadkari's ministry had to scrap 41 projects. However, seven projects remain in limbo. "They would eventually have to be scrapped as neither concessionaire is willing to revive them," says Chibber. 'There is little that we (the ministry) can do; banks and concessionaires will have to come to a consensus."
Akhil Sambhar, Partner at EY, says: "The government has made visible progress in clearing the logjam in the highway sector and the new policy initiatives announced for Public Private Partnership (PPP) mode of infrastructure development are expected to boost the private sector's role." With the current year budgetary allocations, Gadkari is planning to spend more in two of the NDA government's biggest projects: Sagarmala and Bharatmala. "These projects have good economic multipliers, and could excite investments from private sector, which can be easily five to six times of budgetary allocations," says Feedback Venture's Chairman Vinayak Chatterjee. On March 4, Bharatmala's subset - Setu Bharatam - was launched by the Prime Minister. The project, aimed at overhauling 1,500 bridges constructed during the British era and building rail overbridges at 208 railway crossings, may involve investments of Rs 55,000 crore by 2019. Still, it may not be enough to lure private companies back into the sector right away. "Their (private investors) balance sheets are bleeding; in the past one year, nearly 60 per cent of projects are bagged by relatively smaller players," says Chatterjee, adding that it will take at least two more years for the bigger infrastructure players to come back.
Jaitley is also banking on the reform agenda of Suresh Prabhu's railways. This year, Prabhu has got an allocation of Rs 1.21 lakh crore - 21 per cent higher than last fiscal - and Jaitley has set a target of modernisation of 5,900 km of existing tracks, and laying of 400 km of new tracks. The target is to manufacture 747 new locomotives as well. Tilak Raj Seth, Executive Vice President and CEO of Mobility Division in Lead Country, Siemens India, says: "An increase in capital outlay along with a target operating ratio of 92 per cent for 2016/17 offers great opportunities for the rail industry across various facets." Private investments might also come back in the power sector, where Jaitley paved the way for three ultra mega power plants. The plan is to seek investments of Rs 90,000 crore in three UMPPs at Cheyyur, Tamil Nadu; Bedabahal UMPP, Odisha; and one in Bihar. Power Minister Piyush Goyal says: "We have prepared the documents for domestic coal-based UMPPs. They will be sent to the Cabinet soon, and post the clearances, we will call for auctions. There is no pressure to do it in a hurry; we want to make sure we do it well."
"We prepared the documents for the domestic coal-based UMPPs; they will be sent to the Cabinet soon, and post the clearances, we will call for auctions"
These days, Goyal is busy convincing most states to take up the UDAY scheme to clean up the distribution sector's losses of Rs 4.3 lakh crore. On March 4, Punjab became the seventh state after UP, Jharkhand, Bihar, Chhattisgarh, Gujarat, Rajasthan and Andhra Pradesh to agree to the terms of UDAY. Put together, these seven states make up 40 per cent of the cumulative losses. If Goyal could help states clean up their books, it would become easier to convince private players to invest in new capacities.
A good beginning has been made in beefing up India's infrastructure, and incentivising private companies to invest. But as the saying goes, the proof of the pudding is in the eating.