It is late evening and a handful of labourers are milling around a small cellphone shop in an East Delhi neighbourhood. They are there for their weekly recharge of talk time - and porn clips. One of them has saved enough to buy a second-hand smartphone. The four-inch screen is cracked, but he looks forward to watching Bollywood clips for Rs 1 apiece. With the apps downloaded on his phone he will no longer need the phonewallah to refresh his stock of "garam videos".

More than half of India's 150 million Internet users access the web from their phones. Porn accounts for at least 30 per cent of all web traffic, so it is no surprise that this ratio is reflected in mobile Internet usage as well. With the increasing popularity of smartphones, there has been a proliferation of data-hogging porn apps that makes it easier to access adult content.

Publishing or transmitting pornographic material in electronic form is an offence under the Information Technology (Amendment) Act, 2008. This is why hardly any adult website or porn app is hosted on Indian territory. But the government does not crack down on the private viewing of adult material.

Phone porn is not really new. It started in the early 1990s, when sex chats resulted in some Indian households running up six-figure phone bills. When Internet access finally came to the cell phone, many Indians logged on to their favourite porn sites from the smaller but much more personal screens, despite horrible download speeds.


With the advent of apps and 3G, accessing adult content has become easier than ever before. From the vintage Linda Lovelace to Sunny Leone, they are all now literally in people's pockets. There is practically no data on how much porn is flowing through the pipelines. Indian companies, from mobile service providers to app trackers, don't want to discuss the topic.
The global legal porn industry is worth at least $10 billion, according to a rough industry estimate, but this figure is outdated. One of the most authoritative studies on porn usage, compiled in the form of a book called A Billion Wicked Thoughts, by Sai Gaddam and Ogi Ogas, was published in 2010. Gaddam, a Bangalore-based computational neuroscientist who helps companies understand consumer behaviour from the data they generate, says their studies showed that four per cent of websites and 13 per cent of searches are for porn. He adds that smartphones are likely to have changed some of these figures. "Smartphones have made access to porn more convenient," he says. "Major porn sites started mobile versions in recognition of this."
The trend is obvious. Kate Miller, director of communications and marketing at Manwin, a Luxembourg-based company that owns top adult websites YouPorn and Pornhub, said in an e-mail interaction that her company has seen a pronounced increase in visits via mobiles and tablets. "Our team has taken note of the increase, and continuously works to enhance the user experience on the devices." The two websites from Manwin alone get around two million hits a day from India, increasingly from mobile devices (see Kama Cola). If this is any indication, the daily traffic to porn sites from computers and mobile phones in India could be staggering. Manwin is perhaps the world's largest porn network, and its sites total about 16 billion hits a month.
This is why all the top porn sites have an Indian clips section, even though no international online bookstore bothers to have one for Indian literature. If video is touted as the main engine for data growth, there can be no doubt that porn is going to be its main fuel. It would be naive to think everyone is going to watch Bollywood trailers and news clips. Porn sites have been popular ever since the Internet came to India. Old sites like desipapa.com continue to thrive, with video and live sex chat, while international porn houses have started catering to Indian audiences.
Porn can be accessed from any phone with a data connection. Even basic phones can open mobile versions of porn sites with the native browser, though the experience might not be very good. Smartphone users are much better off, with access to the best browsers, such as Chrome and Opera, which can easily stream video. The browser is crucial for iPhone users, as Apple does not allow 'adult-oriented' apps on its store. Search for sex in the Apple app store and you get food porn, and maybe a few apps that explain sex positions.
Compared with this, Android is a libertine. The Google Play store has thousands of apps offering content to meet all your "urges" and kinks. This is the home of the porn app. We found nearly 1,000 apps tailor-made for Indians and their peculiar preferences, such as wet sarees and navels. But as with any category of Android apps, there is a bunch of fake "hot auntie" and "Bollywood babe" apps out there, while others just aggregate clips from the non-sanitised regions of YouTube.
One company has cut the clutter of the Android store by setting up a porn app store of its own. While iPhone users are limited to accessing MiKandi apps through their browser, Android users can download MiKandi Theatre and its curated collection of free and paid apps directly on to their phone. "People were buying iPhones for the apps, not websites, so when the industry was blocked from the only distribution channel that mattered, it was left to settle for second-rate experiences," says Jesse Adams,CEO and co-founder of MiKandi LLC , in an e-mail interaction from Seattle, in the United States. "Android's open philosophy changed all that and we're finding many companies moving fast to catch up." Over a million MiKandi apps are downloaded a month, with India at number six in terms of traffic.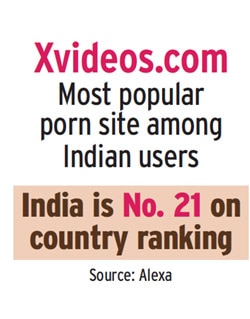 But why have an app when you can watch porn directly on the browser? Adams says an app's advantage is its ability to access the device's core capabilities to completely control and deliver the best user experience. "This means faster speeds, better memory management, and overall a more polished user interface compared to websites," he says. "It also allows us to offer useful functions such as downloading or removing content on your device, running offline or receiving notifications."
But Manwin doesn't think so. "Apps in general have a timed life span," says Miller. "We're confident that focusing on user experience on the mobile and tablet sites is the optimal choice at this time."
But the Android story is not just about phones. The worldwide want for porn is already pushing these apps to television, tablets and any other connected screen, be it on a refrigerator or in a car. In fact, MiKandi was the first to announce an app for Google Glass, only to be booted out. With the phone conquered, porn is now eyeing the most personal screen invented.