It is a remarkable turn in a long and tumultuous journey. After dominating Indian roads for 40 years, scooters rapidly sank into near-oblivion for the next 10, but in the past few years have been making a spirited comeback. In October this year, they comprised 30 per cent of all two wheelers sold - their highest market share since 1998-99 when motorbikes overtook them. In 2014/15, the scooter market grew 25 per cent, while motorcycles' sales growth was only two per cent. In the first half of the current financial year, scooter sales have risen by 10 per cent, while bikes have reported a three per cent drop. "We expect scooters to remain unfazed by the sluggish automotive market and outsell bikes with a healthy double-digit growth rate," says Abdul Majeed, auto expert and Partner at PricewaterhouseCoopers (PwC).
The company primarily responsible for the turnaround is the Japanese giant Honda, whose wholly owned two-wheeler making subsidiary, Honda Motorcycle and Scooter India (HMSI) tentatively introduced the Activa brand in 2000. Today, led by Activa and followed by a range of other brands, HMSI holds around 58 per cent of the scooter market, while its main rivals TVS Motor and Hero MotoCorp have about 13 per cent each. "It was a tough call when we started, with bikes dominating the market and scooters on the brink," says Keita Muramatsu, President and CEO, HMSI. But there was no alternative for HMSI, since Honda was already making bikes in a joint venture with the Hero Group and had a non-competing agreement with it. (The Hero Honda partnership ended after 26 years in December 2010.)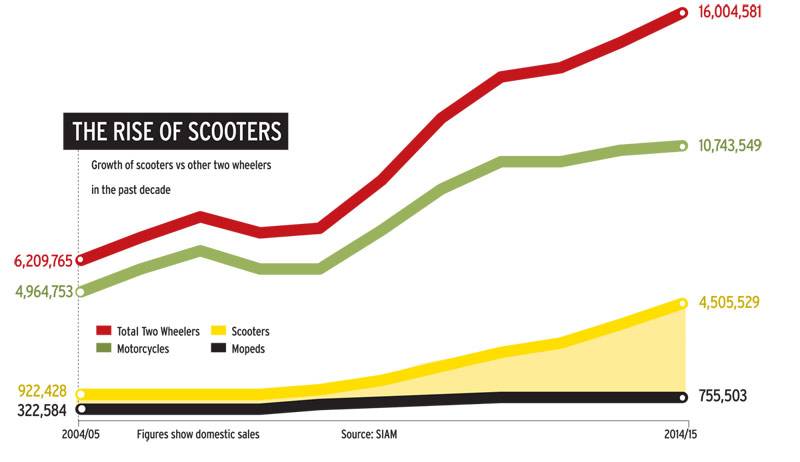 How did HMSI bring about the transformation? Success did not come overnight - for years after Activa's launch, scooter sales continued to slide. But its engineers kept working on the technology, inducting electronics at a time when most scooter engines were mechanical in nature, steadily improving power and mileage without compromising on the unisex appeal - compact size, sleek design and manageable weight. It introduced a centrally mounted engine that gave Activa stability on par with bikes. It brought in a puncture resistant tuff-up tube for the tyres, rendering the ugly back-strutted stepney all scooters carried at the time, redundant. "We worked on new electronics that helped us introduce the automatic, self-start system, backed by a better electric source," says Y.S. Guleria, Senior Vice President, Sales and Marketing, HMSI. "The four-stroke engine mated to V-Matic automatic transmission not only delivered more power than the competition, but also tremendously increased mileage."
Delicious Irony
There is delicious irony in Honda bringing scooters back into vogue in India, since it was Honda 's venture with Hero that initially crippled them. Scooters had become a way of life in the country from the 1960s when Bajaj Auto Ltd (BAL) introduced its iconic brand, in what was probably the biggest disruption in transport in post-Independence India. The long waiting list for BAL scooters in the pre-liberalisation era of the 1960s and 1970s is the stuff of business legend. Bikes in those days sold way less than scooters did. But all that came to an end with the entry of bikes with fuel efficient four-stroke engines, providing mileage way beyond what the scooters could. In particular, the success of Hero Honda's Splendor brand - with its memorable advertising tagline 'Fill it. Shut it. Forget it', dating from the mid-1980s - along with its CD Dawn brand, did the scooters in. Some scooter makers did attempt upgrades - BAL with its Saffire brand, Kinetic with its DX - but these could not stem the scooter slide.
In 1997/98, there were 146,456 more scooters sold in India than bikes, according to Society of Indian Automobile Manufacturers (SIAM) data. The following year, the pattern changed for the first time, with bikes outselling scooters by 63,081 units. It became more and more pronounced over succeeding years. With growing environmental awareness, there also came stricter emission norms in 2000, forcing a complete exit of two-stroke engine technology. Leading scooter companies like BAL and LML could not immediately upgrade and preferred to withdraw many of their brands. Once highly popular brands such as BAL's Chetak, Super and Saffire, LML's Vespa 4S, Kinetic's DX and Nova, all disappeared. No doubt some leading bike brands, which also relied on two-stroke technology, such as Yamaha RX-100 and Kawasaki Bajaj KB-100, had to exit as well.
Gone Gears
"It is the overall evolution of scooters in terms of greater convenience, tubeless tyres, unisex appeal, fuel efficiency equalling that of motorcycles, and the comfort of automatic transmission that have made them increasingly popular," says Majeed of PwC. The last mentioned feature in particular - the absence of gears combined with a push button start - has done wonders for the scooter's popularity among women, at a time when the number of working women is rising exponentially. They are also very useful for running small chores outside the home, such as picking up children from school or making day-to-day purchases. Indeed, women now form 33 per cent of all two-wheeler riders, bikes and scooters combined.
---
SNIPPETS
Scooters had their best ever sales in India in October 2015 - 525,000 units.
Honda's Activa is the largest selling scooter in India, almost neck-andneck with top selling bike, Hero's Splendor.
Scooters is the fastest growing category in India's automotive market.
Automatic (gearless) scooters are leading the boom.
---
Other new features including telescopic front shock absorbers, full metal bodies and advanced aluminium engines, have all helped the scooter revival. "There has been a gradual upward growth curve in scooters with the introduction of several new models by different manufacturers," says Aniruddha Haldar, Vice President, Marketing, TVS Motor. The company launched its Wego brand of automatic scooters in 2010, following it up with the Jupiter brand in 2013.
The non competing agreement having ended, Hero Honda introduced its Pleasure brand in 2006, aimed specifically at women. In its new avatar of Hero MotoCorp, it launched Maestro in 2011, followed by Maestro Edge and Duet in September this year. "Our close understanding of the market has enabled us to design, develop and build these new products to match customer needs and aspirations," says Ashok Bhasin, Head of Sales & Marketing and Customer Care at Hero MotoCorp. Indeed, the company's eventual ambition is to dethrone its former partner. "I'm gunning for leadership in scooters too," said Pawan Munjal, Hero MotoCorp's Chairman, at the September launch. (Hero MotoCorp is already the market leader in bikes, with 52 per cent share.)
Stagnating Motorcycles
Scooter sales have risen a whopping 395 per cent in the past decade. But, even as they surge, motorcycle sales have been falling lately due to reduced rural demand. In the first six months of 2015/16, HMSI's scooter sales have risen 17 per cent, thanks mainly to its bestselling Activa, while its bike sales declined by an alarming 25 per cent. In 2014/15, HMSI grew 32 per cent in scooters, while falling 6.4 per cent in bikes. TVS Motor's scooter sales went up 50 per cent in 2014/15, mainly on the back of its popular Jupiter brand, while bikes fell by 17 per cent. Hero MotoCorp witnessed an overall sales revenue rise of five per cent in 2014/15, thanks chiefly to its Maestro's strong performance.
With automobile sales sluggish as well, scooters are proving to be the overall vehicle industry's saving grace. "It is a silver lining," says Vishnu Mathur, Director General, SIAM. "The scooter is the biggest contributor to our market's expansion at a time when sales are under tremendous pressure." In at least three states, scooters have begun outselling bikes - Goa, where they comprise 77 per cent of two-wheeler sales, Kerala, where they make up 63 per cent and Himachal Pradesh, with 53 per cent. In the union territory of Chandigarh too, scooter sales make up 53 per cent of all two wheelers. In five more states too, they have almost caught up with bikes - Delhi (46 per cent), Jammu and Kashmir (48 per cent), Punjab (42 per cent), Gujarat (42 per cent) and Karnataka (39 per cent).
Men Matter, Too
Leading scooter manufacturers are all expanding capacity. HMSI is building what it claims will be the world's biggest exclusive scooter factory at Vithalapur, Gujarat. Hero MotoCorp has raised capacity to manufacture 1.3 million units a year, up from one million till end-June this year. New players are entering the market - Yamaha, a heavyweight in bikes, entered the scooter segment in 2012 with its Ray, Ray Z and Alpha brands. It recently launched yet another model, the Fascino. Even BAL's Chetak is likely to return in a revamped avatar.
With so many brands, there has also been increased differentiation. To expand their market, scooter makers have begun targeting men as well. Hero MotoCorp's Maestro, for instance, is consciously aimed at men, with its ad campaign featuring actor Ranbir Kapoor. "When you have the reigning heartthrob of Hindi cinema riding your scooter, it immediately changes user perception, making the scooter cool for young men," says a senior Hero marketing official. HMSI's Activa 125, launched in 2014, with a 125 cc engine, is also aimed at male buyers. TVS Motor claims to have the most differentiated range of scooters. "The three variants in our Scooty series are specific for women users," says Haldar. "Our most recent brand, TVS Scooty Zest 110 cc as well as the Wego have unisex appeal. The Jupiter is for the single male."
Two wheeler penetration is still only 17 per 1,000 people in India. Scooter manufacturers realise that while sales may be increasing, there is vast potential still remaining.