Anyone who ever met Kallam Anji Reddy will recall him gradually leading most conversations into the realm of chemical formulae, innovations and drug discoveries. It was this passion for research that was the abiding characteristic of the founder and chairman of Dr Reddy's Laboratories (DRL) who passed away on March 15 in Hyderabad.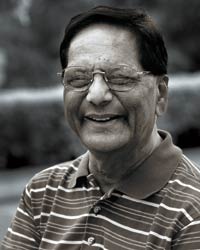 His death after a protr-acted battle with liver cancer is a major setback to the Indian pharmaceutical industry (see businesstoday. in/reddy-succession). Reddy, who finished writing his autobiography shortly before his death, is a pioneer of the country's generics drug industry and helped transform the way the world perceives Indian drug makers. "He was my role model and I drew a lot of inspiration from him," says Glenn Saldanha, Chairman and Managing Director of Glenmark Pharmaceuticals. "The fact that he could show the path for drug research in India was a very big thing for all of us. Had it not been for him, I think drug discovery and research would not have gone anywhere in India."
Born to a turmeric farmer father in Andhra Pradesh in 1941, Reddy completed Ph.D. in chemical engineering from Pune's National Chemical Laboratory and began his career with the state-run Indian Drugs and Pharmaceuticals Ltd (IDPL) in 1969. He became an entrepreneur in 1976, setting up Uniloids. In 1980, he started Standard Organics before founding DRL four years later with an initial capital of Rs 25 lakh. Today, DRL is one of India's leading pharmaceutical companies with revenue crossing Rs 9,670 crore in 2011/12. The company listed on the Bombay Stock Exchange in 1986, and in 2001 became the first Indian drug maker - and the only one so far - to list on the New York Stock Exchange.
In the 1980s, Indian drug makers had yet to discover the 'reverse engineering' skills - making copycat versions of drugs invented by multinational companies at a fraction of their prevailing cost - which made them globally renowned later. DRL was one of the first to take this route. In 1985, just a year after DRL was founded, it started making methyldopa, an off-patent drug discovered by Merck to treat high blood pressure.
Soon after, it started making and exporting other drugs. The company now makes drugs to treat diseases ranging from gastrointestinal ailments and cardiovascular diseases, to diabetes and cancer. Apart from India, its major markets are the United States, Russia, Germany, Britain, Venezuela, South Africa, Romania and New Zealand. In 2007, it became the first Indian company to make a biosimilar monoclonal antibody to treat non-hodgins lymphoma, a form of blood cancer.
Reddy believed India could launch a new drug for the world market. To realise this vision, he started investing in research activities from 1993. In 1997, DRL became the first Indian company to grant a licence to a western drug maker to develop a molecule it had discovered.
The molecule, Balaglitazone, was licensed to Denmark-based Novo Nordisk. In 2001, DRL granted a licence for an antidiabetes agent to Novartis in a $55 million deal. This included an upfront payment of $5 million, while the rest was linked to future milestones. (In January 2003, however, Novartis decided against taking up further development of the molecule.)
Again in 2001, DRL became the first Indian company to get a 180-day exclusive marketing rights for an anti-depressant generic drug in the US. "Dr Reddy was very much focused on fundamental research and development," says Yusuf Khwaja Hamied, Chairman of drug maker Cipla. Hamied had known Reddy from the time he worked at IDPL. Glenmark's Saldanha says he draws inspiration from the molecule licensing deals that DRL entered into early on. "Reddy led young people like me to believe that research can be done in India at an affordable cost," he says.
Saldanha recalls inviting Reddy to Glenmark's R&D facility in Mumbai about a decade ago to seek his views on conducting research in India. "He was impressed with what we were doing," says Saldanha. Today, Glenmark has half-a-dozen molecules in the drug discovery pipeline. Though DRL has not been able to take a completely new drug all the way to the market so far, Saldanha feels it does not take away anything from Reddy's achievement. "Drug discovery is a long and painful journey. We also have not hit the market with a new drug despite putting our hearts and souls into it for the last 12 to 13 years. Our best case is between 2017 and 2020 when we may be able to bring a drug to market," he adds.
Hasit B. Joshipura, Managing Director at GlaxoSmithKline Pharmaceuticals, says Reddy contributed to the Indian drug industry in multiple ways. "He not only developed a very robust generics business model but was also one of the first to look beyond that and invest in drug discovery and research with an aim to bring an original molecule or new drug to market," he says. "He was clearly a visionary who could see well beyond the immediate."
V.C. Nannapaneni, Chairman and Managing Director of Natco Pharma, says Reddy played an important role in putting Hyderabad on the drug map of India and spurring greater activity in the sector as a whole. "Many people who worked with him later set up very successful companies," he says. Murali K. Divi, for instance, set up Divi's Laboratories, and B. Parthasaradhi Reddy founded Hetero Drugs after previously working at DRL.
Reddy was also involved in philanthropic projects which sought to alleviate hunger, create livelihood, provide education, access to safe drinking water, and stop hazardous industries from employing children. Business Today highlighted his philanthropic work in an earlier report (see businesstoday. in/anji-profile). In 2011, Reddy was awarded the Padma Bhushan, India's third-highest civilian award, for his contribution to the drug industry.
In December 2005, Reddy told Business Today that "the spirit of adventurism is very important" to compete with the best in the world. What was his vision for DRL? "I want my company to be the most admired company not for the billions of dollars it makes, but for the ingenuity with which it discovers drugs and the science that it develops." It is now up to the people he leaves behind to fulfill his dreams.