The caterpillar has turned into a butterfly. Punjabi cinema, for decades one of the most sluggish and least noticed of regional cinemas, has undergone a transformation. More films are being made with production values much higher than before; investment is pouring in and returns are breaking records.


Well into the first few years of the 21st Century, barely six to seven Punjabi films were produced every year. In contrast, the number of films released this year will touch 17 by the end of December. Two of them -
Jihne Mera Dil Luteya
(The One Who Stole My Heart) and Dharti (Earth) - are already blockbusters, with
Jihne Mera Dil Luteya
, released in September, becoming the biggest grosser among Punjabi films. Made on a budget of Rs 3.5 crore - steep for a Punjabi film - this romantic comedy has already raked in Rs 6.75 crore in the domestic market and another Rs 5.8 crore in markets across the United States, Britain, Canada and Australia, where thousands of Punjabis are settled.
Dharti
, a political drama, made for Rs 3 crore, earned gross Rs 5 crore locally and gross Rs 4 crore overseas, says director Navnait Singh.
GOLD RUSH
Corporates like Eros, Tips and T-series have taken the lead in producing Punjabi films
Budgets have increased from Rs 50 lakh in 2000 to Rs 1.5 to Rs 3.5 crore currently
New overseas markets such as Australia, New Zealand have opened
Punjabi cinema is a Rs 50-crore industry at present
On an average, about 15-20 A-grade films are made annually
Jihne Mera Dil Luteya
, for instance, was produced by Tips Industries, the music giant. BIG Pictures, part of the Anil Dhirubhai Ambani Group, has made two Punjabi films so far, one of which, Mera Pind (My Home) was a hit in 2008.
Eros International
, which has had recent Hindi hits like
Zindagi Na Milegi Dobara
and Ready, entered Punjabi cinema initially as a distributor in 2008. In early October this year, it signed a contract with the production company owned by Jimmy Shergill, the current superstar of Punjabi cinema, to make four Punjabi films.
MUST SEE
:
Bollywood's love for special effects
T-series, another top music-cumfilm production company, has co-produced two Punjabi films. Two other leading production houses, UTV Motion Pictures and DAR Motion Pictures - part of the Dubai-based DAR group, which makes both Hindi and Marathi films - are also likely to enter the Punjabi fray soon. Formerly there was no sustained - let alone corporate - funding of Punjabi films, with most being made at the whim of wealthy individuals.
What accounts for this increased interest? "Multiplexes emerging in small towns are fuelling the growth," says Kamal Jain, Group Chief Financial Officer at Eros International. Against four multiplex screens in 2007, Punjab now has 36, thereby greatly expanding the middle class audience.
Financiers have also realised that regional films, including Punjabi ones, cost far less to make and are wrapped up far more quickly than
Bollywood
films. While the average Bollywood film costs around Rs 7 to 10 crore to make and takes at least 12 to 18 months to complete, the average Punjabi offering has a budget between Rs 1.5 and Rs 3.5 crore and can be wrapped up in six to nine months. Though the first Punjabi film was made as early as in 1936, the industry, overshadowed by Bollywood, has had a chequered run. Even today, it operates out of Mumbai, there being no film studios in Punjab. A fair number of Punjabi films were made in the 1970s, but few made an impact.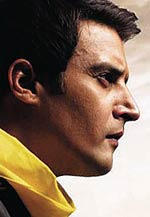 'I do Punjabi movies out of love'

Jimmy Shergill, debuted in cinema with Gulzar's Maachis 15 years ago. He has made his mark in Bollywood as well as in Punjabi movies. His biggest hit so far in Punjabi is Dharti, released this year and directed by Navnait Singh. Shergill spoke to BT in Mumbai. Edited excerpts:

On the Punjabi film industry
The Punjabi film industry has come a long way since the 1990s. The man who changed the face of the industry is ace cinematographer Man Mohan Singhji who has done films such as Dilwale Dulhaniya Le Jaayenge, and Darr with Yash Chopra. His first Punjabi film, Jee Aayan Nu, in 2002 was the turning point. He also gave me my first break, Yaaran Naal Baharan, in 2005. Currently, the industry is progressing well. Several young directors are coming forward.

On producing Punjabi films
So far, I have done six Punjabi films. I do Punjabi films out of love. I want to revive it as sensible cinema, one which entertains and also makes money. We have a rich culture and an excellent overseas audience. The market has huge potential.

On the tie-up with Eros
Jimmy Shergill Productions' association with Eros will bring in a corporate approach to the making of Punjabi films. Punjabi cinema is growing with every film. This tieup will help in marketing and promotion of the films on a global platform. Our first film Taur Mitran Di will release this month.


"In those days filmmakers were inspired by the loud Punjabi cinema from across the border in Pakistan," says Singh of
Dharti
fame. "The language and stories were not too appealing and most audience could not connect with them." Thereafter, the prolonged insurgency in Punjab in the 1980s virtually killed even that effort.
The new Punjabi cinema, insiders agree, was born in 2002, with the release of
Jee Aayan Nu
(You're Welcome), distributed by T-series and directed by Man Mohan Singh, who had been film director Yash Chopra's chief cinematographer for years. Its plot - about a young man torn between his desire to remain in India and his wife's family's insistence that he shift to Canada - was a complete break from the crude melodrama of the past. Beautifully mounted and shot, on a budget of Rs 2 crore at a time when no Punjabi film cost more than Rs 50 to 60 lakh, it earned net Rs 4.5 crore.
"Thanks to the corporate producers, Punjabi films are now technically on a par with Hindi movies," says Surender Talya, chief of Lakshya Movies, which distributes films across Punjab. The plots have much more variety than before; with the generous budgets, the films are also being shot in exotic locales across the country and abroad, unlike before, while some of the best of Bollywood's technicians take care of their production values. Punjabi cinema is still only a Rs 50-crore industry - minuscule compared to Hindi's Rs 4,000 crore juggernaut - but still substantial. "After the four film industries of the South, the Punjabi film industry is the biggest among regional cinemas," says Bhushan Kumar, Chairman and Managing Director, T-series.