Old habits die hard. Circa 2000: A sleek, green Mercedes waits outside Mumbai (then Bombay) airport for Rajeev Karwal, the ace LG executive who has just shifted to bitter rival Philips Electronics India as its consumer electronics head. It takes Karwal to Philips's lavish guest house in a swank apartment block, in an estate originally owned by the Scindias of Gwalior. Not far away is Philips's India headquarters where senior management sits on an exclusive floor. Tea is served in silver-plated pots, cups and saucers. "It felt like true blue blood," says Karwal, who now owns Milagrow, a company manufacturing tablet computers and dabbling in robotics.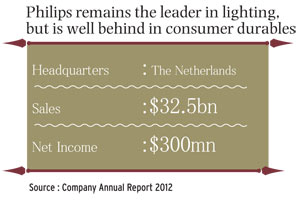 Strikingly, Philips's share price at the time was at an all-time low, its factories faced labour problems, and its core consumer electronics business was struggling. Despite this, it seemed difficult for Philips to let go of perks and quirks picked up in 70 years of being in India. (It incorporated in India in January 1930.) For most of those years, it was
market leader in consumer electronics
.
Philips India officials declined to talk to
Business Today
for this story. Two former executives - K. Ramachandran, its first Indian CEO, and former President of the consumer lifestyle business, Anjan Bose, refused as well.
Sunil Dutt, former Managing Director of BlackBerry, who worked with Philips in the 1980s and 90s, says the company held almost 80 per cent market share in consumer electronics then. The radio market, especially, it ruled. But as television became popular and Korean companies LG and Samsung captured the Indian market, Philips lost its way. (See www.businesstoday.in/casestudy-philips.) In 1995, Philips was the No. 3 TV maker in India. By 2000, it had slipped to No. 5. Today, it figures nowhere in the pecking order. A former consumer electronics division head says: "Philips was the innovator of the analog era, but lost it in the digital era."
True, over the years, the
company has tried to revitalise its brand
. A $7-million advertising campaign and a slew of TV launches including a wall-hanging plasma set in 1998 was one of them, followed in the 2000s by a big push in lowmargin products such as DVDs and MP3 players, and home appliances such as hair dryer and steam irons.
Yet consumer electronics' share of its revenue kept falling - from 42 per cent in 2005 to 28 per cent in 2010. In between, on August 29, 2004, Philips delisted from the Bombay Stock Exchange.
For some, Philips still embodies quality, and commands loyalty. One such is N. Deb Choudhury, a former technical engineer, who in 1952, spent Rs 40 - a small fortune then - on a cream-coloured 'state-of-the-art' Philips audio player. "LG and Samsung have just come to India. Philips was always more trustworthy," says the 88-year-old, who uses a Samsung mobile phone, but buys only Philips bulbs and tubelights.
Happily for Philips, as consumer electronics declined, its lighting business lifted its fortunes. The breakthrough came in 1982, when it bagged the lighting contract of the Jawaharlal Nehru Stadium in Delhi for the Asian Games. "In 1983, Philips took a visionary step by setting up a bulb factory in Chandigarh," says an ex-Philips lighting regional head. More factories followed.
In lighting, it countered competition well. In 1986, Surya, Bajaj and Sylvania Laxman were giving discounts of 30 to 35 per cent to retailers against Philips's15 per cent. But once its fourth lighting factory started in Loni, Maharashtra, it increased discounts to 27 per cent, and market share rose to 40 per cent, says Dutt. Today, Philips remains the market leader in lighting.
Despite this, ballooning costs became a concern but smart solutions were fleshed out. "Of 11 factories, only two survived by 2002," says Vineet Kaul, Chief People Officer at Hindalco and a former HR head of Philips. "The idea was to become asset light and look at an in-sourcing model versus an outsourcing model."
Philips's financial performance remains healthy. In 2011/2012, on an annualised basis, revenue grew 19 per cent to Rs 4,522 crore, and net profits by 20 per cent to Rs 107 crore, according to data from CMIE Prowess. Its health-care equipment business has also helped Philips sustain its profitability, especially the move into making imaging products.
In the past few years, it has set up exclusive showrooms called "light lounges" in nearly 50 cities, roped in John Abraham and Kareena Kapoor as brand ambassadors and bought Maya Appliances, which owned kitchenware brand Preethi.
The jury is out on whether Philips can regain its lost glory. But lost forever is the quaint, royal-like Bombay charm. With the India headquarters having moved to Gurgaon, gone too is the demarcated area where tea was served in silver cutlery.