It was the worst of times and it was the best of times for Swedish ball bearings company AB SKF. On the one hand, Europe was passing through the turbulence of the First World War, which made it tough to do business in the continent. On the other hand, demand for ball bearings was up as a furiouslygrowing industry grappled with rising coal prices and a shortage of lubricating oil.


This was the political and economic environment that pushed the Swedish company to expand its business beyond Europe and start operations as a trading company, SKFCO (pronounced skef'co), in India in 1923. After India became independent in 1947, plans for domestic manufacture of bearings began to take shape and
SKF's
initial manufacturing foray in the country was with the Tatas. According to the memorandum of association, SKF was to provide 60 per cent of the capital and the Tatas the rest. The deal gave India access to SKF's technical expertise and the company's new factory was licensed as the country's sole manufacturer of a certain type of roller bearing used for cars.
India's economic climate in the 1960s also helped SKF. With high tariff barriers keeping competition away, SKF India Ltd was incorporated in 1961 following a collaboration between AB SKF, Associated Bearing Company Ltd and Investment Corporation of India Ltd. The company's first bearingsmanufacturing plant to meet the needs of the automotive industry came up in Pune in 1965. SKF made high profits in the early 1980s because of tax reliefs to companies that invested nationally, but from 1984 the tax relief ended and taxes began to rise again.
Today, the plant owned by the $9.86-billion AB SKF can produce 1.4 million bearings at each of its 14 lines every year. By the 1980s, competition from foreign and smaller local manufacturers grew and SKF's market share fell to 23 per cent from 28 per cent. Despite high import duties ranging between 150 and 300 per cent, bearings from Eastern Europe were sold in India at exceptionally low prices. The company was already grappling with the impact of a strike in December 1977 that disrupted production. The issue was not resolved until the International Metalworkers' Federation (IMF) became involved, according to company sources. In 1981, all parties reached an agreement on wages and working conditions, and production returned to normal. The company employs around 3,000 people today.
Despite problems, business was starting to improve. In the 1980s, the company foresaw a boom in ceiling fans and two-wheelers, and set up a two-wheeler bearings plant near Bommasandra in southeast Bangalore, far from the hotbed of unionised workforces. SKF changed tack in the 1990s when India liberalised the economy and threw open its doors to foreign investment. SKF realised that a corporate strategy based on tariff barriers was bound to fail in the new economic environment and began to move towards a more globalised model. In 2009, it set up a global technical centre in Bangalore to provide solutions to customers. Eighty per cent of its resources are now devoted to providing solutions to the global parent, while the rest is for domestic solutions. The company plans to increase this share in domestic operations to 40 per cent in the coming years. "The economy globally has become so volatile that the speed at which you are required to execute your decision has completely undergone a change," says Shishir Joshipura,Managing Director, SKF India. "The strategic dimension to decision-making has acquired more significance than it ever had before."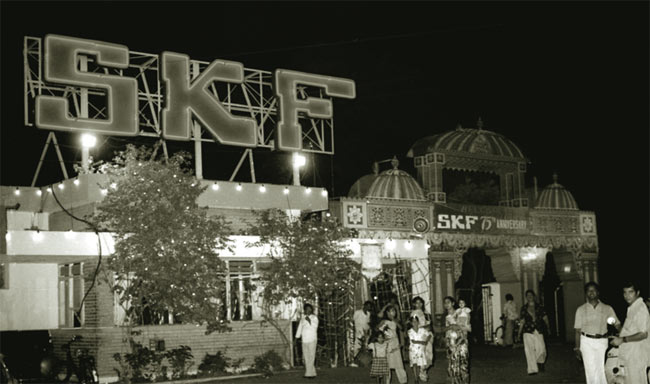 SKF says the biggest proof of its involvement in India is the automobile aftermarket, where it commands an almost 50 per cent share. But it has certainly not been an easy ride. Competition and the rules of engagement have changed in an open economy. During the Lehman Brothers crisis in 2008, SKF was in the midst of building a Rs 250-crore customised-bearings plant in Ahmedabad.
Those days, the waiting period for industrial bearings was three years; by the time the factory was completed, it had come down to three days. "From a protected economy, we went to a free economy. That meant the rules of the marketplace changed. There was a time not too long ago, there was literally a rationing of bearings that were sold in the market. From there we moved to a position where there is a glut. So it calls for a completely different strategy," says
Joshipura
.
"Today the focus is on productivity; to produce as much as we can from a given asset. Contrast that with the past when you could only produce your licensed capacity."