More than three decades ago, the son of a Haryana irrigation department officer, Arvind Dham, joined the family business of construction, in 1985. But, despite his professional education as an architect, Dham's heart was not in construction. That was also when the government was opening up the automobile industry to the private sector and new entrants such as Maruti Suzuki were hunting for young entrepreneurs to develop a supplier base for the Maruti 800, its new compact car. Dham, just 24 then, saw an opportunity in the sunrise sector and bagged the contract to manufacture connecting rods under the flagship Amtek Auto .
That love affair with the automotive industry took him on a fairytale journey to manufacture engine rods, flywheel ring gears and transmission forks for companies such as Tata Motors, Fiat and Ford India until 2001/02, when the domestic business fell short of his ambitions. Dham set his sights overseas with an acquisition binge that began 15 years ago, but intensified between 2005 and 2014, resulting in a total of 22 acquisitions in areas such as iron casting, metal forging and machining. German Neumayer Tekfor and Kuepper Group (the two generate revenue of approximately $1 billion) and the forging and metal businesses of Japanese Asahi Tec were among the largest acquisitions. These units are now cash positive and catapulted Amtek into a large player in the global casting and forging business. They also helped it diversify across geographies and expand its clientele.

Amtek became the world's largest player with a 20 per cent market share in turbocharger housing and 15 per cent in ring gears. Surely, he added marquee clients such as BMW and Daimler; but with mounting liabilities, Dham also found himself in a debt trap that he is now struggling to get out of. On revenue of Rs 15,707 crore in its fiscal ended September 2014, Amtek had reported a whopping total debt of Rs 17,663 crore. Its cumulative debt now stands at Rs 19,000 crore at the group level. Its annual interest outgo of Rs 1,900 crore had squeezed the finances enough to make it default on Rs 200 crore worth of bonds to JP Morgan in September.
JP Morgan had to limit redemption of two schemes that held Amtek bonds. On September 4, the stock crashed to a 52-week low of Rs 25.60, almost one-tenth from the price of Rs 231 in November 2014. But the biggest hint of trouble came in August, when Amtek reported a net loss (Rs 157.60 crore) in the April-June quarter for the first time in more than 20 years. It was followed by a face-off with ratings agency Care Ratings on August 7. "The ratings have been suspended as the company has not furnished the information required by Care for monitoring of the rating," Care Ratings had said. The company claims it was in discussion with banks to realign its debt and, therefore, failed to share adequate information with rating agencies. Brickworks Ratings also downgraded its rating from A+ to C.
A fortnight later, the National Stock Exchange and the Bombay Stock Exchange decided to remove Amtek Auto from their futures and options segments. Since expiry dates for the contracts were not far away, the decision created a huge selling pressure. The Amtek Auto stock tanked 37 per cent on August 18.
Just a year ago, Amtek Auto was flying high. The group reported a net profit of Rs 941 crore in fiscal ended September, 2014 - a three-fold rise in just three years. Analysts had initiated a 'Buy' coverage on the stock around the middle of 2014. None other than Nomura went bullish on the stock in June 2014 to give a target price of Rs 416, more than double the then price of Rs 201.
The Reversal of Fortune
Today, Amtek's market capitalisation has slipped from a peak of around Rs 6,745 crore (October 30, 2007) to just Rs 945 crore (November 13, 2015). You would wonder what changed in a matter of one year, particularly when the domestic automobile industry seems to be on a recovery mode! Surely, the spate of overseas acquisitions and investment in domestic capacity addition added debt to the business and increased interest outgo. But, the domestic growth expectations went awry and that, says Dham, led to what he calls a 'cashflow mismatch'.
"There is a misconception that overseas assets are dragging down the Indian business. In most of the businesses we acquired, we have seen rich dividends in terms of increased profits. These are very lucrative assets and people have to be patient for them to perform. If I were to sell all overseas assets, I could wipe out all my debt," claims Dham.
Most growth concerns came from the domestic market even as the overseas business continued to grow. For Amtek Auto, overseas business generates $2.5 billion revenue, while another $1.5 billion comes from domestic operations.
The revival of the domestic auto industry has been patchy, with only a handful of players like Maruti, Hyundai and Honda leading growth in the passenger vehicle segment. The two-wheeler market has been under pressure from lacklustre rural demand. Motorcycles, which form about two-third of the segment, failed to grow for several quarters. Scooters, with double-digit growth, have been the saving grace, but they account for just 30 per cent of two-wheeler sales.
THE MONETISATION PLAN
Amtek aims to raise $1 billion (Rs 6,500 crore) to bring down its debt in the range of Rs 12,000 crore over the next 12 to 18 months.
In the commercial vehicle segment, only medium and heavy commercial vehicles have been growing, while light commercial vehicles continue to register negative growth with no immediate sign of revival. Tractors, a key segment for Dham, has declined for over twelve months. Construction, another user segment for Amtek, has also been struggling to grow with real estate market down in the dumps.
Hoping for growth, Amtek had invested Rs 5,000 crore in expanding domestic capacities between 2011 and 2014 to become a leading global player in its core casting, forging and machining business. Indeed, Amtek had almost doubled capacities in the crankshaft, flywheel and gear assembly, anticipating strong demand from local manufacturers. But utilisation couldn't reach an optimum level - it is at a mere 50 per cent now. Dham blames sluggish Indian market for the current state of affairs of the company. "We were expecting a high double-digit growth from domestic business from 2014. But segments like LCVs, two-wheelers and tractors have disappointed us," he says.

The Task Ahead
Anticipating the problems, Dham says the management had, in March, initiated the process of asking the banks to realign debt. "This is not a restructuring. The repayment of debt is to be realigned to cash flows. The interest payment continues as usual," said Dham. The annual interest payout for Amtek is about Rs 1,900 crore. As a part of this realignment exercise, Rs 600 crore of the Rs 800 crore bonds held by banks will also be rolled over. However, JP Morgan will see a resolution of the issue, Dham added.
Bankers say Amtek Auto is still not a non-performing asset on their books. They are still evaluating a possibility of supporting the company by way of a working capital loan, but that decision will be taken jointly by the lenders in the coming days. Dham says all his customers and bankers have been supportive.
Industry insiders say the auto component business follows the automotive industry in business cycles. Amtek is not alone. Several other local players like Asahi India, Minda Industries and Caparo Industries owned by NRI Lord Swraj Paul are dealing with similar trouble. But their problems are now compounded by slowdown, says Sudam Maitra, who headed purchase for large automakers like Maruti and Tata Motors. "Component makers face the most pressure in a sluggish market. They are squeezed on costs by manufacturers. Only a few players who have a strong asset turnover ratio can manage to sustain by maximising utilisation of their plants. Amtek, it seems, is paying the price for persistent slowdown in our economy and the auto market," he said.
Bankers say Amtek Auto is still not a nonperforming asset...they are still evaluating a possibility of supporting the company
And, though Amtek's clients aren't affected by the crisis at the group yet, they could if things spiral out of control. A Maruti Suzuki executive said the supply of components from Amtek that go into manufacturing engines, and are critical for more than 10 of its models, have remained normal. "We haven't heard of any employee issue or disruptions in Amtek plants, so far," says Kuldeep Janghu, the general secretary of the Maruti Employees' Union.
Former Maruti Suzuki boss Jagdish Khattar, who now operates his own multi-brand car business, says, "For a person to grow so big, the business has to be run professionally. The fact that so many financial people are supporting shows the confidence imposed in him."
Escaping the Debt Trap
Clearly, Amtek's revenues and profits are insufficient to support its ambitious expansion. Dham has little option but to reduce debt to lessen the interest outgo and bring back the company into profitability.
Dham says he plans to reduce the debt to Rs 12,000 crore over 18 months by selling assets worth nearly $1 billion (approximately Rs 6,500 crore). Along with refinancing of debt at lower rates of interest, this would nearly halve the annual interest outgo to between Rs 1,000-1,100 crore.
The strategy is to monetise Amtek's non-core assets and non-automotive businesses such as SMI Amtek Crankshaft, a joint venture company with Sumitomo of Japan, besides selling minority stakes in foreign subsidiaries in the core businesses, if need be. Dham has roped in Morgan Stanley to identify potential buyers of minority stakes in overseas businesses. And its $500 million strong German subsidiary, Tekfor, which manufactures shafts, flanges and cam lobes - extensively used in engines and gears - is amongst the first to grab attention from trade and financial players.
Amtek's overseas assets are currently estimated to be worth $2 billion. "We expect to raise somewhere in the range of $500-600 million through the overseas dilution," says Amtek Auto global CEO John Flintham. "We have received a large number of enquiries for our overseas units, including Tekfor group, which was brought out of insolvency two years ago. The interest has come from trade and financial players around the globe."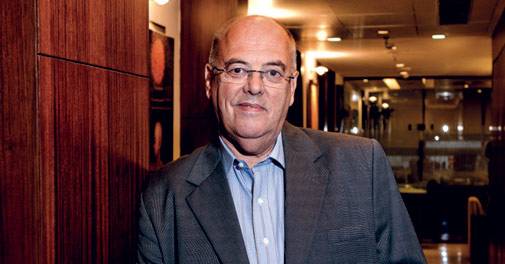 Amtek is also negotiating with potential buyers from China and the US to offload a 50 per cent stake in Amtek Railcar, which makes railway freight cars.
Ernst & Young and Grant Thornton have been appointed to identify buyers for non-core domestic businesses. This comes after Dham has already consolidated the group's debt in a single entity. In November 2014, Amtek Global Technologies, the Singapore-based holding company of the groups international businesses, secured long-term finance of Rs 1,800 crore from Kohlberg Kravis Roberts (KKR) to replace its existing bridge loan after consolidating all the company's existing debt.
Another asset, Italian coffee chain Barista, the country's second-largest after Cafe Coffee Day, is already on the block. It is managed by his daughter, Anamika. Dham, 'a foodie himself', now wants to dilute around 50 per cent in his food business under Carnation Hospitality, a wholly-owned subsidiary of industrial packaging firm Rollatainer, which also operates Wendy, Kylin and is the master franchisee of Italian chain Jamie Oliver. Dham also hopes to garner $50-100 million from industrial real estate owned across India to redeem the debt.
Amtek's debt to EBIT ratio has reached an all-time high and was more than 7X in 2014 with Rs 2,494 crore clocked as its consolidated profit before interest and tax. It's the highest amongst its peers. Its rival Motherson Sumi Systems, which has grown much faster and emerged far bigger than Amtek Auto, has a consolidated revenue of $6 billion with a much lower debt to EBIT ratio of 2.4X. For Bharat Forge, another competitor, the figure stood at 2.2X in 2014/15.
Given Dham's track record, nobody's writing him off yet. For, Dham has gone through this phase in the past too. Although he retains a partial interest in real estate, thanks to his background in architecture, Dham had also diversified into the dotcom business and even forayed into pharma where a proposed plant in Bhiwadi was later turned into a metal foundry unit. But he has no regrets.
"Mistakes are part of business," says Dham, a former fast bowler who played for Punjab. "We have to realise and take the right steps. Now we would only focus on the automotive business and bring down the debt by a third in the next year or so."
With economic recovery nowhere in sight, Dham surely can't rely on better business to get him out of the debt trap. But, he will need to work at the pace of a fast bowler to ease the burden that he has set out to achieve.
Analysts tracking the auto ancillary sector have been cautious about Amtek. "Amtek made silly investments when its cash flow was healthy. A hardcore auto component company went into the coffee business," says independent analyst P. Tulsian. "Now, the promoters want to reduce debt and monetise their assets. Even if they erase it by a billion, the worst for the company is over. They have healthy assets, like Tekfor, which they are looking to sell or even exit."
Meanwhile, Dham has already chalked out retirement plans. He is a movie buff and also loves reading. Dham's planned abode in the Himalayas, where he intends to spend some quality time with his wife and sister, far from the hustle and bustle of corporate life, is almost ready.
There is a clear succession plan in place with younger heirs being groomed to manage these businesses. Dham manages the entire business with active managerial participation from close family and a team of expatriate honchos. He is assisted by his two nephews in running the domestic operations, while his engineer son Anupam shuttles between London and Frankfurt to keep a hawk's eye on the global business, stretching from Japan in the East to Mexico in South America.
Dham plans to gradually restrict his involvement to an advisory role. But that is for later. "I would love to spend time with my family as I hardly get to do that. This should happen once we get the debt issue settled and bring the business back on track," he says with a smile.
(Additional reporting by Anand Adhikari; Research inputs by Niti Kiran)