Palaniswami Mudaliar, 29, is a senior programmer at a data analytics company in Pune. He visits his parents at his sister's house in Coimbatore every two months. On each visit in the past, he felt he was inconveniencing his sister's family, which lives in a two-bedroom apartment. Then he discovered Stayzilla, an online marketplace for budget hotels. "I got a good room for Rs 1,200 and managed to enjoy quality time with my family, without having to sleep on the sofa," he says.
Or Harish Krishnamurthy. When his house in Bangalore was being fumigated, the family decided to shift to a hotel for the night as they had a nine-month-old baby. "The pest control guys said we could stay, but as my son was small, we decided to shift to a hotel for a day. It was like a mini-holiday. We ordered food, relaxed and enjoyed, all for just Rs 1,650." The booking was done through OYO Rooms.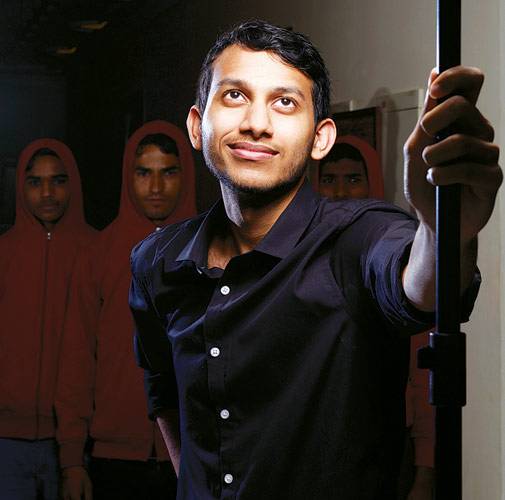 India is familiar with budget hotels - those with room tariffs below Rs 3,000 - as well as online travel aggregators (OTAs) such as MakeMyTrip and Yatra. But places where Mudaliar and the Krishnamurthy family stayed are part of an emerging universe in which players such as OYO Rooms and Stayzilla are bringing together budget hotels on their platforms while also helping them improve service quality. The aim is to offer customers a high-quality experience while keeping costs low.
The scope is huge. The number of travellers, both domestic and international, has been rising at a fast pace. And given the average incomes in the country, most action is in the budget hotel space. The Federation of Hotels & Restaurants Association of India estimates that there are just 103,000 "branded" hotel rooms in India, of which just 35 per cent are budget. Bangkok, the capital of Thailand, alone has 125,000 rooms. It estimates that India needs another 180,000 rooms by 2020 if it is to meet its target for tourist arrivals. Real estate consultancy Cushman & Wakefield estimated in 2014 that an additional 52,000 new hotel rooms would be added by 2017.

---
About OYO Rooms:
OYO Rooms is India's largest branded network of hotels founded by Ritesh Agarwal, India's first graduate of the Thiel Fellowship, a program started by Paypal founder, Peter Thiel. OYO Rooms currently operates in 125 Indian cities including Delhi, Gurgaon, Mumbai, Bangalore, Hyderabad, Goa, Chennai, Kolkata and others. OYO's presence includes major metros, regional hubs, top leisure destinations, as well as pilgrimage towns. The company's vision is to become the most preferred and trusted hotel brand for both customers as well as partner hotels and is backed by the world's leading investors including the Softbank Group, Lightspeed India, Sequoia Capital and Greenoaks Capital.
OYO Rooms promises comfortable, premium, delightful stays with features such as an air conditioned room, complimentary breakfast and Wi-Fi with 24x7 customer service support. Guests can use the OYO Rooms App (over 1.5 MILLION downloads) for booking rooms as well as order beverages and request room service along with booking a cab and searching nearby restaurants. Hotel owners who partner with OYO Rooms see a significant increase in occupancy levels, get access to the world's first tablet based property management apps and become part of a brand that is recognized and loved by travelers nationwide.

OYO Rooms has received several national and international accolades including Business World Young Entrepreneur Award, TIE Lumis Business Excellence Awards, India International Travel Mart Award and Lufthansa ET Now Runway to Success Award.
Number of Hotels - 3000+
Number of rooms - 30000+
Number of cities - 125+
Who started OYO and when? At 17, Ritesh Agarwal founded Oravel Stays Pvt. Ltd in February 2012. In May 2013, Oravel transformed from a discovery marketplace to a managed marketplace for standardized hotels by launching OYO Rooms.
Leadership team behind OYO Rooms
Ritesh Agarwal - Founder and CEO,
Abhinav Sinha - Chief Operating Officer,
Kavikrut - Chief Growth Officer,
Anuj Tejpal - Chief Business Development Officer,
Abhishek Gupta - Chief Financial Officer,
Anurag Gaggar - VP Product Management,
Ajay Shrivastava - VP Engineering & Chief Culture Ambassador
How many people across the country: 1900+
How many offices across the country: 8
Which is the highest point in India, where you can find an OYO? - Leh-Ladakh
Which is the lowest point in India, where you can find an OYO? - Kumarakom
Which is the city with Maximum number of OYO Rooms? - Delhi
Current points of standardization followed for transforming a property - 150
How many downloads does OYO Rooms app have? - 1.5 MILLION plus
How many calls managed a day? - 250+ per person
How many bookings made in a day? - 25,000+
How many bookings made in a month? - 500,000
Total funding raised by OYO Rooms- $125 Million
---
Anil Kumar Prasanna, the Chief Executive Officer of Axis Rooms, which helps hotels manage inventory, says older companies such as MakeMyTrip solved the problem of booking hotels online. What is different with this new breed is that "it is solving a different problem of standardising quality in terms of room standards, user experience, etc, while also working on dynamic revenue management". Smaller hotels used to shy away from using technology. "This was an opportunity for these aggregators to use technology for building large hotel chains," he says.
One player building a nationwide chain is OYO Rooms, run by the 21-year-old Ritesh Agarwal, a college dropout. He says his experience of staying in sub-standard hotels that charged high prices gave him an idea that there was a market waiting to be cracked. He says OYO today has a network of 1,300 hotels with 14,000 rooms in 73 cities, making it "India's largest budget hotel chain." It has raised more than $125 million so far (see Leading the Way).
Others like Stayzilla and Zo Rooms question these claims. Yogendra Vasupal, the co-founder of Stayzilla, says they offer 32,000 properties with 100,000 rooms in 4,500 cities and towns. These claims and counter claims are understandable as different players are following different business models. While the well-funded OYO co-opts existing brands and rebadges them "after they meet the OYO criteria", Stayzilla follows a marketplace model where even OYO is welcome to sell. No wonder there is a debate about which model will succeed.
"Less than 4 per cent properties are part of chains. This number is set to grow to 20 per cent over the next few years with more and more branded chains coming up," says Rajinder Balaraman, Vice President, Matrix Partners, which has invested in Stayzilla.
While online marketplaces and hotel chains slug it out, some entrants are introducing their own tweaks. Treebo, run by Sidharth Gupta, Rahul Chaudhary and Kadam Jain, which has raised $6 million from venture funds, says it focuses more on service quality than scale. "A competitor may be involved in just a part of the property. However, we take over the property completely, bring it up to our standards and rebadge it under our name. While owners continue to run the hotels, we train their staff and improve the ambience, even to the extent of helping them buy cushions, duvets and towels from vendors vetted by us. Most important, we help in marketing too, enhancing occupancy," says Gupta.
Ritesh of OYO says such hand-holding is common in the industry and OYO also does it. "From the thread count of the bed spread to the colour of the duvet, we engage with owners to provide same experience at similarly-priced rooms across OYO properties." He says regular auditing is done to check if the standards are being followed. The job of 'mystery shopping' to ensure quality has been outsourced. The tie-up with OYO, he says, has helped hotels registering 40-50 per cent occupancy to report 85 per cent occupancy within two months. "We also assure them a minimum revenue," he says. The training to employees, too, has helped, by increasing the turnaround time for housekeeping by 60 per cent.
Vaibhav Aggarwal, the co-founder and CEO of FabHotels, which has 150-plus hotels across 25 cities with 3,000 rooms, says the minimum guarantee model is not viable. "We also work on a franchise model but don't give such assurances. Hotel owners sign up with us because they see results. We want to roll out like a KFC or a McDonald's, that is, provide the franchisee help to succeed. The attraction to customers is two-fold. First is our sharp focus on the sub-Rs 2,000 segment and the second is the level of service predictability." FabHotels has raised $5 million from Accel Partners and Qualcomm.
mosimageOne of the latest players to enter the market is Zip Rooms, started by Keshav Baljee, an industry veteran who has co-promoted Spree Hotels and the listed Royal Orchid Hotels. Baljee says while the likes of Makemytrip, Yatra and other OTAs got people to book online, "they did not guarantee the quality of the hotels and did not own the experience". Zip Rooms, he says, will look after the end-to-end offering. "We see ourselves as a brand and a chain of hotels rather than a booking service," he says. Zip, which has 200 employees, is in talks with investors to raise funds. Other entrants in the field are the yet-to-be-launched Zen Rooms, which is betting on being part of an international chain of branded budget hotels, and Vista Rooms, which operates only in Tier-II and Tier-III cities, and works with 450 properties. There is also WudStay, which has got $3 million backing from Mangrove Capital Partners, and Vikas Saxena, CEO of messaging app Nimbuzz, which launched this April. "There is a lack of trust among customers in the quality of budget hotels in smaller cities. This is the problem we are trying to solve," says the head of partnerships at Vista and a co-founder, Ankita Sheth.
Then there is Room Central, which like Axis Rooms is a booking engine and a property management platform. It says it has raised $2 million from an angel investor and is working with 50 properties. Naspers, also among the new entrants, is supposed to have acquired a minority stake in a sales management platform called Djubo, which says it is working with 100 hotels. With so many players in the fray, consolidation through acquisitions is bound to happen, feel experts. Also, with customer expectations high, those who shortchange on standards will fall by the wayside as the online booking game is based on reviews and ratings.
Vasupal of Stayzilla, however, is sceptical about players trying to just rebrand and rebadge existing properties. "If there are 20 OYO hotels in, say, Koramangala in Bangalore, will it work? I think the marketplace model will win, which is why we are betting on it." He says he is also trying to bring homestays, hostels and other properties into the market. "If you have an extra room to rent out for the night, we want to be able to help you first fix it up. I am more interested in expanding the market rather than just rebadging existing properties."
Ritesh of OYO, though, seems to be gung-ho on building a branded hotel chain. "We don't want to be another OTA. We want to build not just in India. Given the amount of money we have raised, we will build scale. This will largely be a winner-takes-all market."
Whether it is the marketplace or the branded chain model, these companies expect to earn 25-60 per cent of the amount billed to a customer. Sidharth of Treebo is clear that "the current crazy discounting will not sustain. Some are buying rooms for Rs 1,600 and selling for Rs 999, taking a hit in the name of customer acquisition, using venture money. Treebo will never do that."
No matter how the future pans out, for now, expectations about explosive growth have made every player gung-ho. "The demand for budget hotel rooms in India has been growing at 18-20 per cent but supply has been growing at only 10 per cent. At the same time, 70 per cent hotel rooms are in unbranded hotels. Thus, India will see the emergence of a large branded player, much like what China has seen," says Mayank Khanduja, Vice President, SAIF Partners, which has invested in Treebo.
For now, though, there has never been a better time to stay in a budget hotel.