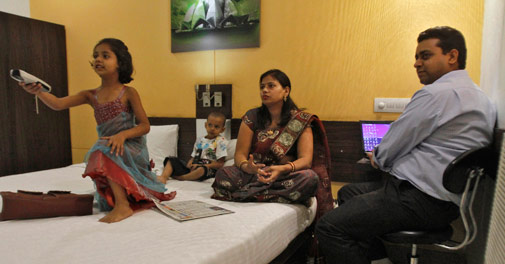 (Picture for representation only) Photo: Reuters
The year 2008 saw the launch of four new Hindi general entertainment channels (GECs) - Colors, 9X, Imagine and Real. However, it was only Colors (a 50:50 JV between Network 18 and Viacom) that withstood the test of time. The rest perished, and for a number of reasons - from exorbitant carriage fees at the time to their inability to get their content strategy right. Industry experts had then said that India didn't need so many Hindi entertainment channels.
Six years later, there is again a similar rush to launch Hindi general entertainment channels. Viacom 18 launched its second Hindi GEC Rishtey, a few months back followed by Zee Entertainment which has recently launched its second GEC, Zindagi. Also joining the fray is Multi Screen Media (MSM), which is launching its third Hindi entertainment channel. MSM already has Sony and Sab TV as part of its network. However, this time media experts do not think that launching new GE channels will add to the clutter.
The difference this time is that the channels are being launched by networks which have mastered the general entertainment business, say analysts. Last time the new launches came from news networks like NDTV (Imagine) or absolute newcomers like 9X Media. "The likes of Zee and MSM understand the tricks of the trade well and have a grip of the audience and advertiser pulse," says Mihir Shah, VP, Media Partners Asia.
Smita Jha, Leader (Media and Entertainment), PwC, says that since a bulk of the TV viewership in India incomes from Hindi GECs in India, it makes business sense for broadcast networks to launch second Hindi GE channels. "The advertisers also prefer advertising on GE channels as it gives them reach. Therefore if a broadcaster wants to launch a new channel in India, another GE channel definitely makes good business sense." Even a channel like Star Utsav, which usually airs old shows of Star Plus also manages to get an average rating of 2-3GRPS week on week.
Market leader, Star India's success with its second channel, Life Ok (which last week took the third spot in the GEC chart, pushing Colors to the fourth slot) has definitely been an incentive for the other broadcasters to go ahead with their respective second Hindi GE channels. "Two strong channels have given Star India an opportunity to negotiate better deals with advertisers," points out Shah of MPA.
While GECs surely are revenue churners, the huge programming costs that they incur cannot be overlooked. A regular fiction show costs a GEC anywhere between Rs 10-12 lakh per episode. A reality show such as Bigg Boss costs anywhere between Rs 2-3 crore for an episode. But industry experts feel that despite the high cost there is still merit for networks to launch their second GE offerings. The reason for this being the distribution costs, which have been slashed by 25% to 30% thanks to digitisation. One of the reasons channels like Imagine couldn't survive is due to exorbitant carriage fees that they had to shell out (around Rs 60-Rs 70 crore per year) year on year in the analog era. "Digitisation has also opened up more markets for broadcasters to tap. There are a whole lot of new viewers who were earlier on the analog platform, open to consume new content, as they have access to larger bandwidth," points out Atul Phadnis, CEO, What's On India.
"Increasing penetration of television has given broadcasters an opportunity to tap further into mass markets and capture those audiences," agrees Shah of MPA
However, Sunil Kataria, COO (Sales and Marketing) Godrej Consumers Products feels that the launch of new channels would lead to unnecessary fragmentation. "India has more than 800 TV channels, but 85% to 90% of viewership comes from around 165 channels. I wonder why new channels are being launched."