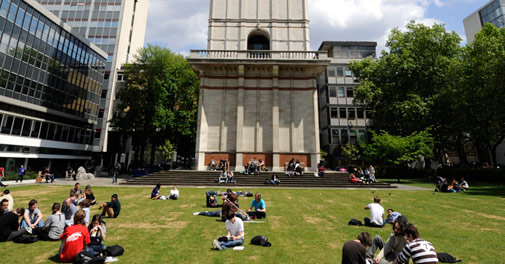 Imperial College in London. Reuters
In keeping with the trend of Indian universities collaborating with global ones, BML Munjal University, a philanthropic initiative of the Hero Group, will be mentored by the business school of the Imperial College London. BML Munjal University starts operations in July this year at its campus in Gurgaon, near Delhi.

Higher education experts say that a memorandum of understanding (MoU) or any other type of collaboration with a global brand can help an Indian university build its brand positioning. Recently, a strategic MoU was signed between the University of Michigan and Ashoka University, to offer four-year undergraduate programmes.

Sunil Munjal, Founder and Chairman of BML Munjal University, says: "The Imperial College London will be the only alliance of BML as of now, and the partnership will help and support the curriculum of BML Munjal University." Named after Hero Group Co-founder and Chairman Brij Mohan Lall Munjal, the university has tied up with Siemens PLM software, to set up a Centre of Excellence with high-end equipment on campus.

Akshay Munjal, Executive Director, BML Educorp Services, says the university is not a money-making endeavour. He says: "The course fee for the two-year MBA is Rs 3 lakh a year. For the undergraduate engineering courses, it will be Rs 2 lakh a year, and for the undergraduate three-year BBA courses, it will be Rs 1.75 lakh per annum." Compared to many other Indian B-schools, MBA course fees at BML Munjal University are low.

The Gurgaon-based university will also offer a three-week exchange programme at the Imperial College, London. This would be optional and is not covered by the course fee - students would have to pay extra, says Akshay Munjal. "According to the guidelines of the University Grants Commission, the certificate would be issued by BML Munjal University," he adds.

By the third year (2017), it plans to introduce executive MBA programmes as well. Students will be selected based on rankings in centrally conducted entrance examinations, such as the Joint Entrance Examination for engineering and the Common Admission Test, Graduate Management Admission Test, and the Management Aptitude Test for management courses. "Applicants will have to clear subsequent selection processes, such as group discussion and personal interviews," says Akshay Munjal.

Keith O'Nions, President and Rector of the Imperial College London, says the UK-based institution expects two-way relationships from all its partners, who are building capacity for research and facilitating exchange of ideas. "Imperial's approach towards education is much more global," says O'Nions. "We have changed our earlier approach of attracting students, to taking the Imperial to students through a network of partners, and we find BML Munjal University an exceptional partner to collaborate with in the rapidly changing global environment."

Professor Jerry George, Deputy Principal (Faculty and Programmes) at Imperial's business school, says: "We'll train our faculty and have lower tuition fees. Of the 1,200 faculty applicants that we received, 70 were shortlisted and 25 have been placed. We will have team-teaching, that is, Indian faculty and faculty from Imperial College." The university will have a ratio of one faculty member for every 15 students.